GHANA DIARY - AUGUST 2010 - David Brokensha
For four formative years, from 1959 to 1963, I taught in the Department of Sociology at the University of Ghana (UG) and for my doctoral dissertation I also made a study of social change at the hilltop town of Larteh . These were important years for me: it was the first time I had lived in an African independent state; it was my first experience of teaching; I was engaged in my first fieldwork; and also it was my longest separation from Bernard. After leaving Ghana in 1963, I had made short visits – always calling to see my friends at Larteh – in 1966, 1968, 1970 and 1988.

In 1962 I met Agnes Klingshirn, who was one of the first students to do an MA at the newly-created Department of African studies at UG. Agnes made a study of children at Larteh, following this up with a doctoral dissertation on the changing position of women in Ghana. Agnes and I kept in touch, visiting each other when we could, and last year we decided to make a joint visit to Ghana, specifically to spend some time at Larteh.
<![if !vml]>
<![endif]>
Nana Agyemfra at his 1988 Golden Jubilee,
with his "soul" – his youngest son Jedi.
During my first stay in Larteh, a close friend of mine was Nana Agyemfra, chief of 'upper Larteh'. Nana ( the customary appellation for a chief in Ghana) died in 2004, and his eldest daughter, Jessie, was our main contact before we left, by email and telephone. Jessie made all the arrangements for our stay and looked after us very well. She is about 65 years old and a trained social worker, but from 1992 she gave up working to look after Nana, her father, until his death, aged 87, in 2001. Then 'Auntie Bea', her mother had a stroke in 2004, and again Jessie cared for her ailing parent. Now the other daughters help, with a paid carer to look after Auntie Bea in the daytime. Jessie is the national organiser of the Anglican Women's Fellowship and is very active, going to conferences and courses – she was recently in UK for two weeks.

August 14. I flew to Johannesburg (two hours), noticing with approval how both Cape Town and Oliver Tambo (Johannesburg ) airports had been enlarged and improved for the World Cup. Then on to Accra (five hours), both flights on South African Airways. Arriving at the Airport View Hotel at 10:30 p.m., I was met by Agnes (who had arrived earlier that day from Frankfurt ), and we each had a Star beer to celebrate.
<![if !vml]> <![endif]>
Jessie & Agnes
August 15. After my morning cup of Rooibos tea (I never travel without South Africa 's favourite beverage), Agnes and I had a brisk walk around the airport residential area, noting the contrast between the new luxury apartments and the ragged men pushing handcarts. Back at the hotel we talked to a Scottish engineer, who was training men to work at heights – they were hoping to be employed in the oil exploration off the Ghanaian coast. We had time to swim several lengths in the hotel pool, before Jessie arrived, accompanied by her nephews Desmond and Cecil, the latter driving a Nissan SUV belonging to Jessie's sister Evelyn. We went to Evelyn's home in central Accra for lunch, meeting 92-year-old Auntie Bea, Nana's widow, who was no longer able to speak. However her mind was still clear and she joyfully welcomed Agnes and me, as did Evelyn, and another sister, Gertrude, as well as Gertrude's daughter, Api. It was a familiar Ghanaian scene, with family members coming in and out, some remembering us, others new to us. Everybody at least knew about our both having spent time at Larteh many years ago The children were all very polite, greeting us with shy smiles and little bows.


Cecil

The conversation shifted between English and Guan (also called 'Larteh') which is the language spoken by the people of Larteh and about 70 000 others. Most of the people in the neighbouring towns speak Twi, ( the main language in the Akan areas of Southern Ghana ) which all Larterians speak, but they prefer Larteh as their domestic language. We met Evelyn's son, Cecil, and Gertrude's son Desmond, both recent university graduates, now in their early twenties. Desmond, a great strapping lad, had graduated from UG in philosophy and history and intends to go on to study law. Cecil, a handsome young man, had graduated in materials engineering from the University of Kumasi and, after graduating, had done one year's service with a government department. Lunch consisted of spicy nkuntumire, a fish stew, which Jessie had remembered as one of my favourite Ghanaian dishes. It was accompanied by spinach in palm oil, plantains and yams: delicious.

August 16. After a good night's sleep at the hotel we were collected by Cecil and Jessie at 10 a.m. , to go to Larteh. The road from Accra to Legon has been massively built up and the traffic is horrendous. The main road was being rebuilt so we had a slow detour for the first several miles. The road was solidly lined with shops selling everything – it was like a universal market; perhaps it was Ghanaians who should have been called 'a nation of shopkeepers'. The trotros (communal taxis) were now standardised modern vehicles – something that the government of Ghana had tried, unsuccessfully, to introduce fifty years ago. Hawkers, mostly young men and women, ran beside the slow-moving traffic, offering an amazing variety of goods (see Appendix 2).

There were many religious signboards by the side of the road; here are some that I saw:

Every Knee Shall Bow

Break-out Miracles Ministry

Kingdom Gate Chapel

Glory Land Chapel

Good Wife Guesthouse

King of Kings Electrical

in His own Time Cosmetics

Thank you Jesus Spare Parts

Sow in Tears Reap in Joy Welding

God First Auto Mechanic Shop

Love all your Friends Trust No-one

(this was on the back of a taxi).
Traffic became easier when we reached the foothills. We left the detour, driving on the main road, and passing a tollbooth, where we paid NC1. (NC = New Cedis, one NC being equal to about 70 US cents). We were due to stay at the new house of Jessie's elder brother, Francis, whom I had first met in 1961 when he was a newly-commissioned second lieutenant in the Ghana Army. He is now a Brigadier-General, retired, having served in United Nations peace missions in West Africa, as ambassador to Liberia, and as an election observer – he had recently returned from Rwanda and was due to go to Tanzania shortly. He is also a security consultant, looking after the needs of African leaders.

At the top of the ridge we passed the huge presidential palace, built by President Kwame Nkrumah in the early 1960s. When I first came to this area, known as Akwapem, there was a series of small towns – Aburi, Amanakrom, Tutu, Mampong, Mamfe, Larteh – which lay a few miles apart, separated by open woodland. But now most of the road is lined with houses, some big mansions and, as in Mexico , many were unfinished. We passed Aburi Girls Secondary School where Jessie's daughter Yvoinne had been a student, and were glad to know that it still had an excellent reputation.

I was getting excited as I recognised so many familiar places; after a two-and-a-half hour drive from Accra , we reached Larteh. We drove up Main Street , finding little had changed except that there was much more traffic. Driving slowly, we were hailed by an elderly man who beamed and said, "Ah – Brokensha." He had been one of my student research assistants 47 years ago.

View from Francis' house
Francis' house, situated at the far, north end of Larteh, is a large four-bedroomed house, with two sitting rooms, each with the usual big sofas and four chairs; it has commanding views over the Accra plains. It has electricity and water, although for the first few days the water was off. We met the two young women, distant relatives of Jessie, who had been engaged to help look after us during our stay: Regina (22) and Salome (17, although she looked more like 12). Regina is a student at a teachers' training college, and Salome (Jessie put the stress on the first syllable, when she – frequently – called Salome) is at high school.

Regina, Agnes & Salome

I was surprised, earlier in the day, when Jessie used her mobile phone, but of course they are ubiquitous now. She was phoning home to order our lunch, asking us if we liked Star beer; Agnes and I assured her that we did. We had a light lunch – yam chips in a tomato and onion sauce – with our Star beer, on the terrace, followed by an afternoon nap. At first I was disturbed by a noisy rooster belonging to the Nigerian pastor of a charismatic church who lived next door; we met him later, a friendly man who has been in Larteh for five years. I cheered up when I heard the melodious and familiar call of the Burchell's coucal, a common bird in the se parts.

Jessie had asked me to bring more copies of my book, Social Change at Larteh, Ghana. It has long been out of print, but I managed to find three copies through the Internet, giving the se to Jessie. In return she gave me a shirt, Agnes a dress – both in bold Ghanaian design and colours; she also presented us with T-shirts commemorating Nana's life: Nana Asiedu Agyemfra V, Ohene of Larteh-Kubease 1938 – 2001.

We went, in the late afternoon, for the first of our many walks into town, passing Dr Amoah's double-storey house where I had first stayed in 1960. Staying with me then was Kwame Arhin a postgraduate student at UG, who was my first research assistant. Kwame became a distinguished historical anthropologist. He has remained a friend and I saw him again on the last day of this stay in Ghana . We greeted Jessie's second youngest brother, David, who was named after me and who now manages the family home. Shortly after David was born, I gave his mother, Auntie Bea, a carry-cot, which attracted much admiration.

Entering Nana's house brought back many memories: it was the first house that I had entered in Larteh when I called to greet Nana. I had intended to check out several of the Akwapem towns before deciding which one I would study. Nana was sitting in the living room, with elders seated either side of him. I presented the customary bottle of schnapps, and walked around, clockwise, shaking hands with each person. Then I sat down and everybody, except Nana, greeted me. Nana announced that I was coming to do a study of Larteh, that I was welcome and that they would all help me. They arranged for me to rent Dr Amoah's house, and told me to see Mr Anno-Nyako, headmaster of the middle school. When I met the headmaster in his office, also present was Abrakwa, a shy 15-year-old orphan. Without consulting me, Mr Anno-Nyako said that I should look after Abrakwa, who would be a big help to me – he was, indeed. So in one morning I had found a research site, a house and an adopted son.

We had a very slow walk up Main Street (my term), with Jessie greeting so many people, introducing the m to us and explaining who the y all were. While Jessie talked to a friend, Agnes and I popped in to one of the two Internet cafés, which had six computers. It was crowded and slow, but cheap and adequate. We made a final call at Nana's house, to greet the elders, who were good-humoured, gracious and warmly welcoming. They seem to use that house as a sort of clubhouse. Back on the main road we were relieved when Jessie suggested that we take a taxi (NC1) for the last kilometre. I was physically tired, and both Agnes and I were socially exhausted, not knowing if we should have remembered X, Y and Z. I was so tired that, to my embarrassment, I responded to a man's welcome greeting (akwaaba) with the wrong response – I said y'ena, which is appropriate for a woman, not y'egya, the response to a man. By this time it was dark; Main Street was crowded with pedestrians and taxis and the little shops were doing good business. Agnes and I were relieved to get 'home' and to have a beer on the terrace; in the distance we could hear the muezzin calling for evening prayers from the little town of Ayikuma below. We were glad of an early night.
August 17. A plumber came to Francis' house to connect the water. On our walk into town many people remembered me and greeted me effusively; one old woman said, "He is back and he is handsome," which caused much amusement; her eyesight cannot have been too good! A little while later Jessie said (verbatim), "David is a handsome old man who has to be treated properly so that he will retain his natural beauty and strength."
<![endif]>


The Akonedi Shrine and Priestess
Our first stop was at the shrine of Akonedi, to greet the priestess. She was less stern than her predecessor had been, and remembered me, having been a trainee during my last visit in 1988; she allowed me to take her photograph. This was a Tuesday, Tuesdays and Fridays being special days which are supposed to be non-farming days. Following custom, I spoke to her not directly but through the Okyeame (linguist) a young man of about 25, with a T-shirt that asked "What am I like?" We presented the inevitable bottle of schnapps to this man.
Main Street
Palm oil nuts on sale
We continued our walk down Main Street , with Jessie constantly introducing me to people: "This is the son of X … this is the granddaughter of Y … you remember them." In most cases I did not recall their faces; they been youngsters in the 1960s and, like me, were now elderly. Several of the old men who greeted me had been school pals of Abrakwa. On Saturday mornings, Abrakwa used to invite his special school friends to help him clean my Volkswagen, as a treat. I was sad to hear that Abrakwa had messed up his life. As a young man he had been a French tutor and was bright and enterprising; he had fathered children but never married, and later he began drinking excessively. He died in July 2009, leaving no property, only debts – so his elder brother told me, sorrowfully.
<![if !vml]>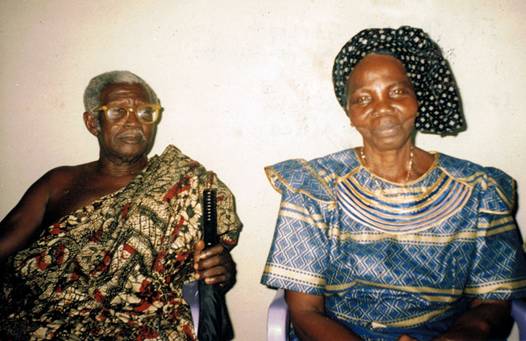 <![endif]> Mr & Mrs Otu Ayeh
In the early 1960s, I would always stop, halfway down Main Street , to chat with Otu Ayeh, the tailor, who sat at his sewing machine outside the popular bar, Café de Venus. Jessie took us down the winding alleys to greet Otu, now long retired, at his home. After a happy exchange of greetings, I reminded him that I had attended the 'outdooring' of his daughter – a moving ceremony held on the eighth day after a child's birth. This was the first such ceremony for me. Otu laughingly recalled how I had tried, not very successfully, to pound fufu (boiled cassava, yam or plantain). We met Otu's wife, and also two grandsons, aged 18 and 20 – students at high school and a technical college. Caught in a sudden rain shower, we stayed on, chatting comfortably. I was astonished when Otu used his mobile phone to call Germany – the last time I'd seen him on the phone had been in about 1962, when he had to use a hand-cranked wall-phone at the Post Office to make local calls! I spoke to his son, a pastor on a four-year term in Dusseldorf . Otu has a second son in Cologne, working in a hospital. Later we were joined by a neighbour who fondly recalled teaching American Peace Corps volunteers in the 1980s.
| | |
| --- | --- |
| | cooking the evening meal |
August 18. Jessie, Agnes and I walked the whole length of Main Street to Pinanko, a part of Lower Larteh , to see 'our' old house where Agnes and I had lived for part of the time in 1962–63. We rented it from a teacher, a Mr Sekye-Tete, who kept it in excellent condition; it was on a splendid location, overlooking the plains. Sadly it was now dilapidated, occupied by an old blind man and his daughter, who knew that I had lived there and, pointing to a painting of Napoleon, said that was a likeness of me ('all white men look alike'?). The neighbouring grand house of Dr Asiedu-Ofei was still in fine condition. Not far from our house was a partly-completed four-storey hotel intended to have about thirty rooms; the owners, like many others in Akwapem, seemed to be anticipating a tourist boom in this area. Jessie remarked drily, "No one will come, there is no parking."


Hotel under construction
Jessie and Agnes in front of Dr Asiedu-Ofei's house <![if !vml]>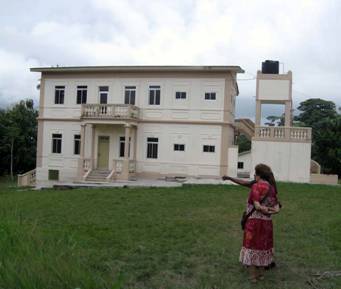 <![endif]>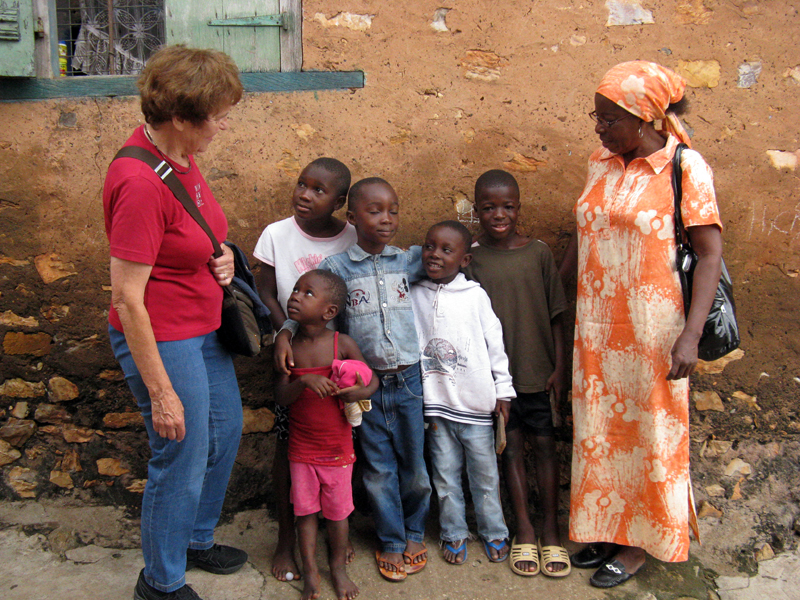 Agnes, children and Jessie
Zongo Mosque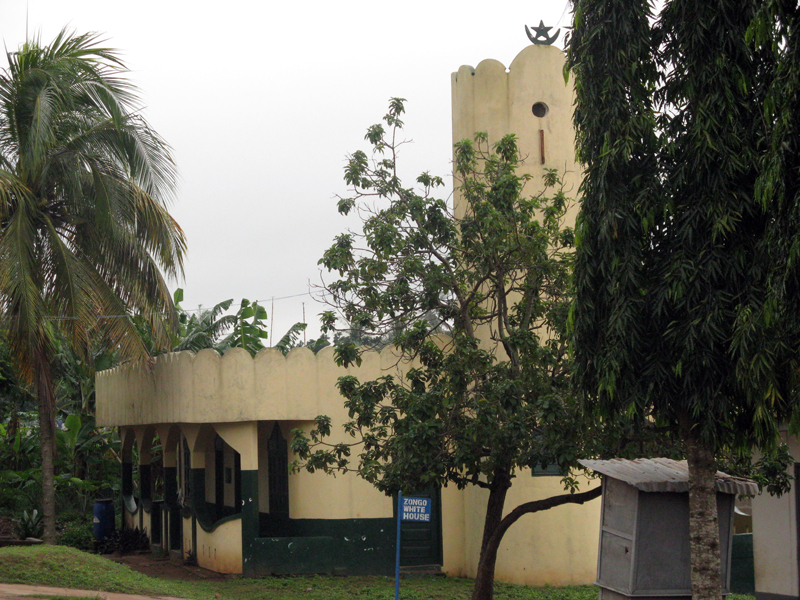 On the walls of the buildings on Main Street were many obituary notices, prepared by local printers, in sizes varying from A4 and A5 to poster, always including a short biography, a photograph and a biblical passage. In 1960 there had been a small Zongo (strangers' quarter) in this part of town, occupied by the few Muslim migrants. Today there is a neat mosque and I was told that relations have always remained cordial between Muslims and Christians. Nearly everybody on the street, including lots of old men, had a mobile phone, and many of them were engaged in conversation. Back again at Nana's house we met Nana's brother, the only survivor of ten sons. We greeted him and collected an elder, a linguist of the Kubeasehene (Chief of Upper Larteh ). We walked a short distance to greet Nana Okatakyire Agyemfra, Nana's successor, who was seated, with six elders, in his modest 'throne house' where we were welcomed, and the usual libation was poured to wish us well.
<![if !vml]>
<![endif]> the Kubeaseahene
When Jessie told me that today was the first day of Adae, my mind went blank. I had to check in my Larteh book, where I found that I had written four pages about it, having witnessed it on three separate occasions. This is a ritual for the closing of the year, when drumming is banned for six weeks.
<![if !vml]> <![endif]>
Drummers at Adae Ceremony
We went first to Lower Larteh , where the chief of Lower Larteh , the Ahenease, Nana Osabarima Asiedu-Okoo, who had been chief, for seventeen years, was holding court. An impressive man, he had been auditor for the Western African Examinations Council. He and forty elders, mostly wearing black cloth, to remember their ancestors, were in the chief's hall, a large imposing structure built in 2000. This chief had recently done a sort of UDI – a Unilateral Declaration of Independence (a notorious phrase after Rhodesian leader Ian Smith's UDI in 1965). He had proclaimed himself Paramount Chief of all the Guan peoples, rejecting the overlordship of the Paramount chief of Akropong. Libations were poured from half a coconut shell (I counted twelve bottles of Henkes' Schnapps), there was drumming, nimble dancing by some of the old men, and the inevitable exhortations: the chief. Through his linguist he urged people to keep the streets and buildings clean, saying it was up to the ward leaders; he complained about noisy radios: "I do not want to hear your music". Then the chief asked his linguist to request permission from the elders to speak directly in English. They agreed, and to my astonishment, and utter delight, he highly recommended my book Social Change in Larteh , Ghana . He said that since I wrote this nearly fifty years ago there had been many changes, particularly mentioning the six high schools, St. Peter's Technical College and "so many primary and middle schools". He commended the District Local Council and proudly said that Larteh was now the leader of all Guan, pointing to his splendid new 'palace'. He asked me to write a revised edition, taking into account all the changes. In reply I said:

Firstly, I am deeply honoured [which indeed I was]. Secondly, I was simply a scribe, all that I wrote I learned from you, from the elders and from the people of Larteh. Thirdly, I am too old for such a task; it is rather one of your young men or young women who should do a re-study.

I was greatly moved by the chief's speech, and I value this recognition from a leader of 'my people' (as anthropologists used to call those whom they studied) more than any honorary degree or other professional honour from an outside body.

On the way back, we stopped at the Plaza in Upper Larteh to attend their Adae ceremony. About 120 men and women were present, and a few children (Jessie grumbled that the children should not attend this ceremony). We listened to reports from the market committee and the development committee. One suggestion was to reintroduce communal labour, with a recommendation that busy people could pay a levy, instead of giving their labour. (This had been a familiar mater for discussion fifty years ago – I was constantly having strong deja vu sensations.) Once again the linguist controlled the discussion, which was animated at times; it was particularly heated when relations with the chief of Lower Larteh were discussed. Eight bottles of schnapps had been presented to the chief, and were lined up in front of him, to be used for libations. Speeches were made, mostly in Guan, some in English. Jessie was asked to explain the purpose of 'our mission', which she did with aplomb. It had been a full day and we were pleased to have another early night.

Labadi Beach
August 19. Jessie, Agnes and I were due to go to Accra , to have lunch with 'the Brigadier' (i.e. Francis). We persuaded Jessie not to send for Cecil – we didn't want to subject him again to that agonising long drive (in both directions) – but decided rather to use public transport. At 7 a.m. we walked to the town centre and after a half hour wait we found: first a taxi to take us to the Mamfe junction, second a bus that dropped us at Medina, and third a taxi which took us to Evelyn's house, arriving there at 11 a.m. Cecil joined us and, at my request, he drove us to see something of Accra 's CBD, stopping in Osu ('where the white people live and shop', said Jessie) where Agnes and I used the ATM. We drove on, past Independence Square and Christiansborg – which brought back memories of George Attoh's louche bar, my favourite nightspot in Accra in 1963. Then on to Labadi Beach , where Paul and Pat Baxter, and, later, Bernard (who spent 1961–62 with me at UG) and I used to go nearly every Sunday. In those days it was a popular and charming beach but with few amenities; today there are two upmarket resort hotels and the beach is full of vendors and restaurants. We preferred as it was fifty years ago.

From Labadi we drove again through heavy traffic, and bumpy diversions, to the port city Tema (which had also greatly expanded), where we received a warm welcome from Francis and his wife Perpetua, joining them for a jolly lunch. With the help of a housemaid, Perpetua was looking after her lively 19-month-old twin grandchildren. Of their five children, two sons, both married, live in Canada, and one in London . They have a large five-bedroomed double-storey house on the outskirts of Tema. Francis reminded me that I had invited him, in about 1962, to dinner at Legon Hall, UG. He had been bemused by the archaic rituals (including the wearing of gowns, Latin grace, and passing the port to the left) conducted with solemnity by the Master, Dr Christian Baeta. I reminded Francis that in 1961 he had arranged for a Ghana Air Force aircraft to fly me over Larteh, so that I could take aerial photographs.

Lunchparty at the home of Francis and Perpetua
We were joined for lunch by a minister from the Russian Orthodox Church who had spent some years at a seminary in New York . He told me that I knew his father, but once again I had to admit that I could not remember the man. After the usual grand and leisurely meal, Cecil drove us back to his mother's house, where we met 'Gertrude number two'. Auntie Bea had two sets of twins, one pair both called Victoria but known as Vicky Number 1 and Vicky Number 2, and the other pair two Gertrudes, similarly named ('our' Gertrude was Gertrude Number 1). They all had other names, to avoid confusion. We also had a chance to talk to Auntie Bea, who understood our English perfectly. On there turn journey we drove via Dodoma and Ayikuma (see map), climbing up the winding mountain road to reach Larteh by dusk. Abrakwa's brother, whom I had seen earlier, came to greet us again – as is the custom – and Jessie served him with tea and bread. That evening Jessie, Agnes and I had good talks, telling each other our family histories.

August 20. Our first 'mission' was to view the plot of land that I had been given in 1963. I had mentioned this to Kwame Arhin, who told me not to be surprised if I found that squatters had taken it over. But the neighbours had been allowed to grow crops on my land, which had protected it. Jessie again urged me to formalise my title to the land. On the way back, by chance we met Ben, Nana's co-wife's son, a tall, imposing man, who is a magistrate in Cape Coast, who advised me how to secure the land.

Driving down Main Street , we became involved in a road rage incident. Cecil, finding his way blocked by a large car, waited a few minutes, then sounded the horn. This infuriated the pompous driver of the offending car, who angrily shouted, "Bush boy!" at Cecil as the cars passed. This is a dire insult and it enraged Cecil, who reversed swiftly to remonstrate with the driver. Jessie, as usual, was the peacemaker, telling us that this man was known as 'the lawyer who never won a case' or 'the so-called lawyer'.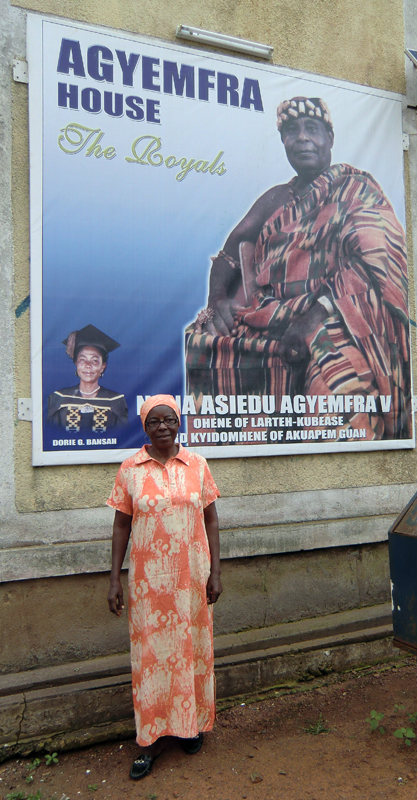 A

gyemfra

House,

Benkum

School
After Jessie had calmed Cecil down, we drove a few kilometres along the Mamfe road, to see the Benkum Senior High School – one of the best in the nation, with more than 1300 students, two thirds of them girls. The point of our visit was to see Agyemfra House (for girls) named after Nana. Another link was that my one-time neighbour, Dr Asiedu Ofei, had a science building at the school named after him. We met Danso Wilson, a friendly Nigerian teacher who had been there for two years and who was glad to show us around. He told us that the boys were dominated by the girls and consequently did not try hard, except in the science subjects. Students apply for admission to the schools of their choice after their junior high school results come out; the government allocates places but students may request a change.

We were cordially welcomed by the two assistant headmasters – one for administration and one for academic matters. Education remains a high priority, as indeed it is throughout the world, for students and their parents. I was proudly told that Larteh now has six fully-enrolled high schools: three are managed by churches, (Presbyterian, Anglican and Methodist) but funded by the government, and another is Peace and Love private school. In the 1960s, there was only the middle school.

We drove on to Mampong, to see the Centre for Scientific Research on Traditional Medicine (CSRTM), where Stephen, a pharmacist who had been there for twenty-five years, showed us the impressive herbarium, where over a thousand indigenous plants have been analysed. In contrast to the approach to traditional medicines that I had seen in other African countries, CSRTM was rigorously scientific. The staff were all well trained and they did not hesitate to use orthodox medications if traditional remedies did not help; they sell many traditional medicines at a low cost. The whole scene was most impressive, clean and orderly, with an air of efficiency and compassion – in stark contrast to so many medical facilities in Africa . As we were leaving, a small boy, four or five years old and impeccably dressed in white, said, in perfect English, "Please will you tie my shoes?" Agnes obliged him.
Bust of Dr. Oku Ampofo
Out-patients
This centre was established in 1975 by my good friend Dr Oku Ampofo, who was renowned both as a physician and as a sculptor; one of Oku's sculptures, Peace, stands outside the United Nations building in New York . During my fieldwork at Larteh, I frequently experienced the hospitality of Oku and his wife Rosina: I would enjoy an evening with a whisky and soda, a good dinner, enlightening conversation and classical music. Their only child, a daughter, had the misfortune to be a 'sickler' – she had sickle-cell anaemia. This disease, which is often fatal, is common among West Africans and also among African-Americans. I had the pleasure of welcoming Oku to California in 1965, when I drove him to see something of the country and we called at Reno, Nevada, so that Oku could see a casino. He was amazed and amused; he stood among the gambling tables, holding my hand in the Ghanaian fashion, laughing and are asking me questions – to the irritation of the earnest middle-aged ladies playing the slot machines.

We continued our journey by driving to Aburi, to see the famous Botanic Gardens. (My computer desktop wallpaper is a photograph that I took of Bernard in these Gardens in 1962.) After walking around, admiring the neat tags identifying the trees, and the well-kept Royal Palm Avenue, we went to the Tea Room. Agnes and I ordered only coffee, and were puzzled when were each charged NC4 – the same as Jessie paid for tea, toast and an omelette. The waiter explained that he had left a tin of Nescafé and a pot of hot water on the table – so we could have had more cups of coffee (!). At the next table, three Ghanaians, visiting from London, were equally puzzled by the weird pricing system. Jessie introduced us and I was delighted when they told me that they had read my Larteh book. (Forgive my boasting, but I am not used to being 'a well-known author', and it thrills me.) While we were walking in the Gardens, Cecil sat in the car reading Agatha Christie's play, Witness for the Prosecution; the play was to be performed at Burma Camp in Accra next month, and he would be playing the murderer.
<![endif]>
Royal Palm Avenue , Aburi Botanic Gardens
As we drove away from the Gardens, Jessie, inevitably, met another friend. Elizabeth was district president of the Anglican Women's Fellowship at St Luke's Church, Aburi; she insisted that we come to her 'Aburi Bar and Recreation Centre'. There Agnes and I divided (it was hardly noon ) a Guinness Foreign Extra Stout, 350 ml, 7.5% (brewed in Ghana ). This was a seriously strong beer and half of the small bottle was enough. Elizabeth 's son is a bus driver in London (Walworth) and Elizabeth had visited the family twice. When she goes to London, Elizabeth speaks to her grandchildren, aged two and three, in Twi, because she does not want the m to forget their language. Elizabeth has a gracious, smiling face, one which I regard as typical of many Ghanaian women; she had no make-up, simple gold earrings, a headscarf and a colourful cloth, with an elegant design. Her sisters and brothers all live 'outside', i.e. out of Ghana.
August 21. We left Larteh at 6 a.m., in heavy fog (I had forgotten the frequent mist and fog) driven by Cecil, to attend the funeral of Eugene Bossman, the grandson of Nana's elder brother. He was a 'sickler' and had died aged only 24. About three hundred mourners, mostly wearing funeral cloth, were assembled at Eugene 's father's grand house in an upmarket suburb of Accra . A few of the younger woman wore miniskirts and high heels – to Jessie's disapproval. The older men all had shaved heads.

I had a particularly warm welcome from the son of Mr. Anno-Nyako, the headmaster who had arranged for me to adopt Abrakwa. This man, now in his mid-60s, had been about 15 when I'd met him – he was then a student at Achimota School . Others who recognised me included Jedi, Nana's youngest son (see photograph p 1). Some women cried hysterically as they viewed the open coffin, and Eugene 's father had to be carried away sobbing. Leaving the overflow mourners outside the house, Jessie found us seats in the garden under a marquee. A Christian service followed – with passages in both English and Twi – accompanied by a church choir and a trumpet. An added poignancy was that Eugene had a twin sister, who required a special ritual. An old lady addressed her saying, "This is your brother. He is dead. He is dead. He is dead. You are now alone. He is dead. You can stop crying." By this time, many others were crying. The coffin was taken away for burial at Larteh.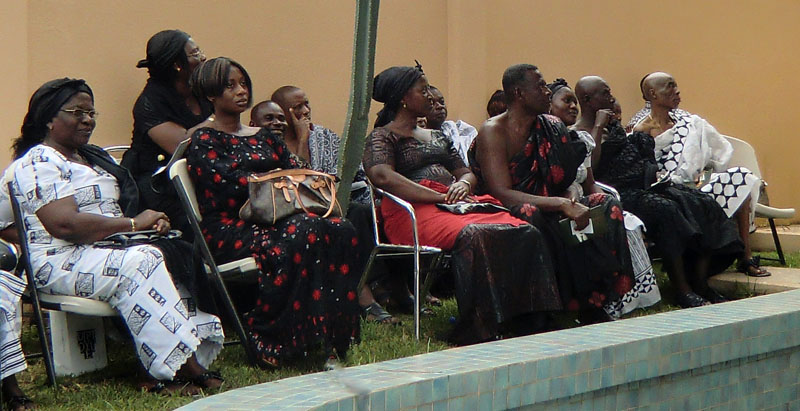 Mourners
Agnes and I left at this stage, asking Cecil to drop us at an Internet café. After checking our e-mails, we bought fried yams in a spicy sauce from a street seller. After 'lunch' we took a taxi to Evelyn's house, where we had a short rest on sofas, and the n a brisk walk in the suburbs. Cecil, who had meantime been to a wedding, drove us back to Larteh, again via Ayikuma. When we were driving up the mountain road, Jessie pointed out the spot where, earlier this year, the taxi in which she was travelling had been held up by a gang of seven masked robbers. She thought that one of the m, judging from his accent, was a Hausa, but that others were probably local men. The robbers took their cell phones and money and beat up some of the passengers. One man had two cell phones, and managed to keep hold of one of them – which he used to phone the police, who were able to set up roadblocks and arrest six of the seven robbers. They were swiftly, charged, tried and sentenced to twenty years in prison. (I was sad to hear this story: during my early stay, and for some years afterwards, Ghana was renowned for its peacefulness, and the absence – or rarity – of violence.)

August 22 – Sunday. I wanted to go to mass at the small Catholic church right at the lower end of town. I had suggested that I walk, but Jessie insisted that Cecil drive me. In the event, there was no mass – the Polish priest was on leave – but friendly Grace Asare conducted a service from 7.20 to 8:30 a.m. There were hymns accompanied by an electric organ, drums and a beaded calabash, and prayers – again in both English and Twi. We heard brief reports from committees and the usual exhortations. About thirty adults were present, and a few children – with the men and women not being segregated. Many of the women were wearing Ghanaian cloth, with matching headscarves. There was one other white person; I spoke to him afterwards – a Mr Larry Lutz, who had come by taxi from Ayikuma.

House of the first Speaker (of the Parliament of Ghana)
After an excellent lunch of my favourite groundnut stew, a number of guests came to greet us, including Francis' wife Perpetua and Mary Rose Garnett, the widow of a British man, accompanied by her granddaughter who was visiting from the UK . This girl, who was due to write A levels soon, was very sophisticated, with a small jewel in her nose, and she looked uneasy. By contrast her grandmother, Mary Rose, was very chatty and friendly, telling us about the MelRose B & B, which she was building near Mamfe. It will have eight bedrooms and she is hoping for many tourists. The ladies complained about a local Anglican priest: "He has no respect for women. He thinks he's God," the y said. They contrasted him with a visiting priest from the UK who "even had a BSc…" but who was very humble: "…he made tea; he put out our chairs."

Later that afternoon we had a visit from Robert Yaw Amanor-Akrofi, who had spoken to me earlier in town. He was yet another of Abrakwa's school friends, and he remembered washing my Renault Dauphine, which I had before the VW. Robert was tall, noble and grey-haired (unlike the many older men who dye their hair), with excellent English. He had spent three years at an English-speaking institution in Genoa, studying security systems; he was interested in energy, particularly solar and biofuels, so he and Agnes, who is a leading expert on domestic energy, had much to talk about. Robert, who is the son of the late Chief of Lower Larteh (and hence Auntie Bea's cousin), is presently enrolled (at age 65) in a Mandarin class at UG. He owns eight acres near Ayikuma, in the plains below Larteh, where he has planted cashew trees. Robert had given six acres of land near Mamfe for the proposed University of Larteh . The driving force behind the plans to create this university is a Larterian, Kwaku Ansah-Asare, formerly Director of the Ghana Law School . Robert advised me about a 'Native Conveyance', a very colonial-type document which I would need for formalising title to my land. When Jessie saw how Robert was helping me, she said, "You see, David, God is directing you." Robert produced an example, which Agnes used as a model to type up a document for my purposes. That evening we had a visit from three surveyors, young men who agreed to survey my land, for a fee of NC400. Robert insisted that NC300 was the correct rate, which was the final amount agreed on.


Surveyors on my land (arrow shows GPS)

Pouring the libation

Henke's Schnapps
August 23. This was a long morning, making arrangements about the land. First the surveyors surveyed the plot, using GPS, and then downloading the data to Accra . Then followed several libations, first on the land, performed by Kodjo Adusu and other elders; then at Nana's house, and finally at the house of the priest from the shrine of Akonedi. The ancestors were well informed, and I and my land received their blessings.

Back 'home' for lunch – salad and fried plantains – and a rest. I needed three copies of the document, which Agnes put on her memory stick, and we walked to the local Internet café, but their printer was not working, so we took taxis to Akropong (8 kilometres away) where we found the superior Bella Vista Lodge & Internet Café. We returned home in the evening twilight. I told Jessie that I intended to bequeath my land to her; she was delighted, and, after a few minutes' thought, she said that she would build Brokie's Way Guest House. I glowed.
August 24. Much of this day too was occupied with activities related to my land. First Agnes and I, accompanied by Regina, drove to Akropong to have there vised conveyance printed. We called to see Otu Ayeh, who was one of the five elders whose signatures were required on the document. Otu pointed out the house of his daughter, reminding me that I had given her a doll when she was a small girl. She is now married to a 'Big Man', which was evident from the splendour of her home. The elders, who included Nana's son David, were assembled at Nana's house where Jessie translated and explained the document. Four of the five had fair to good English and all considered the document carefully.

By 1 p.m. we had completed the legal formalities and Cecil drove us to Accra, to the airport post office, so that I could buy postcards; I found a good selection for 50 pesewas (half a cedi) – a quarter of the usual price. With all the comings and goings, Agnes and I were both a little exhausted and we recognised that we were no longer up to the demands of fieldwork – the constant succession of greeting and being greeted; the alternation of silences and noise; of waiting, for what one is never sure; of the language difficulty and of cultural ambiguities. We were glad to go to the Airport View hotel again, where we could relax in the swimming pool, have a few beers and go out to an Indian restaurant in Osu where we were the only customers; we had a good meal for NC45.




August 25. At the hotel, I used Agnes' laptop to check my email, finding: an invitation to be interviewed by a woman from Stellenbosch University, who is writing a PhD dissertation on South African POW's in WW2 – yes; several draft chapters for Climate Change and Indigenous Knowledge, a book that I am co-editing, with Peter Castro and Dan Taylor; announcements of concerts, operas and plays in Cape Town. I ignored the New York Times, London Times and Politics Web ( South Africa news) and other news sources.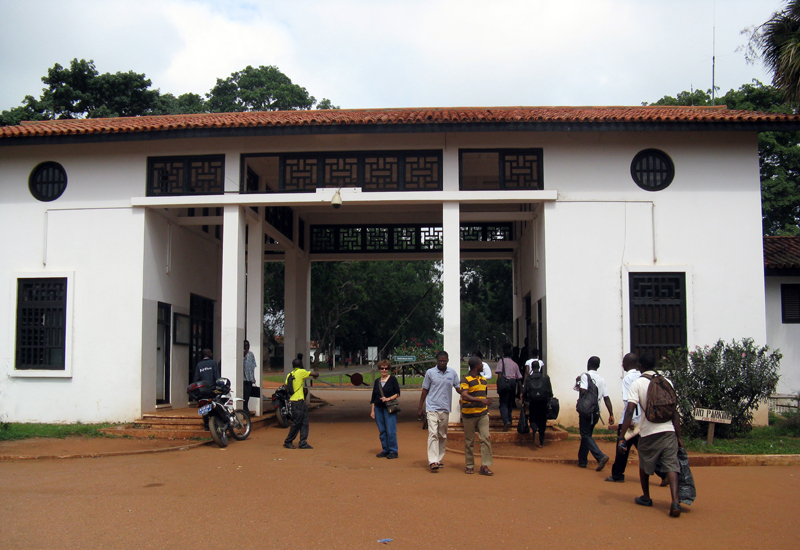 University Entrance

Bolta Hall
Agnes and I had persuaded Jessie to let us be free for the morning, so that we could visit the University of Ghana . As I've already mentioned, I spent the years 1959 to 1963 at UG, and Agnes was an MA student in the first class of the newly-formed African Studies Department from 1962 to '64. This was a golden age for African Studies, with such luminaries as Thomas Hodgkin as director, Basil Davidson and Joseph Ki-Zerbo (editor of the UNESCO three-volume History of Africa). We took a taxi (NC5) to Legon, and called first at the African Studies Department. When I enquired about Kwame Arhin, who had been director there a few years previously, the secretary told me that Kwame's son Kweku worked in the accounts section of the Department of Law, which was only a few hundred metres away. I had a great welcome from Kweku, who immediately phoned his father, and arranged for us to meet the next day.

We then walked up the main road, noting the new Cruise O'Brien Street and stopping at the university bookshop which had a very good selection – particularly of African writers, English novels and all the academic texts. I was disappointed that there was no decent map of Accra : because of geographer Bernard's influence, I have become accustomed to consulting a map wherever I go. We were pleased to see that the library was in good shape; altogether one had a sense of an active and thriving university. After we left the library, Agnes walked around Volta Hall, where she had lived in residence for two years; she was pleased to see that it was still in excellent condition.

Ashanti Stools
We decided to go next to the National Museum; we asked several taxi drivers but none of them knew where it was. Fortunately a young woman student directed the taxi driver, and we eventually found our way there. I was pleased to find an excellent map of Accra in the museum shop. The museum had some good exhibits but they were not well presented. I was critical of the text of captions, which used phrases such as 'unique idiosyncratic identity', 'open the forum for', 'paradigm', 'a broad spectrum of people'… Considering that one of the aims of the National Museum is to introduce the objects and the culture to schoolchildren, they might have been more user-friendly.

On leaving the museum we hailed another taxi to take us to Evelyn's house – we had to buy NC1 of airtime from a roadside vendor, and borrow the driver's mobile phone to call Jessie to get directions to the house. It was a hot day and we appreciated an ice-cold fresh pineapple juice, NC1, bought from another hawker.

We heard how Auntie Bea – at age 92 – had watched the World Cup avidly, scolding the referees when she thought they were in error, and cheering goals of her favourite teams. The fufu we had with our lunch was made from plantain, which Jessie said is lighter and better than the more common cassava. Evelyn joined us for lunch. She is a lawyer, and, after working for more than twenty years at the Ministry of Finance, is now at the Ministry for Women and Children. I found that once again my conveyance was minutely scrutinised, with Evelyn suggesting a few changes. Back at the hotel we met the young surveyor who gave us the details of my plot, which is 0.12 of an acre. Agnes made some required changes and printed a revised form, which I signed.

Evelyn, Jessie & Surveyor

August 26. Our last day in Ghana . Jessie arrived at the hotel at 9.30 a.m., having travelled to Larteh the previous evening in a trotro – at least a two-hour journey each way – to get the elders' signatures on the revised conveyance. She returned early this morning to make sure that I had the final version of this important document. What a star!

We drove first to Legon, to search at UG for an ATM where Agnes and I could withdraw cash, but our credit cards were rejected. (Later we got money at our hotel.) At my request we made a short detour to see Achimota School , known as ' the Eton of Ghana', where my friend John Gretton taught in 1962–63. I was pleased to see that the school buildings and grounds were still well kept. The four miles between Legon and Achimota used to be open land, but now the whole area is solidly built up.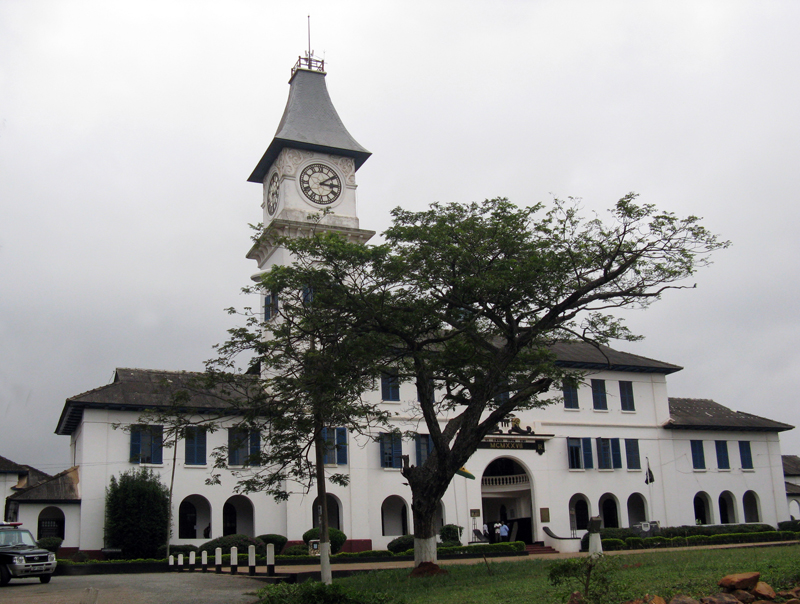 Achimota School
Our last 'mission' was to drive to Ofankor, a distant suburb on the bumpy and slow roads, to re-meet Kwame Arhin; we were delighted to see each other. Kwame had had problems with his eyes and had been virtually blind. He was very critical of a woman specialist who had first treated him at Korle Bu, the main hospital in Accra . She had been callous, he said, chatting to a friend while supposedly examining him, and telling him that there was nothing wrong with his eyes. A little later, Kwame was in Washington DC where he saw another specialist, who told him that this woman doctor obviously did not know her job. He had recently had a cataract operation, which restored partial sight, a great blessing for Kwame, who is still active professionally. Kwame's daughter had recently been married and there were several bottles of liquor left over from the celebrations. Kwame insisted on giving me a bottle of Courvoisier, which I passed to Auntie Bea, who likes an occasional drop of cognac. Kwame told me a long and complicated tale about the funeral of the wife of the Asantehene ( the King of Ashanti). He was shocked by the way old customs were being neglected, and inappropriate modern innovations introduced in their place. He also deplored the excessive drinking at funerals – he does not drink liquor.
Kwame Arhin
Cecil drove us to the Accra Polo Club, where Francis had invited us to join him for drinks. I had been to this club with Francis and Perpetua during my 1988 visit, and I found it enlarged but still very much with a pervasive colonial atmosphere. We were joined by a German lady who had been married to a Ghanaian doctor but was now divorced – this was her first visit to Ghana in thirty years. We went to a nearby elegant Chinese restaurant where Francis had ordered a special lunch served at the traditional roundtable. (I am hoping that Francis, who travels frequently, will be able to make a detour someday soon to see me in Cape Town, and Agnes has invited him to come to Frankfurt.)

Francis at Polo Club

lunch at the Chinese Restaurant
Agnes and I had time for a rest at the hotel before going to the airport for our overnight flight to Johannesburg . The flight was so empty that each of us was able to stretch out over four seats and get some sleep. We were back in Cape Town by about noon.
---

Jessie
Appendix 1 – Bits and pieces from the local press

President J S Mills will be facing an election in 2012, when he will face strong opposition, including a contender from the CPP (Convention People's Party) – which was founded by Kwame Nkrumah, whose son, Sekou, is one of the leaders of this party. President Mills's NPP (New Patriotic Party) has been much criticised.

Conflict was reported between Members of Parliament and the District Elected Councils, reminding me of a similar dispute, which led to my arrest in Kenya in 1970 (see Brokie's Way pp 436-438).

Oil was discovered last year in the sea, 130 km southwest of Takoradi. While we were there, there was a seminar entitled What lessons can we learn from Nigeria ? Already the local people are pressing for a greater share of profits and they are also concerned – particularly after the explosion of the oil well in the Florida Gulf – about safety.

I read several familiar stories: about corrupt officials; the anticipated water shortage; the probability of blackouts; children being sold from orphanages; child labour; the expense of funerals; and a debate as to whether the local vernacular languages should be used for the first few years in primary schools.

Until recently the University of Ghana was able to house most of its students in its own student residences, but recently, with enrolments at 42 000, privatisation has begun. A room in a private student hostel might cost NC900 a year, against NC330 in a UG residence (admittedly much more crowded).

The Pure Fire Miracles Ministries of Achimota took out a full-page advertisement in the Daily Graphic on August 16, 2010 . Here are some excerpts:

- Join us for three days, total deliverance every week.

- It is time for you to rise against that enemy who prevented good things from happening in your life.

- I command any witch or wizard blocking my life to receive fire in the name of Jesus.
Appendix 2 – Items being sold by hawkers, in among the traffic

Cold drinks made from yoghurt, lemon, lime, pineapple and straight water. Milo , Coca-Cola. Grapes and apples from South Africa. Maps of Ghana, newspapers, magazines, writing boards. Bread, plantain chips, biscuits, peanuts, sugar-cane pieces, doughnuts, popcorn, ice-cream, naan, chewing gum. T-shirts, flip flops, sandals made from tyres, shoes, neck ties, handkerchiefs, dusters. Air time and cell phones. Insect spray, toilet paper, windscreen wipers, superglue, coat hangers, picture frames, clothes pegs, clothes hangers, bathroom scales, soup plates. "Palm music computers", DVDs, bouncy toy penguins, footballs, catapults.

Please click here for some examples of Ghanaian church architecture.
DWB. December 2010