<![endif]>
<![if !vml]>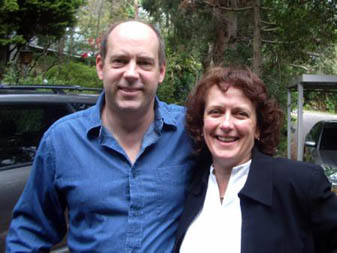 <![endif]> Adam & Beatrice
<![if !supportEmptyParas]> <![endif]>
October 20/23 Sydney. Adam and Beatrice Lister. My godson Adam Lister, (not be confused with my godson Adam Baxter) the middle son of Julius and Kim, has lived for several years with his family in Australia. When Adam was an 11 year-old schoolboy at the Dragon School in Oxford, he was due to fly to join his family in Indonesia for the school holidays. He decided to stop en route in Kenya to visit Bernard and me. When his mother suggested that he should ask us first, he asked, indignantly, "What is the point of having a godfather if I can't go to see him?" When we bought our Kennington flat in 1986, Adam, an excellent all-round handyman, as well as an outstanding photographer, was a great help with our renovation and redecorating. Beatrice, who is of Dutch origin, told me that her family, which includes many doctors, has lived for 11 generations in Curacao; they also had a home in Medelin, Colombia. She is a stockbroker and analyst for a leading bank. Their three children, Jason, 14, Oliver, 12, and Isobel, 11, are bright and friendly. I was impressed by their easy relaxed relationship with their parents and the way they un-selfconsciously snuggled up to their dad at any opportunity.
After the long flight I was glad to go to bed, but was up early to walk in Tania Park and along the foot paths overlooking Sydney Harbour. I was intrigued by the exotic colourful birds, and we even had rainbow lorikeets and kookaburras waiting for handouts on the veranda rail.
I drove with Beatrice to take Isabel, who is at a very horsey stage, to her Saturday riding school. It was over-clouded, so I asked what was on at the Sydney Opera House. Beatrice quickly checked online and found that there would be a matinee of Janacek's opera Jenufa at 1pm and that if I hurried I could attend it. She quickly booked a good seat for me (third row, A$125) and drove me to Manly Wharf where I caught the 12.15 ferry, arriving at the opera house with five minutes to spare. The opera, though hardly jolly, was splendidly sung, with a fine orchestra conducted by Richard Hickox - a gripping production.
Saturday evening we went to Manly Phoenix restaurant for a good Chinese meal, accompanied by Oyster Bay Sauvignon Blanc (despite the great production of Australian wines I noticed that New Zealand whites are often preferred).
On Sunday, Beatrice drove me to Manly so I could go to Mass at St Mary Immaculate and St Athanasius. It was a good service with a charming children's choir comprised, I thought, of Aborigines, but Beatrice later said they were probably "islanders". It was Mission Sunday, so instead of a sermon we had a good talk by Sister Elizabeth on her work in the Solomon Islands and East Timor, both desperate situations about which I had known little. After Mass I walked back along the Manly scenic walkway, fringing the harbour; Beatrice and their poodle Milo walked to meet me, and Adam cooked us all a real Sunday breakfast.<![if !supportEmptyParas]> <![endif]>
<![if !supportEmptyParas]> <![endif]>
<![if !vml]>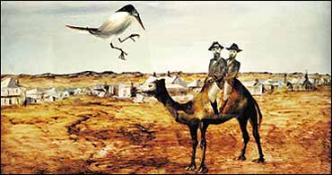 <![endif]> Sidney Nolan's In Menindee
<![if !supportEmptyParas]> <![endif]>
<![if !supportEmptyParas]> <![endif]>
My hosts - here as elsewhere - did not mind when I wanted to take myself off, so I took the ferry again to the Circular Quay so I could walk around the Royal Botanical Gardens and on to the Art Gallery of New South Wales. Here I admired the Sidney Nolan paintings and puzzled over the special exhibition of Giacometti sculptures.
That evening Adam and I had a good talk, mainly about Julius, although this time it was not as long nor as intense as I had had with Ralph.
October 23/25. Erina. John Burton and Tom Searles.
On Monday Adam drove me one-and-a-half hours north on the Pacific Coast Highway to Erina. John and I were at Rhodes University in 1946 but we only got to know each other well in the late 1950s, when we worked for the African Administration in Bulawayo. We had met Tom briefly, when he was working as an architect in Salisbury (Harare). John and Tom migrated separately to Sydney in the mid-1960s, met again and have now lived together for 41 years. Tom is a sprightly 91 year-old with a keen mind and many interests. John was a teacher and later a headmaster in Sydney. Bernard and I had stayed with them in 1974 and again on our last visit to Australia in 1990, at their home in Balgowlah near where Adam and Beatrice now live. In fact, John and Tom were helpful to Adam and Beatrice when they first arrived.
<![if !supportEmptyParas]> <![endif]>
<![if !vml]>
<![endif]> Tom & John
A few years ago Tom & John moved to Tarragal Glen, quite the nicest retirement community I have ever seen. They have a spacious bungalow - I had my own en suite bedroom; and they each have a study; there is a colourful small garden, and both front and back patios. The estate is well planned and well maintained, with colourful gardens, large parks for walking, and none of the depressing institutional ambience one often finds. John's nephew David, his wife Helen and their four children were visiting from Cheddar (England) and were staying in a cottage near the beach, where we had a lunchtime barbecue .I noticed how good Adam was with the children (aged 5-13), at once establishing easy relationships with them and listening to their stories: this is a real gift. Meanwhile I had good talks with Helen and David. I find as I get older that I have little time for small talk and I tend to get straight into areas of real interest. The next day I wanted to take J & T out to lunch, my hosts recommending the Reef restaurant, with superb views over Haven beach; we had a delicious two-and-a-half-hour lunch - oysters, barramundi (a tasty local fish), mango creme brulee. The manager again recommended a New Zealand wine: Braided River Sauvignon Blanc, and as a dessert wine a Brown Brothers Muscat Orange: both were superior. We had sensibly taken a taxi so that we could relax - drink-driving laws are strictly enforced in Australia. I had not seen John and Tom since our last visit 16 years previously and I was glad to see them actively engaged in many activities and friendships and still much enjoying their lives.
October 25/27. Adelaide. Peter and Elizabeth Brokensha.
I took a shuttle bus (A$60) directly to Sydney airport for my short flight to Adelaide. When I was departmental graduate student adviser at UCSB in the 1970s I took a group of new graduate students to the library, where I asked Carol who was in charge of Anthropology, to explain the (then quite primitive) system of computer retrieval. Carol said "let me punch in Brokensha and see what comes up". I waited modestly in the background but the computer displayed not my name but Peter Brokensha ("Who is this impostor?" flashed through my mind). Peter proved to be an anthropologist who had written about the material culture of the Pitjanjarat, an Aboriginal community living year Alice. My cousin Neville, the family historian living in Durban, later explained that Peter was my second cousin - of my grandfather's brothers, four went to South Australia and three to Natal in South Africa.
We met Peter and Elizabeth in 1985, when they visited us in our flat in London. We stayed with them in Adelaide in 1990 and they have stayed with us both in Sherborne and in London.
Peter changed his career, when he was already middle-aged, from oil executive (director of CALTEX Australia) to anthropologist. He lectured and built up a successful career as a consultant, promoting ethical standards in business, and helping relationships between the mining industry and the Aborigine communities near their mines. Elizabeth had been trained as a nurse and in recent years had been very interested in ethnic art. Both were involved in the cultural scene in A.delaide, also in supporting Oxfam, and acting as "foster parents" for children from many countries. Peter has recently recovered from a hip replacement and Elizabeth still keeps up with her yoga and Tai chi.
I was amazed that they had the time and energy to cope with my visit because they had moved to a smaller home only five days before my arrival; they were still sorting themselves out. Their two daughters, Anne and Sally, live nearby and had helped the move, painting the new house, finishing just the day before I arrived. Their son had very sadly died a few months earlier, when only in his early 50s.
I was able to have suburban walks, following a different route everyday and admiring the pleasant houses all with flourishing gardens – ubiquitous roses, banksia, bougainvillaea, plumbago also jacaranda and syringa and many others familiar to me from South Africa. When flying over Adelaide I had seen, through the mauve haze of the jacaranda blossoms, that there was no great disparity - as there is in South African cities - in the housing, nearly all houses being relatively modest. This impression was confirmed on my early-morning walks. There were a few older double storey houses in big gardens but most were bungalows with small lots. While birds were everywhere, I noticed hardly any dogs or cats; also there were virtually no For Sale signs, indicating a fairly stable community.
I went with Peter to the art gallery where the large collection of Australian art, particularly from the 19th century, was much better than I had seen in Sydney. They also drove me to Carrick Hill, an imposing colonial mansion on the outskirts of the city, with extensive and attractive gardens including an intriguing "pleached pear arbour" which we had seen in 1990.
When Bernard and I visited France in 1992, we met P & E's daughter Sally at Poet Laval, Drome. We had a memorable lunch on the terrace of Les Hospitaliers ( a truly grand restaurant), overlooking fields of lavender and sunflowers, a quintessential Provencal scene. Sally had previously spent two years in Yemen, was helping the local women find markets for their quality woven products. Sally, who had just completed an M.A. in Development Studies at Flinders University, gave us dinner at her home. I was sorry to miss her daughter Jessamy, who had worked the previous summer as a jillaroo in the outback; Jessamy, as keen on horses as was Isobel Lister, was away at the University of Queensland
October 27/31. Kangaroo Island.
Peter had insisted that I allow time in my itinerary for a visit to Kangaroo Island, not far from Adelaide, noted for its wildlife. We drove to Cape Jervis stopping on the way at "Myponga General Store and Post Office", where we each had a dozen oysters (A$10) and a Coopers Pale Ale. The owner of the shop was friendly and chatty. At Cape Jervis we boarded the Sealink ferry for the 45 minutes trip to Pennishaw, where we stayed at the hotel. We enjoyed a good dinner; the waiter had migrated from Staffordshire and I met, along the way several other recent British migrants. I enjoyed my first kangaroo steak and I appreciated the Wolf Blass 2004 Yellow Label Cabernet Sauvignon, recommended by Peter. (The kangaroo population has increased so much that culling is necessary). My morning walk took me along the simple golf course, which had more browns than greens, through pretty countryside and back along the beach. Apart from the beneficial exercise, my walks gave me a better sense of the places where I was staying.
We drove to Seal Bay, walking down to the beach on the boardwalk to see the sea lions, and then stopping at Vivonne beach, where a couple from the North of England ran an all purpose Country Shop , serving us "Kangaroo Island King George Whiting burgers", which to my surprise were delicious. We stayed two nights at Kangaroo Island Wilderness Retreat, a treasure, expertly run by a young couple where everything was just right. At the Flinders Chase visitors' centre I admired Aborigine paintings of the creation myth, particularly "Pathway to the spirit world" by Jacob Stengle, a Ngurrindjeri artist. The centre also presented a very clear geological explanation, which I thought would have been appreciated by Athos, one of the main characters in Anne Michael's novel, Fugitive pieces, which I had borrowed from Sally. Kangaroo Island is a popular tourist resort and a group of 30 young enthusiastic Indians (from India), all very jolly and enjoying themselves, stayed at our Retreat. The island produces good wine, as we discovered. We liked, especially, a "Kangaroo Island False Cape Unknown Sailor Cabernet/Merlot 2003".
<![if !supportEmptyParas]> <![endif]>
<![if !vml]>
<![endif]> Peter, Elizabeth & wallabies
<![if !supportEmptyParas]> <![endif]>
<![if !supportEmptyParas]> <![endif]>
My dawn walks from Wilderness retreat took me through real bush land where I often surprised wallabies bounding through the bush. Peter and I walked for a couple of hours along the "platypus water holes walk" seeing none of the shy creatures, but having good sights of koala and a lovely bush walk through tall eucalyptus stands, grasslands and high shrub. Everything was adequately sign-posted, with a series of eight platforms or hides for platypus searching.
We joined a group of 12 – French, Swiss, English and Australian - for a two-hour nocturnal walk, guided by Leslie, who with her husband manages 9500 acres of American-owned land, kept for conservation. Leslie was a good guide and speaker, explaining that the island had only 18 koalas in 1923, and now there were 30,000 which need culling: predictably this suggestion has met with indignant protests. Koalas eat the leaves of only a few of the 700 species of eucalyptus. This area has the biggest concentration of koalas on the island, with one square kilometre fenced as protection against the feral cats. In addition to good sightings of koalas, including one with a joey, we saw brush-tailed possum, ring-tailed possum and wallaby.
On the return drive we stopped at a wildlife park, which confirmed my misgivings about such institutions. This was run down, the birds and the koalas were clearly stressed and the staff surly. We restored our spirits with a good lunch (I had my favourite bacon and banana toasted sandwich and a glass of Bay of Shoals Sauvignon Blanc at the ocean seafront hotel at Kingscote. This was followed by the daily feeding of pelicans, quite a spectacle, but I remembered how many times Bernard and I had seen pelicans in the wild, and this choreographed event was not nearly as rewarding. We spent a night at Penneshaw again, leaving the next morning on the ferry and driving back to Adelaide.<![if !supportEmptyParas]> <![endif]>
<![if !vml]>
<![endif]> cyclists on the Torrens
<![if !supportEmptyParas]> <![endif]>
October 31/November 2. Home-run
We went by taxi to the theatre for an early supper at sunset, overlooking the Torrens River and watching the rowers - men and women, in both eights and fours - the black swans, joggers, walkers, cyclists along the riverside path, a cheerful scene. Uncle Vanya was well produced, with good actors, but I was reminded of John Povey saying 20 years ago that he was tired of Chekhov "all the characters do is to moan about their lives". I spent my last night in Australia at an airport hotel in Sydney because I had an early flight the next morning. It is a long flight -14 hours from Sydney to Johannesburg - but again I was comfortably installed in the upstairs cabin of the Qantas aircraft. After reading the summary of the Stern report on climate change and global warming I was glad that Bernard and my co-teaching our Environmental Studies course had given me enough background on water and climate to appreciate this sombre report. Elizabeth had lent me her copy of Kate James' Women of Gobi, a well-told tale, which kept me occupied for the first part of the trip; then I watched Al Gore's telling movie, An inconvenient truth and finished with a Tony Hillerman Navajo detective story. Eventually, tired of reading, I relaxed listening to Schubert's Quintet in C. I had a short wait at Johannesburg airport before flying to Cape Town where I arrived at 9pm and was home by 10 pm. I was glad to be back in Fish Hoek, with my head and heart full of so many happy memories.
<![if !supportEmptyParas]> <![endif]>
<![if !vml]>
<![endif]> fishermen's boats on Fish Hoek beach
<![if !supportEmptyParas]> <![endif]>
<![if !supportEmptyParas]> <![endif]>
SOME REFLECTIONS
<![if !supportEmptyParas]> <![endif]>
I found depressing universal evidence of three phenomena: global warming and climate change; globalisation; increasing obesity.
<![if !supportEmptyParas]> <![endif]>
At the personal level, this trip gave me a wonderful opportunity to renew friendships, often with people whom I had not seen for 10, 15 or 20 years. Only three were older than I, most were a generation younger, about 60 years old, with some much younger. I spent enough time with each to gain a window into their lives, to learn about their health, careers and families, about life's inevitable ups and downs.
<![if !supportEmptyParas]> <![endif]>
A few had suffered some physical or mental loss, not surprising when many were about my age. What was pleasing was that our affection for each other, our pleasure in the other's company, remained undiminished. For me, this was immensely rewarding and stimulating. After my return, I was asked if the trip had exhausted me: to the contrary, I was invigorated by all the contacts that I made. Since Bernard's death, I have been on my own , I calculated , for about 85% of my time. Not complaining, I have enough good friends for my needs, and I have learnt to be content with my solitary state, but it was treat for me to have such refreshing company, for so long. It was also a treat for me to enjoy so many good meals: like most who live alone, I usually eat simply.
<![if !supportEmptyParas]> <![endif]>
Thinking of those friends whom the years had treated cruelly, I realised - again – how fortunate both Bernard and I had been. I am now determined, more than ever, to follow the carpe diem rule, fully appreciating my present state and living life as fully as I can.
On a trivial note, I am – knowing my absent-mindedness – happy to report that I lost only two small items – a shoe-horn (useful for putting shoes back on, at the end of a long air journey), which John Burton kindly replaced. And a cap – I found a substitute (Made in China) with a Kangaroo Island emblem. I was also happy to report that, despite all my gourmet meals, my weight stayed constant, at 72 kgs (158 lbs).
<![if !supportEmptyParas]> <![endif]>
I have been asked several times, "What was the highlight of your tour?", which I found impossible to answer. In any event, even had I been able to separate out one particular place and friend(s), it would have been too invidious to announce it. I can truly say that my travels proceeded from one memorable and happy meeting to another.
<![if !supportEmptyParas]> <![endif]>
Finally I come back to networks. My trip underlined both the extent of my personal networks, and also how much I depend on them, even more so in the nearly three years since Bernard's death. Some analysts of social networks depict them graphically: if I were to attempt this, there would be countless interconnections, with so many individuals knowing each other. Again, I thank all of you who made my trip (a) possible, and (b) so thoroughly enjoyable.
DWB
<![if !supportEmptyParas]> <![endif]>