East coast USA & St Louis, MO
<![if !vml]>
<![endif]> Nigel & Robin
<![if !supportEmptyParas]> <![endif]>
September 15 - 19: Punta Gorda,Florida. Robin & Nigel Morris
Having heard horror stories of the tough new US immigration procedures, I was apprehensive at Miami, but I had a splendid reception, helped by my having a US passport. The genial immigration officer glanced at me, looked down at my passport and said "I did a double take… you are pretty good for your age. Welcome back". From Miami a short flight to Fort Myers, where Robin's husband Nigel met me to drive me (one-hour) to their home .
<![if !supportEmptyParas]> <![endif]>
On the way I was intrigued to see a new roadside sign, Panther crossing 45 mph, 40 at night. Nigel told me that there are still a few panthers around but several had been killed by speeding motorists.
<![if !supportEmptyParas]> <![endif]>
I received the warmest welcome ever from my niece Robin, Paul's eldest daughter, who was to celebrate her 60th birthday the next day - obviously a factor when I arranged my itinerary. Rob and I have always been close. Three of Rob and Nigel's four children were present - Rhett, 29, a professional fisherman who lives a half mile down the road; Bruce, 27, also a professional fishermen who has his own house in town; Kym and her husband Greg and their little baby Bryland were visiting from South Florida. Chace (see Aug. 29) was in England. I had last seen Rob and Nigel, Rhett and Kym, in February 2006, when they came to KwaZulu /Natal for our family reunion. The house, on a double plot, is located a few miles outside of the town of Punta Gorda, a city on the gulf coast, which was the epicentre of Hurricane Charlie in August 2004. During my short stay I saw much evidence of the destruction
<![if !supportEmptyParas]> <![endif]>
After a heavy shower of rain it was decided to have the party in the barn, which had to be cleared out and tidied up. I borrowed Rob's car to drive to the 5:30pm Mass (dull) in town, returning in time for the merry birthday party - the family had obviously become very popular amongst the locals and there was a scattering of old friends from Rhodesia: Rob & family moved from Rhodesia in 1979, just before Independence for Zimbabwe. The highlight of the party was a very moving speech given by Rhett to honour his mum. The party continued to the small hours but I was in bed by midnight.
<![if !supportEmptyParas]> <![endif]>
The next morning, I set off on a walk but I soon found that my wrists and ankles and face were covered with mosquito bites and in addition the heat and humidity were unpleasant, so I retreated to the air-conditioned interior. In the cool of the evening Nigel took us for a drive in his "buggy", through the palmettos, accompanied by his excited pointers, which he keeps for his favourite sport of hunting quail in the winter. For supper we had halibut and smoked salmon which Rhett had caught on a holiday in Alaska and frozen; Bruce, as well as being a fisherman, is a keen bow hunter and often hunts deer in Georgia where the deer population has multiplied and culling is essential.
The next day Rhett took his mum and me out in his neat and efficient fishing boat, impressing me with his knowledge not only of the fish and the tides and the waterways but also of the birds, quickly identifying, even from a distance, osprey, bald eagle, frigate bird, terns and cormorants. Rhett – and my other great-nephews and great-nieces – fill a similar place in my life, and my heart, as do grand-children for my friends who are grand-parents. After a final breakfast at Smokey Joe's with the family, Rob drove me to Fort Myers for flights to Washington DC and on to Syracuse, New York. <![if !supportEmptyParas]> <![endif]> <![if !vml]>
<![endif]> Beaver Lake, NY
September 19 – 28, upstate New York, with three separate families.
<![if !supportEmptyParas]> <![endif]>
<![if !supportEmptyParas]> <![endif]>
<![if !vml]>
<![endif]>
Indigo,Garry,DWB & Connie
<![if !supportEmptyParas]> <![endif]>
September 19/20 & 22/23 Ithaca, N.Y. Garry & Connie Thomas, met me at Syracuse airport; we had first met in March 1968 when they were graduate students at Syracuse University, which was then, under the dynamic leadership of the redoubtable Fred Burke, a major centre for East African Studies. In preparation for a research trip that summer I had gone to Syracuse University (SU) to meet colleagues and to check the archives. Garry had been assigned to me as my "minder". We came together again in the 1970s through our mutual interest in fuelwood in East Africa, and in 1984 Garry and I directed a Social Forestry workshop in Malawi, for FAO. When we were living in England in the 1990s we several times saw G & C whose two daughters, Carla and Katrina, had each married British horticulturalists and were living in England. There was the pull of adored grand-children. In addition Bernard and I had stayed with G & C first in Strasbourg, 1985, and later, 1992, in Rome. Garry and Connie recently retired from many years teaching (anthropology and French, respectively) at Ithaca College, a good liberal arts college, with 6,200 students.
<![if !supportEmptyParas]> <![endif]>
Here are some of the contrasts I noticed: <![if !supportEmptyParas]> <![endif]>
| | |
| --- | --- |
| Punta Gorda | Ithaca |
| Hot and humid | Cool, signs of Fall |
| Flat landscape, palmettos | Rolling hills, gorges |
| New housing, trailers | Gracious old homes |
| A "red" Republican State | - "10 Sq Miles surrounded by reality" |
| An ageing population | A college town, young |
| Hunting, shooting and fishing | Organic markets |
<![if !supportEmptyParas]> <![endif]>
<![if !supportEmptyParas]> <![if !supportEmptyParas]> <![endif]>
When I accompanied G & C to the Green Star Co-operative market, I noticed that - on ethical grounds - no Chinese products were stocked, but South African goods were now acceptable, a change since the last time I had been in the US.
<![if !supportEmptyParas]> <![endif]>
<![if !supportEmptyParas]> <![endif]>
G & C are also keen walkers and what wonderful walks we had, particularly in the famous Ithaca Gorges, which combine dramatic scenery with a few challenging climbs. They identified the towering trees - Norway and sugar maples, birch, black and yellow hemlock and red cedar. Trees were beginning to turn, but it was about two weeks too early for the true glory of the Eastern Fall. We also walked around the campus of Cornell University. Ithaca is a lively college town, with five bookshops, umpteen ethnic restaurants (we had dinner in a fine Thai place) and a good buzz. But Garry told me that excessive drinking, especially at the fraternity houses near their home, is a problem. I saw many students from South and Southeast Asia, but comparatively few African-Americans or Hispanics.
<![if !supportEmptyParas]> <![endif]>
<![if !supportEmptyParas]> <![endif]>
Although they are retired, G and C remain active in many ways, particularly as active Quakers, bearing peaceful witness against war and speaking out against the (often unconstitutional) actions of the Bush administration - sometimes at considerable risk: I met their friends, one of whom had been imprisoned because of his protest. Garry continues to be involved professionally in Anthropology, while Connie has a full schedule including yoga, a classics class, singing in the choir (preparing for Schubert's Mass) and teaching ESL four mornings a week to refugees and immigrants. Connie is also a volunteer for the Friends of Ithaca library, which twice a year has one of the biggest book sales in the US, as I saw when Connie showed me the huge warehouse where they were preparing for the sale the following week. In addition she often looks after two year-old Indigo, her bonny grandson; Indigo's father, Caleb, whom Bernard and I had first met as a bright eight year old in Strasbourg, was away harvesting medical marijuana in California - his major source of income for the year. Caleb and his partner Sareanda, who is a doula (a person who helps women in childbirth) are vegans, activists for peace, determined to "leave light footprints" and to follow an alternative lifestyle. However, I noticed that Caleb's parents provide essential support in many ways.
<![if !supportEmptyParas]> <![endif]>
<![if !supportEmptyParas]> <![endif]>
After my first night in Ithaca, I was due to go to Binghamton, an hour's drive away. Being over 75 years of age, I could not rent a car, so Garry offered me their old Volvo, but I sensibly declined, choosing instead to go by Greyhound bus; this was fast, relaxing and comfortable, giving me a chance to admire the early fall colours, the sumacs and the trim American homes.
<![if !supportEmptyParas]> <![endif]>
<![if !vml]>
<![endif]> MichaelHorowitz
<![if !supportEmptyParas]> <![endif]>
September 20/22 Binghamton NY, Michael & Sylvia Horowitz. Michael and I met in 1977 when he and I and Ted Scudder (see October 9/11) founded the not-for-profit Institute for Development Anthropology (IDA) on which we worked closely together for 15 years. We often had our directors' meetings at or near Binghamton, where Michael had an appointment at the State University of New York.
<![if !supportEmptyParas]> <![endif]>
Although Michael had suffered some memory loss, he was cheerful and relaxed as he drove us around town. We celebrated Rosh Hashanah with their son Andrew and his family. I had known Andrew as a young man making his living as a dancer; now he is still ,at age 46, dancing - with "The Galumpha Trio". Judging by a video this is a very professional group and has had national and international success.
<![if !supportEmptyParas]> <![endif]>
One of my reasons for visiting Binghamton was to check IDA archives for a history of IDA which I was contemplating writing. Michael's daughter Stephanie, who had been IDA librarian, told me that the 45,000 items (many of them "grey" or "fugitive" literature) had been donated to Binghamton University, which was still in the process of cataloguing the collection. I was able to go to the library archives and see that the collection was nicely stored and would soon be available for users. Stephanie helped me to locate the few references which I needed urgently.
<![if !supportEmptyParas]> <![endif]>
Bernard and I spent three months in Binghamton in the spring of 1984, when I took leave from UCSB so I could look after IDA while Michael was at Haifa University in Israel. The town, which is not thriving, had changed little; on my morning walks with Michael and Sylvia I admired the solid Victorian homes and well-kept gardens. When we drove past Lourdes hospital, Sylvia told me how the Susquehanna River had flooded in July 2006, causing the hospital to be evacuated and in many homes the basements were flooded. Sylvia, like Connie Thomas, sings in the local choir, which was preparing for the Bach B minor Mass. She heads the women's hiking group every Tuesday and also delivers "meals on wheels".
<![if !supportEmptyParas]> <![endif]>
We all had lunch at a restaurant overlooking the Susquehanna River, which, according to Stephanie, was dangerously polluted, mainly from pesticide residues and industry discharges into the river. She also told me that 75% of local school-children qualify for free milk, a good indicator of local poverty.
<![if !supportEmptyParas]> <![endif]>
While staying with M & S, I started reading Wallace Stegner's novel, Angle of Repose, which gripped me so much that I had to buy my own copy. A Pulitzer Prize writer, and I had never heard of him. I also glanced at the Horowitz' copies of the New Yorker, which I saw later in the homes of other friends. I became so attached to this magazine that I took out a subscription.
<![if !supportEmptyParas]> <![endif]>
<![if !vml]>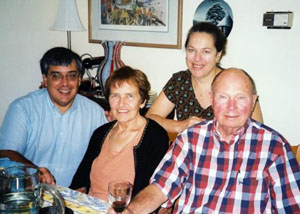 <![endif]> Peter, Agnes, Denise & DWB
<![if !supportEmptyParas]> <![endif]>
September 23/28. Syracuse. Peter & Denise Castro. Peter, a former student and now one of my closest friends, joined the graduate programme at UCSB in 1978. I supervised his dissertation, dealing with social forestry in Kenya. Peter was a Teaching Assistant for the course that Bernard and I taught jointly – "Environmental problems of the Third World". When Bernard and I went to London with the Education Abroad Programme in 1984/86, Peter took over our Environmental Studies course, and in addition he and Denise were our house sitters. Peter has stayed with us in London and he and Denise visited me Cape Town in December 2006. Peter is now a Professor in the department of anthropology at SU, while Denise is a legal assistant. They live in Liverpool, NY, a few miles from SU.
Peter and Denise collected me at the Thomas' home in Ithaca, driving me first to the famous Corning Glass Museum. We were intrigued by an elaborate exhibition, "Glass of the Maharajahs", showing the fantastic glass chandeliers and furniture designed for Indian potentates in the mid-19th century. We went on to the Rockwell Museum of Western Art which has some fine pieces by Alfred Bierstadt, George Catlin, Frederic Remington and others.
<![if !supportEmptyParas]> <![endif]>
On Sunday, Peter and Denise accompanied me to the 7:45am Mass, after which Peter and I walked around Beaver Lake, a beautiful state park five miles away. For the following four days of my stay, Peter and I walked every day round Beaver Lake, choosing different routes, admiring the many waterbirds, and the trees which were beginning to acquire their fall colours, and occasionally glimpsing white-tailed deer. Over the next few days I met several of Peter's colleagues from SU, including Micere Githae Mugo, a remarkable Kenyan woman who had been imprisoned and tortured for criticising President Moi and who is now chairman of African-American studies. Micere is the daughter and grand-daughter of chiefs of the Ndia (Kikuyu), both of whom had fallen foul of colonial authorities.
<![if !supportEmptyParas]> <![endif]>
<![if !vml]>
<![endif]> Peter, Denise, Misere & DWB
<![endif]>
I talked to Peter's Development Anthropology seminar, which included nine graduate students from India, Swaziland, Uganda, Ecuador, Tobago and the United States, most of them coming from public administration. Being out of practice at lecturing, I was initially nervous, but the students were so interested and responsive that I soon loosened up and thoroughly enjoyed it. SU has a renowned collection of East African Archives, including many government reports. At Peter's suggestion we searched for documents from Handeni, Tanganyika, during my period there in the 1950s. We found correspondence relating to the deposition of a corrupt chief, including a letter signed by me in 1954, bringing back memories of my colonial days.
<![if !supportEmptyParas]> <![endif]>
I read somewhere that "Buddha uses outrageous coincidences" and one of these occurred when Agnes Klingshirn, (whom I met in Ghana in 1962) arranged to attend an alternative energy conference in Syracuse – at precisely the time when I was staying with P & D. Peter and I drove to meet her; arriving early, Peter showed me the war memorial which included special plaques listing minority members who served in World War Two. In the same building an ice hockey game was in progress so Peter and I watched for a few minutes - for both of us this was our first live game, which was exciting and "balletic". So that we could have a longer time together, Denise invited Agnes and her two colleagues to lunch (chile relleno and spicy cauliflower), a congenial group, with much to talk about . The Castros have two children: I did not see Camille who was away at Boston College preparing to take her law examination , but Denise drove me to Oswego College (on the shores of Lake Ontario) so that I could see Davy (another godson) whom we took out to dinner at an Italian restaurant. Despite Davy's handicap of deafness, he is doing well in college and is a bright and interesting young man.
<![if !supportEmptyParas]> <![endif]>
<![if !vml]>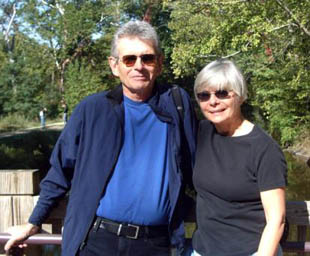 <![endif]> John & Carol
<![if !supportEmptyParas]> <![endif]>
September 28/ October 1. Washington DC, John and Carol Nellis. John and I met at SU in 1968, then we worked together on the Special Rural Development Programme in Kenya 1970 - 71. John (then on leave from the department of political science at SU) and I wrote a joint article on local administration in Kenya; Bernard and I stayed several times with the Nellis' at their nice colonial home in Westlands, Nairobi. Once, when John visited us in Mbeere, he and John Gerhart (both experienced birders) and Bernard and I identified 45 different species in less than an hour. A heavy rain shower was followed by the emergence of thousands of flying ants, attracting countless birds, so intent on their prey that they ignored us During their stay in Nairobi their first son Simon was born and I, as a conveniently accessible Catholic, was delighted to be his godfather.
<![if !supportEmptyParas]> <![endif]>
Simon now lives in Prague , working as an analyst for a large bank; he was an excellent guide to Bernard and me when we went to Prague in 1993; he married Alice, a Czech film-maker, and they have a baby daughter, Ella Rose - whom John and Carol dote on. Again and again during my travels I appreciated the significance of grandparent/grandchildren links. Their second son Jonathan spent two years as a Peace Corps volunteer in Senegal; from there he came to Cape Town to join his parents on holiday. Jonathan married Pamela, another Senegal Peace Corps volunteer; they now live in Baltimore. With both sons away from home, much affection is shown to the two cats, Lucca, a Siamese male and Katy the black cat. Told not to mind if Lucca ignored me, I was inordinately pleased when he jumped on my lap and settled down. John has recently retired from the World Bank, and Carol is still working as a counsellor for the Secret Service. Their home in Bethesda – at the end of the Metro line- is a delight; since my last visit, many years ago, they have added a bright conservatory, where we sat several times for coffee (John is a keen barrista) or tea ( I was introduced to a special gen mai tea), or wine.
<![if !supportEmptyParas]> <![endif]>
I knew John and Carol well enough to say that I wished to meet other friends while I was in Washington DC , and that I would also like to visit the galleries. Accordingly I arranged to meet Wilton and Virginia Dillon (with whom we had overlapped at the University of Ghana in 1961/62) at the Cosmos Club - described as "the meeting place for the intellectual elite". I was impressed by photographs, including a section of members who were Nobel Prize winners. Wilton, who was for many years Director of Seminars at the Smithsonian Institution, is a gracious and generous host, carefully choosing a Jindalee Cabernet Sauvignon 2002 from Victoria; he has an endless supply of amusing tales which always offer keen insights into the vagaries of human nature. He also knows a large number of interesting and prominent people, and is a true cosmopolitan.
<![if !supportEmptyParas]> <![endif]>
<![if !vml]>
<![endif]> Tom & Miriam
<![if !supportEmptyParas]> <![endif]>
Miriam Chaiken and her husband Tom Conelly were graduate students at UC S B who wrote their doctoral dissertations based on fieldwork in the Philippines. They later did postgraduate research in Kenya where Bernard and I met them at Lake Baringo, then visited them on the shores of Lake Victoria. And in 2005 Miriam made a detour to see me in Cape Town when she was on her way to a consultancy in Mozambique. They now teach at Indiana University, Pennsylvania, where we had visited them; this was too much out of the way for me, so they arranged to drive (4 or 5 hours) to Washington DC to meet me. We had a good half-day together, visiting the new National Garden on its first day of opening and wandering around the Botanic Garden and then walking past the Capitol to lunch at a Union Station restaurant. We had plenty of time to catch up on each other's lives.
<![if !supportEmptyParas]> <![endif]>
The Saturday evening mass in Bethesda was conducted by an uninspiring priest. Fortunately John and Carol had invited lively friends for dinner that evening, and their company fully compensated. Bernard and I always looked out for good dessert wines, concluding that the best ever was the Californian Louis Martini Moscato Amabile, followed by the Australian Hardy's Noble Late Harvest; John's Muscat de Saint Jean de Minervois was also outstanding.
<![if !supportEmptyParas]> <![endif]>
Among the galleries that I visited was the National, where I much admired the Henri Rousseau exhibition, Jungle in Paris.
<![if !supportEmptyParas]> <![endif]>
John and Carol are extremely fit, keen walkers and long-distance cyclists, so it was easy to persuade them to take me to walk on the Chesapeake and Ohio Canal towpath, on the River Potomac, where we saw many turtles and John identified the birds for me - it was a lovely Sunday morning walk, with a festive air among the walkers and cyclists on the path. After lunch (oysters and crab cake, with a Sancerre) on the patio of the Anglers Inn, we drove to the Phillips Museum so that I could again admire Renoir's magnificent, luminous Boating Party, and some new acquisitions.
<![if !supportEmptyParas]> <![endif]>
<![if !vml]>
<![endif]>
<![if !supportEmptyParas]> <![endif]>
Although I did not meet Simon and Jonathan, I was able to see and talk to them on the video phone and I admired granddaughter Ella Rose in Prague. John is an accomplished and spellbinding raconteur and Carol has an extremely wry humour, plus keen insights. They were so hospitable and thoughtful. Here, as on my other visits, I counted myself lucky to have such good friends: I was reminded of Bernard, who used to ask in such situations , "what have we done to deserve this?"
<![if !supportEmptyParas]> <![endif]>
<![if !vml]>
<![endif]> Ray & Susan
<![if !supportEmptyParas]> <![endif]>
October 2/4. St Louis Missouri. Ray and Susan Scupin. From Bethesda I took a taxi to National Airport for the early flight to St Louis. Ray joined the UCSB graduate programme in Anthropology in 1972, after I, as departmental graduate advisor at that time, had interviewed him - and Susan - at UCLA. He completed his PhD in 1978, writing a dissertation on Muslims in Thailand, and for some years he has been teaching at Lindenwood, a small college near St Louis. Despite a heavy teaching load, no sabbaticals, a conservative administration - Ray has been remarkably productive, having written and edited several successful introductory books on Anthropology. In looking at his books I was struck by the contrast with such texts of 50 years ago. Ray's books deal very much with the contemporary world - with topics such as ethnicity, race, gender, poverty, environment and globalisation; these are a far cry from what students were given in my time. Then the introductory texts tended to deal with "other cultures", often depicting "the natives" as living in timeless, unchanging worlds.
<![if !supportEmptyParas]> <![endif]>
Ray and Susan (who trained in ethno-musicology, and who now works in the public library) have an attractive large - 3500 square feet - home in St Charles, the town centre of which has been lovingly restored and is now a major tourist attraction. Ray's air conditioned study, in the basement of his home, would be the envy of any academic, being huge, with book shelves all round and ample table space for computers and papers. Their two grown-up sons both live away from home, but they share the house with their two thoroughbred wire-haired fox terriers, Corkie and Robbie. They have always liked this breed, and Ray was pleased when I told him about my boyhood companion, Punch, a smooth haired fox terrier.
<![if !supportEmptyParas]> <![endif]>
Ray and Susan had taken the Monday off from work so they were able to show me around, going first to the world famous Missouri Botanical Garden (which Bernard and I had visited in the 1970s). The garden had a fascinating exhibition, Glass in the Garden featuring, in the midst of the exotic plants, fantastic and colourful glass works by Dale Chihuly, obviously a master in this field although I had never heard of him. We went on to see Eero Saarinen's Arch alongside the Missouri river, taking a "tram" to the 620 ft high top for a splendid view of the city and rivers. (St.Louis is at the junction of the Missouri and Mississippi Rivers – Bernard had excitedly photographed the confluence as we flew overhead). At the foot of the Arch is a small museum of the western United States, where we watched a movie which realistically depicted the Lewis and Clark expedition of 1834. Back home I continued to enjoy the series of excellent meals when Susan barbecued salmon, served with baked potato and salad and Lancers wine.
<![if !supportEmptyParas]> <![endif]>
Ray and Susan both worked on the Tuesday, so Ray dropped me at the St Louis Art Museum. Arriving early, I sat on the steps and watched a group of young women energetically getting their exercise by running up a steep bank; the scene took me back 40 years when John Ostarello used to encourage me to run up the steps of the stands at Berkeley. Nowadays I am happy that I can just walk, briskly.
<![if !supportEmptyParas]> <![endif]>
The Art Museum, which housed the Universal exposition of 1904, has a wide collection, very well arranged. I liked the German Expressionists of the 1920s - Ernst Kirschner and Max Beckmann. American artists included George Caleb Bingham and Thomas Eakins, and one of Monet's Water Lilies series dominated an entire wall; Louis Comfort Tiffany (1848 – 1933) was given a whole room to himself.
<![if !vml]>
<![endif]> Jolly Flatboatmen - Bingham
St Louis Zoo, with its 11,000 animals and active programmes in education and conservation, is a leader in the field, but I settled for a tram ride around the zoo and a salad at the Cafe. It was a hot day and I am not too happy to see animals in cages, even though I recognise the value of zoos in today's world. I walked across the park to the Missouri Historical Museum, where I spent a lot of time in the section which dealt from 1764 (when Missouri was founded by the French) to 1904. The presentation was admirable, looking at sensitive topics like slavery, the civil war and western expansion. Obviously there had been some recent rewriting of history, reminding me of the problems faced by contemporary South African museums in trying to present a more balanced picture of our history, without being trapped by Political Correctness. One placard pointed out that the early pioneers had to ask themselves three basic questions: How do we: provide for ourselves? get along together, with each other? find a meaning in our lives? We all need to ask such basic questions. Each display in this section offered an informative five-minute video.
<![if !supportEmptyParas]> <![endif]>
We had a good dinner that evening at Spiro, where I was introduced to a new drink - a Greek Margarita, with a dash of Ouzo.
NEXT - Stage 5 California