Scotland September 5th - 15th 2006
September 5-7 to stay with anthropologists Sandy Robertson and his wife Francesca Bray, at their elegant roomy flat in Edinburgh, only a 20-minute bus ride from the city centre. Sandy joined our faculty at UCSB in 1985, Francesca a few years later. Sandy inherited two of my courses, an undergraduate one on "Social change in Africa" and a graduate seminar on "Development Anthropology". Francesca is a leading authority on the social and ecological history of China, the successor of the pioneering Joseph Needham.
My hosts, both keen walkers, arranged several outings, one a lovely long walk in the Pentland Hills where black-faced sheep looked at us curiously, the rowan trees were heavy with their red berries and where we ended up with yet another good pub lunch. Sandy took me on a good circular walk in the Salisbury Crags, where the first group of walkers we encountered proved to be South Africans.
<![if !supportEmptyParas]> <![endif]>
I visited the Scottish National Gallery, eager to see one of my favourite paintings, Raeburn's Portrait of Reverend Robert Walker skating on Duddingston Loch. But I was disconcerted to read notes suggesting that: (a) the relocation was not actually, as alleged, Duddingston ; (b) the date was incorrect, it probably having been painted 10 years later; and (c) worst of all, that it was probably not by Raeburn himself.
<![if !supportEmptyParas]> <![endif]>
<![if !vml]>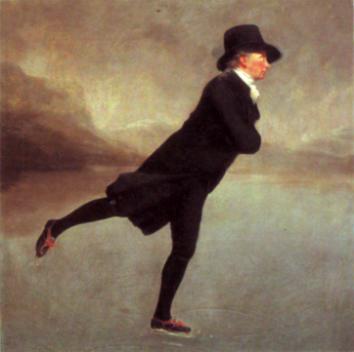 <![endif]>
<![if !supportEmptyParas]> <![endif]>
From there I climbed the hill to Edinburgh Castle to see, as recommended by my prisoner-of-war friend Harry Mortlock, the Scottish National War Memorial. It was quite a steep climb and before the last flight of steps a guide asked me if I would like to use the lift. I declined, but when I entered the Memorial and another attendant asked me "would you like a wee seat?" I gratefully accepted.
<![if !supportEmptyParas]> <![endif]>
<![if !supportEmptyParas]> <![endif]>
<![if !vml]>
<![endif]>
Sandy & Francesca
<![if !supportEmptyParas]> <![endif]>
September 7 - 10. Caithness. Deirdre & Peter Blackwood and Margaret Thurso. My connection with this northernmost county of Britain arises through my eldest brother Guy, who was stationed at Wick in 1940, while in the Fleet Air Arm, he fell in love with and married Margaret Robertson, their daughter Deirdre being born in 1942. Guy disappeared, in mysterious circumstances, from his aircraft carrier in 1942, and 10 years later Margaret married Robin Sinclair, who became Viscount Thurso. My first visit to Caithness was in May 1945. When my brother Paul and I were released from our prisoner-of-war camp we went to Scotland at the first opportunity, making the long and crowded train ride to meet Margaret and Deirdre. Bernard and I have many happy memories of our visits to Caithness.
<![if !supportEmptyParas]> <![endif]>
<![if !vml]>
<![endif]>
Margaret Thurso
<![if !supportEmptyParas]> <![endif]>
Peter Blackwood, Deirdre's husband, met me at Inverness station and drove me (two hours) to their home in Halkirk, a small town eight miles from Thurso.
<![if !supportEmptyParas]> <![endif]>
The drive includes spectacular coastal scenery, and near Halkirk I was pleased to see a large wind farm, proving that some attention is being paid to renewable energy. During my visit I made a point of meeting as many as possible of Peter and Deirdre's five children and nine grandchildren. It was Bernard who used to keep track of all our family, now 7 nieces and nephews, 21 greats and 18 great-greats. Deirdre had arranged several grand outings for me, including a drive westwards, past the controversial nuclear reactor at Dounreay (presently being de-commissioned, at great expense). We continued to Melvic for a pub lunch, then turned south to the flow country, walking in the RSPB's Forsinard nature reserve where board walks make it easy to walk through the soggy –and ecologically very diverse - peat country.
We were shown around Castle Sinclair Gornigoe by its present owner, Malcolm, the genial 20th Earl of Caithness, who enthusiastically told us its history - built in the 14th century, severely damaged by Cromwell in the 17th century, and now being restored by a team of archaeologists and builders. Walking precariously and at great heights on the scaffolding, I was glad that American-style fear of litigation did not apply here.
<![if !supportEmptyParas]> <![endif]>
Another outing, at my request, took us to Dalnawillan, the family hunting lodge way out in the middle of the moors. Built in the 1820s, this imposing octagonal structure, scene of countless happy gatherings, is now deserted and deteriorating. When Bernard and I visited Dalnawillan in 1971, he had been very apprehensive of Robin's formidable mother, Marigold, the Dowager Viscountess. After dinner, which celebrated Robin's 50th birthday, we started to drive back the 22 miles to Thurso Castle, where we were staying - the rest of the party spending the night at Dalnawillan. Less than a mile from the lodge, Bernard drove the car slightly off the road at a right-angled bend. The peaty turf was too soft to give the jack any purchase, so I suggested that we return to the lodge and wake Patrick, Margaret's enterprising 15 year-old son, who, I felt sure, would have found a tractor to pull us out. But Bernard, fearful of waking Marigold by mistake, refused, so we walked all the way to Thurso. At 3am we passed a lighted telephone booth, very close to Halkirk where Peter and Deirdre lived. But when I suggested phoning them Bernard, very proper and English, said "you can't phone people at this time of night", so we completed our walk: a memorable night.
<![if !supportEmptyParas]> <![endif]>
<![if !vml]>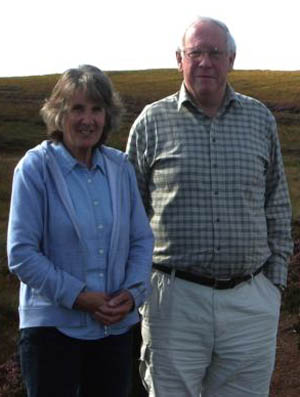 <![endif]> Deirdre & Peter
<![if !supportEmptyParas]> <![endif]>
<![if !supportEmptyParas]> <![endif]>
<![if !supportEmptyParas]> <![endif]>
The last time that Bernard and I had been at Dalnawillan was for Robin's moving funeral in 1995, when a lone bagpiper played the lament, leading the little procession up a hill to the small family graveyard.
<![if !supportEmptyParas]> <![endif]>
On the way back from Dalnawillan on this present trip we stopped at Strathmore Lodge to see Margaret's son Patrick, who told us about the area – Blar-nam-Faoleag - that he was managing. Later Peter found this description in GOOGLE: 5500 acres of bog ecosystem… wild blanket peat bog ….one of Europe's few remaining living peat bogs … taken 6000 years to develop…. the peat is 20 ft deep ….it is now threatened by development and is a very sensitive system.
<![if !supportEmptyParas]> <![endif]>
<![if !vml]>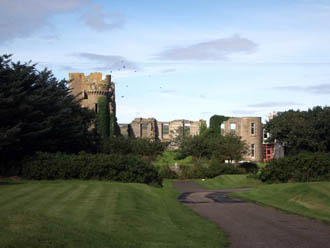 <![endif]>
Thurso Castle
<![if !supportEmptyParas]> <![endif]>
Patrick said that this land was popular with French hunters who liked to bring their dogs over for exercise. They also liked to attempt to "do a McNab", a term originating in John Buchan's novel; it involves shooting a stag, catching a salmon and bagging a brace of grouse, all in one day.( In fact, John Buchan describes a McNab as involving only the first two feats: I do learn the most extraordinary facts from my family). A few months after my visit, Deirdre e-mailed me a photograph showing the damage caused by great floods in the area – Strathmore Lodge was under three feet of water. Margaret later wrote that "the river superintendent said that he had never seen such flooding of the Thurso river in his lifetime".
<![if !supportEmptyParas]> <![endif]>
On the Saturday evening I went to Mass in Thurso, where the jolly visiting priest welcomed me as "David from South Africa" and I was proud of, instead of being embarrassed by, my South African heritage. After Mass I took Peter and Deirdre to one of the best meals I had on the entire trip, at Captain's Galley at Scrabster, the harbour near Thurso. I liked this note in the menu: Tonight's fish was landed in Scrabster by the Shetland boat "Sunbeam" on fishing grounds West of Shetlands… the lobster and crabs by "Bonnie Lad" fishing the Neup Head grounds west of Orkney.………the fish was delicious.
<![if !supportEmptyParas]> <![endif]>
Peter, the factor for the Sinclair family trust estates, made me revise my ideas about open access to the countryside, which at first I had thought a good idea. Peter pointed out that landowners have serious problems when urban walkers leave gates open, allow their dogs to harass livestock and fail to clear up their mess.
<![if !supportEmptyParas]> <![endif]>
September 10 – 12 Thurso Margaret Thurso, took me to Castle Mey, which she had often visited when the late Queen Mother was in residence, and Robin was Lord-Lieutenant of the county. That evening I was most impressed when Margaret not only had a dinner party for eleven but did nearly everything herself, having no help in her charming Archway Cottage. At that dinner, as at another one the previous evening, I met the most interesting people and was so glad when Margaret always introduced me as "my brother-in-law", giving me the chance to talk about my hero, big brother Guy.
<![if !supportEmptyParas]> <![endif]>
September 12-13 After the long train ride from Thurso to Edinburgh I broke my journey to spend another evening with Sandy and Francesca.
<![if !supportEmptyParas]> <![endif]>
<![if !vml]>
<![endif]> Kevin & Graham
September 13-15. London Kevin Leeman & Graham Hayter. When Bernard and I came to London in 1984, Clive Leeman (see Oct. 12) told us to see his twin brother Kevin, head of music at the Royal National Theatre. We have seen Kevin and Graham ( a promoter of contemporary classical music groups) frequently over the years; they visited me in 2004, shortly after Bernard's death, and I am hoping that they will come again in 2007, when I'll be able to show them our wonderful display of spring wildflowers. We had our wine (Flagstone Longitude, K & G also having visited Appelsdrift) and a braai in their garden - they live in Hornsey/Crouch End, N8, - before a light rain drove us indoors.
<![if !supportEmptyParas]> <![endif]>
The next day, Kevin drove me to Kennington to retrieve a bag, the London traffic being much lighter than it was when we had been residents, thanks to Mayor Ken Livingstone's introduction of a congestion charge, now £8 a day. Although I had not planned to see sights, thinking I would be concentrating on meeting friends and family, I was delighted by Kevin's suggestion that he take me to Keats' House in Hampstead, which I had never seen. (All along the way my hosts made similar thoughtful gestures). The house was immensely rewarding - to be able to look at Keats' desk and his bedroom, and to muse about Fanny Brawne ; the explanatory notes were models in that they were easily legible and gave enough information without deluging the reader.
<![if !supportEmptyParas]> <![endif]>
That evening we went to the National Theatre for the opening night of Ben Jonson's The Alchemist, with three distinguished actors, Simon Russell Beale, Alex Jennings and Ian Richardson. Despite this array of talent, all three of us were disappointed, finding that there was too much "business", and not enough emphasis on the text. The audience seemed delighted, and the established critic Michael Billington gave it an enthusiastic review in next day's Guardian. Oh well.
<![if !supportEmptyParas]> <![endif]>
<![if !vml]>
<![endif]>
September 15. An early minicab with a chatty Iranian driver took me to Heathrow, arriving in good time because of the added security precautions. I got used to the procedure - followed on all my subsequent flights except the last one from Johannesburg to Cape Town - standing in a long line, removing my shoes, belt, purse, cell-phone, carrying on a minimum of items - but all went quickly and I was able to relax in the comfortable business-class lounge. To ensure that I had in-flight reading I bought two novels at the airport bookstore - Ian McEwan Atonement and Amitav Ghosh The Hungry Tide (excellent choices).
NEXT - stage 3 East Coast USA Sept 15th - Oct 4th