ENGLAND ~ AUGUST 9TH - SEPTEMBER 5TH 2006
<![if !supportEmptyParas]> <![endif]>
August 9.  I left Cape Town on a direct British Airways flight to London; thanks to the comfortable full-length reclining seat, I managed to get several hours of sleep.
<![if !supportEmptyParas]> <![endif]>
August 10.  My arrival at Heathrow at 6:30 a.m. coincided with the major bomb scare, which affected me only slightly in that there was a longer delay than usual to retrieve baggage.
<![if !supportEmptyParas]> <![endif]>
Bernard and I had spent the 1990s in Britain, much of the time in our flat, 1 Kennington Palace Court, South London. When we were not using our flat we often let it to Seymour and Claire Bachmuth, friends from the University of California at Santa Barbara. Seymour, a mathematics professor, and I used to run at lunchtime. When Bernard and I moved to South Africa in 1999, we sold this flat. The Bachmuths liked to spend part of each year in London, so they bought a flat, also in Kennington, just round the corner from "1 KPC" . They were at their home in Santa Barbara when I arrived and they kindly allowed me to use their flat for the three weeks that I spent in London. Having this comfortable and convenient base made all the difference to my time in London.
<![if !supportEmptyParas]> <![endif]>
As soon as I was showered, and settled in the flat, I set off for my first London walk, taking in the Royal Academy (Summer Exhibition and Modigliani); changing my sterling (which was out of date); buying a new chip for my cell-phone in Tottenham Court Road, and marvelling at the lively scene of summer in London, with all the bewildering variety of people and languages. It was warm but not uncomfortably hot; many commented on the extreme heat which they had experienced the previous month. This was the first of a series of indications that the global climate was seriously out of joint: everywhere I went I heard stories of unusual drought or floods or storms that had recently occurred.
<![if !supportEmptyParas]> <![endif]>
John Rippon, friend of George Allen (see Aug. 17), had invited me for dinner that evening at the Royal Automobile Club in Pall Mall. I had met John, a senior banker with the Bank of England, in Cape Town where he had bought a house. At the club, the Polish waitress politely told me that I had to wear a jacket: I had packed lightly, with only informal clothes. Fortunately the porter supplied me with a suitable jacket,  and I could then follow John's lead,  ordering a Manhattan cocktail. I thoroughly enjoyed our meal on the terrace, overlooking a garden.  Contrary to stereotypes of London clubs, the food was imaginative and outstanding, due, I would think, to the largely European chefs and staff. (Throughout my stay in England, I encountered a series of  foreign workers, particularly, Poles, of whom  250,000 had come to Britain). I returned to Kennington on the top deck of the familiar 159 London bus, revelling in the availability of safe, reliable public transport.
<![if !supportEmptyParas]> <![endif]>
<![if !vml]>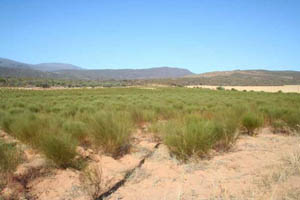 <![endif]> A field of Rooibos
<![if !supportEmptyParas]> <![endif]>
 August 11.  On this, my first full day in London, the summer sun woke me early, ready for my cup of Rooibos tea. (I had brought a packet of the genuine Rooibos tea from South Africa; I later learnt that the so-called "redbush" tea, available both in UK and USA, has little resemblance to the original.) Then it was time to walk to the Indian newsagent at the corner of Kennington Road and Windmill Road. After some experimenting I settled on buying The Guardian everyday, and the Independent on Sunday - these, like all the broadsheets, had suffered some "tabloidisation" since I was last in Britain.
<![if !supportEmptyParas]> <![endif]>
When Bernard and I were doing our fieldwork in Kenya in the early 1970s, we met and often stayed with Thelma Sanders in her comfortable old house in the suburbs of Nairobi. Thelma had first come to Kenya in the 1950s, living on a remote farm. In the 1980s Thelma, always stimulating, challenging and fun to be with, moved to London, where we often visited her in Islington. Over the years we bought several of her inspired lithographs, both for ourselves and as presents.
<![if !vml]>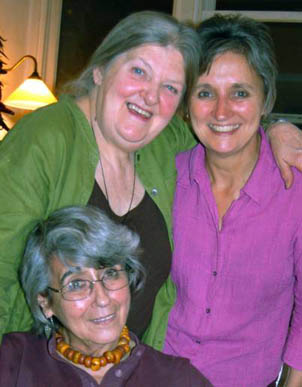 <![endif]> Thelma, Lyndie & Sally
<![if !supportEmptyParas]> <![endif]>
After meandering about the back streets of the West End, I caught a number 38 bus to have lunch with Thelma at her home in Florence Street. By good fortune their daughter Sally, whom I had last seen with her husband Nick, when they were in Cape Town, was visiting from her home in the Scilly Isles. Although Thelma denies it, she is an excellent cook, who also has the gift of transforming a simple lunch into a memorable festive occasion. I enjoyed my umpteenth meal at her round wooden table next to the kitchen.
<![if !supportEmptyParas]> <![endif]>
August 12. I took advantage of being in London on a Saturday to go to the noon Latin Mass at Westminster Cathedral. While I have no wish to see the Latin Mass restored, I like occasionally to be reminded of my pre-Vatican 2 years (1950 to 1956) in the Catholic Church, when Latin was universally used.
<![if !supportEmptyParas]> <![endif]>
<![if !supportEmptyParas]> <![endif]>
Before leaving Cape Town I had taken the advice of my theatrically well-informed friend Percy Tucker, and I had booked for a few shows. The first was Tom Stoppard's popular new play Rock 'n Roll at the Duke of York's, in St. Martin's Lane.  Dealing with, among other issues, the influence of popular music in Czechoslavakia, this was vintage Stoppard, I had to work hard to keep up with the crisp, clever and challenging dialogue. I had difficulty hearing some of the actors, so at the interval I asked for a Sennheiser loop, which  I knew about because I had frequently asked for one for Bernard. This enabled me to hear every word. From then on, I made a practice of requesting a hearing loop whenever I went to the theatre. (I have bought, since my return, an advanced hearing aid, no point in denying that I now have some hearing loss).
<![if !supportEmptyParas]> <![endif]>
That evening I had dinner with Richard Dyson at his home in Camberwell, near The Oval. We met Richard first in 1990, when he was an 18 year-old at Sherborne School. I had met Richard's aunt, Mary Dyson, when she - then working at the World Bank - and I worked together on a resettlement project in Kenya. When Bernard and I moved to Sherborne, Mary suggested that we contact Richard, with whom we kept in touch over the years. Richard and I sat in the dusk in his garden enjoying a New Zealand Sauvignon Blanc and nibbling endamane (Japanese green soya beans) and listening to a confiding robin singing nearby. Richard's partner, David Budworth, was visiting his family in the country,  but I did meet David later (see August 30). Richard was very fit - he cycles to work, runs in road races and swims in the Serpentine. He was as animated and lively as ever and produced an excellent dinner. The evening was completed by the arrival of his aunt, Mary, who arrived to spend the night on her way from Paris, her home now, to see her ailing mother, Ursula, in Devon. Bernard and I had often driven from Sherborne to Axminster, to see Ulla, particularly in the spring, when Ulla would direct us to the best clumps of bluebells and daffodils. All members of that family are keen gardeners and Mary had brought little slips of Gloriosa rothschildii, remembering that Bernard and I  were especially fond of the East African Flame Lily Gloriosa superba ( my botanical slip brightened my Kennington flat for more than a week). Richard, convinced - not without reason - but I would get lost on my own, accompanied me on the 20 minute walk back to my borrowed flat in Kennington.
<![if !supportEmptyParas]> <![endif]>
Sunday, August 13. To Westminster Cathedral for the 10:30am Sung Mass, where I enjoyed the diversity, in colour, language, and costume, of the large congregation. There were Chinese altar girls, large West African ladies in their splendid dresses, a Polish priest as co-celebrant. After Mass I went by Underground from Victoria to Gloucester Road, then a short walk to St Stephen's Church where I had arranged to meet Randal Sadleir. I met Randal in 1952 when he was District Commissioner and I was District Officer at Handeni in what was then Tanganyika (Tanzania since 1961). Waiting for Randal to come out of the church, I sat on the bench which he had given to the church in memory of his late wife Susan, whose funeral I had attended at this church about 10 years previously. We walked a few hundred yards to the Mediterranean Kitchen, a bright and lively restaurant where we had a good Argentinian Shiraz to go with our lunch.
<![if !supportEmptyParas]> <![endif]>
Since Susan's death, Randal invited a series of students, mostly from Thailand, to live in the flat in exchange for some household help. I met the present student, a pleasant Sudanese named Mustapha, who invited Randal to accompany him to his home in Omdurman, for two weeks over Christmas. Told that Mustapha had a Japanese girlfriend, I wondered what their respective families would have to say.
Back at my temporary Kennington home I found a copy of Charlotte Bronte's Jane Eyre among the Bachmuths' books, and read this - for the first time - in preparation for a dramatic adaptation that I saw a few days later (see August 16).
<![if !supportEmptyParas]> <![endif]>
<![if !vml]>
<![endif]> Ravena & David
<![if !supportEmptyParas]> <![endif]>
August 14. At my travel agent's suggestion, I had bought in Cape Town a British Rail ticket, which allowed me unlimited First Class travel for 15 days in a two-month period. I made the first of eight day outings from London, having long leisurely lunches with friends, followed, usually, by a walk, and returning to London in the early evening. Travelling by First Class was a pleasure, because the Standard class was usually crowded. Also, I soon realised that I had a bargain in my ticket, because rail fares, especially if not booked in advance, are very expensive in Britain.
<![if !supportEmptyParas]> <![endif]>
 This first trip was to Bournemouth to meet David Brodie and his sister Ravena Berlowitz, whom we had met in Bulawayo in 1956. Ravena and Bernard had both acted in Bulawayo's Theatre Guild; I remember outstanding productions of Terence Rattigan's The Browning Version, T S Eliot's The Cocktail Party, and others. There was another connection: Ravena's late husband, Manfred Berlowitz,  was one of the leading architects in Bulawayo, having designed James Court, a new block where Bernard and I rented the top flat. Manfred even made some alterations for us. David and I met again at the University of California at Berkeley, in 1963, when he was in the department of architecture; he later moved to the California State University College at San Luis Obispo, a few hours drive north of Santa Barbara, so we remained in close touch. David and Ravena were on their way to southern Africa - Botswana, Zimbabwe and South Africa - so I was lucky to have the chance to meet them and England.
<![if !supportEmptyParas]> <![endif]>
<![if !vml]>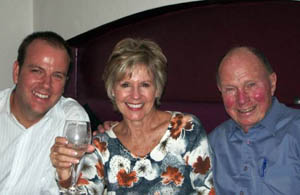 <![endif]> Graham, Judy and DWB
<![if !supportEmptyParas]> <![endif]>
August 15. After checking e-mail at an Internet Café, I had coffee with Thelma, both of us wanting to make the most of my short visit. Then it was time to go to the National Theatre for a matinee of Market Boy, which I found vulgar and shallow, leaving at interval. I should say that the rest of the large audience guffawed appreciatively so I was in a minority.
<![if !supportEmptyParas]> <![endif]>
My middle brother Paul, who died in 1986, had four children who are now all in their fifties. Judy (Homan), the second born, lives near Durban, and was visiting her two children, both of whom live, with their families, in England – part of the large South African diaspora. That evening I invited Judy and her son Graham Castle-Ward, a SAP accountant, who works in London from Monday to Thursday, then goes back to his family in Ripon, Yorkshire, for the weekend. We had dinner around the corner at an excellent new Italian restaurant, Amici's, one of several indications of gentrification since we had lived in Kennington.
<![if !supportEmptyParas]> <![endif]>
August 16. Even my sparse hair needs an occasional trim, so I walked to Luigi's, a barbershop in Black Prince Road, not far from our flat. I had last been there, with Bernard, seven years previously, but as soon as I walked in Luigi greeted me: " I haven't seen you for a long time. And where is your friend?" I was very touched by this remembrance, and for once I had a good conversation while my hair was being trimmed.
I intended to see the Constable show at the Tate but by the time I arrived it was crowded, so I resolved to be there early on another day. Instead I went to the National Gallery to see the exhibition Rebels and Martyrs, an imaginative arrangement of 18th and 19th century paintings. I met Anne-Marie Shaw at the Sainsbury Wing Cafe in the National Gallery. When I took over the directorship of the United Kingdom Education Abroad
<![if !supportEmptyParas]> <![endif]>
<![if !vml]><![endif]>

Anne-Marie

Programme of the University of California, in 1984, Anne Marie was the administrator, working from our Dickensian offices in Stratton Ground, between Victoria and Westminster. We became good friends as well as colleagues and Anne-Marie visited us in Santa Barbara, and has been twice to Cape Town.  She is a management consultant ("Makepeace Consulting"), lively, bright and well informed. On her last visit to South Africa, Anne-Marie spent some weeks living among, and helping a poor community in Mpumalanga, in the north, to organise themselves more effectively. I told her that, after this experience, she would know more about the "real" South Africa than would most white South Africans.

<![if !supportEmptyParas]> <![endif]>

 Anne-Marie has an excellent knowledge of what is on in London and we have been to many plays, ballet and art exhibitions together. After tea we walked around the lake in St. James Park, noticing the severe effects of the hot weather and the drought - I had never seen the grass so drab and brown. Then it was time for supper, which we had at a tiny Japanese restaurant in Shaftesbury Avenue - sashimi and sushi, with sake.

<![if !supportEmptyParas]> <![endif]>

From there it was a short walk to the Trafalgar Studios, near Trafalgar Square, (formerly the Whitehall Theatre) to see a gripping adaptation of Jane Eyre by the innovative company Shared Experience.
. 
<![if !supportEmptyParas]> <![endif]>
<![if !vml]>
<![endif]> George & Jean
<![if !supportEmptyParas]> <![endif]>
August 17. I have known Jean La Fontaine (retired professor of social anthropology, London School of Economics) for many years. While engaged in fieldwork in Kenya in the 1970s, Peter Castro (see Sept.23) found several (favourable) references in the Embu Archives to Jean's father, a colonial Provincial Commissioner. One reference included the Embu Native Council congratulating the P.C. on the birth of his daughter –Jean. Jean's first fieldwork was conducted in what was then the Congo, and she is now a leading expert on satanic abuse, both in Britain and in Africa. She and I attended an early AIDS in Africa conference in Philadelphia where we both spoke about the social implications of this then new virus.
<![if !supportEmptyParas]> <![endif]>
Jean stayed with me in Fish Hoek over New Year 2006, when she met my friend George Allen, a black Briton whose father came from Jamaica; George, an improbable energetic entrepreneur and an accomplished naïve artist, owns two properties in Cape Town including one in Fish Hoek. George had invited Jean and me to visit him at his country estate in Sussex a lovely house of 17th Century origin.. So on this day we went by train, with George meeting us at Battle (1066 & All That).
<![if !supportEmptyParas]> <![endif]>
George drove us to Hastings, where we had a good fish lunch at St Clement, and then, at my request we went to Rye so that I could see Henry James' home.  Fortunately this was one of the two days in the week when Lamb House and garden were open to the public, and I recalled my undergraduate days at Cambridge when I, influenced by F R Leavis, read all of Henry James' novels. Jean and I were back at Waterloo station soon after 7pm.
<![if !supportEmptyParas]> <![endif]>
<![if !vml]>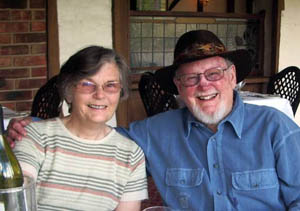 <![endif]> Monica & Michael
<![if !supportEmptyParas]> <![endif]>
August 18. Michael Turner and I were friendly at Durban High School, in the late 1930s, so Michael is my oldest friend in terms of the number of years that we have known each other. In our last school year, 1939, Michael played Portia and I took the part of her maid, Nerissa, in a school production of The Merchant of Venice: Michael was splendid (I was dismal, I am no actor). After serving five years in the South African Air Force in World War 11, Michael went to London to enrol in a College of Dramatic Art, where he met and married Monica. They have three children, plus grandchildren, all living in Britain.
<![if !supportEmptyParas]> <![endif]>
Our paths had crossed occasionally over the years and our friendship blossomed again in the 1990s when Bernard and I were living in Sherborne, Dorset and Michael and Monica about 30 miles away in the country between Shaftesbury and Salisbury. We used to alternate in choosing an intermediate country pub where we met for lunch every few months. Michael and Monica, who now live in Shaftesbury, drove in to meet me at Salisbury, taking me to lunch at the Rose and Crown, on the river (Stour) with a view of Salisbury Cathedral. After an excellent lunch (again served by a Polish waitress) M and M saw me off at the station.
<![if !supportEmptyParas]> <![endif]>
August 19 TIME OUT (essential reading to find out what's on in London) gave a 5 * accolade to a stage adaptation production of Beautiful Thing. We had seen, on TV, this charming story of two gay boys in a council estate in London, so I went to the play at Sound, a tiny theatre near Leicester Square. It was gripping theatre.
<![if !supportEmptyParas]> <![endif]>
When Bernard and I were making our inquiries into fuelwood, and "social forestry", in the 1970s we soon found ourselves in an informal network of other "fuelwood folk", all of us being obsessed with this looming and largely ignored crisis. Among the few other anthropologists looking at this issue was Gill Shepherd, who has worked for many years at the Overseas Development Institute in London. Her husband, Peter Loizos, recently retired from the Department of Social Anthropology at the London School of Economics, has done studies in Cyprus and has also specialised in film ethnography.
<![if !supportEmptyParas]> <![endif]>
<![if !vml]>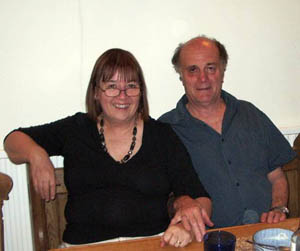 <![endif]> Gill & Peter
That evening I went by Underground to Arsenal station from where it is a short walk to Gill and Peter's home in Highgate, where we overlooked the flourishing summer garden and had an leisurely dinner with stimulating conversation. Peter would not allow me to travel by Underground fairly late at night, insisting on driving me back to Kennington, despite it being about a 30 minutes journey each way.
<![if !supportEmptyParas]> <![endif]>
<![if !vml]>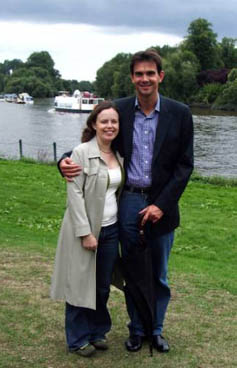 <![endif]> Paula & Magnus
<![if !supportEmptyParas]> <![endif]>
Sunday, August 20.  After another High Mass at Westminster Cathedral,  I went by Underground on the District Line to Richmond, to be met by Paula and Magnus Walter. We had met Paula's parents in Santa Barbara in 1977 when Martin West, also a social anthropologist, gave an insightful talk about his studies at Que Que, one of the most depressed of the South African "homelands". Martin and his wife Valerie  (a lawyer, specialising – as she did in the apartheid days – in human rights issues) were accompanied by their two children Paula, aged five, and Adam aged three. We continued our friendship with Martin (now Vice-Principal of UCT – the University of Cape Town) and Val, particularly after we moved to the Cape in 1999: today I count them amongst my closest friends.
<![if !supportEmptyParas]> <![endif]>
Paula was studying for a PhD in linguistics at Merton College, Oxford in the mid-1990s when she met Magnus, a young German research chemist also studying for his doctorate. On several occasions Paula and Magnus spent a weekend with us at Sherborne. We attended their jolly wedding at Woodstock, north of Oxford, including a spectacular champagne reception in the grounds of Blenheim Palace. After Bernard's death, Paula wrote one of the sweetest notes –.. The first time we met you both… I remember thinking how strong your relationship was, and hoping (as I still do) that we might be lucky enough to share something similar.
<![if !supportEmptyParas]> <![endif]>
After completing her PhD, Paula was headhunted by Goldman Sachs and now works for them in London. Magnus works in Woking as a research chemist at Eli Lilley, the pharmaceutical company. They live in an attractive flat in Richmond, fairly accessible to both their places of employment. I took them to lunch  (with a good Australian wine, a Wolf Blass blend) at the modern Canyon Restaurant on the River Thames, after which we had a long riverside walk as far as Ham House, crossing the river in a little ferry near Twickenham, and returning to Richmond on the other bank.
<![if !supportEmptyParas]> <![endif]>
I was delighted when Magnus gave me a DVD of the 1952 Bollywood classic Aan. Bernard and I had seen this movie a few times at the Indian cinema in Tanga, (Tanganyika) and it became "our" film. A year or two ago, I had an overwhelming sentimental desire to see this movie again; our student Manesendu Kundu tried, but failed, to find me a DVD in Kolkata. Then resourceful Magnus, a serious Indiophile, found a DVD in Southall, London, which has a high concentration of Asians.
<![if !supportEmptyParas]> <![endif]>
After tea at Paula and Magnus' flat, I went to Battersea to see George Allen's riverside flat and John Rippon's (August 10) town house, both of which had been imaginatively remodelled by George. George drove me home to Kennington in his open top Porsche 911, the first time I had driven in this iconic car.
<![if !supportEmptyParas]> <![endif]>
August 21 Another train journey out of London, this time from Paddington to Oxford, about an hour. I purposefully arrived early to allow me time to walk around Oxford where I had spent two years at Wadham College, 1949/1951. I browsed at Blackwell's, bewildered by how much it had grown since I was last here; it must surely be one of the best bookshops in the world. A short walk took me to my old college, where I sat happily for half-an-hour on a bench in the Fellows' Garden, relaxing in this tranquil, ordered oasis in the middle of a busy city. Time to catch the bus to Iffley Village, on the Thames, a couple of miles south of Oxford, to meet Kim and Graham Lake.
<![if !supportEmptyParas]> <![endif]>
<![if !vml]>
<![endif]> The Fellows' Garden at Wadham
<![if !supportEmptyParas]> <![endif]>
<![if !supportEmptyParas]> <![endif]>
<![if !vml]>
<![endif]> Kim
<![if !supportEmptyParas]> <![endif]>
<![if !supportEmptyParas]> <![endif]>
 During my undergraduate years (1947/1949) at Christ's College, Cambridge, my closest friend was Julius Lister, who was at Peterhouse. Julius and I had overlapped at Rhodes University in South Africa but we did not become well acquainted until Cambridge. Julius married Kim Last in 1953, Bernard and I meeting them in Birmingham in 1955. Over the years we met in Britain, Rhodesia, South Africa and New York, also in Indonesia and Kenya, Julius having joined the British Foreign Office. They had three sons - Martin, whose Kennington flat we bought in 1990; my godson Adam (see  Oct. 20); and the youngest, Ralph (see  Oct. 19). Sadly, Julius and Kim divorced and Julius and I drifted apart, seeing little of each other in the years before his death in 1991, aged 63. After the divorce Kim came on holiday to us in Santa Barbara, later marrying Sir Graham Lake, who had also been in the Foreign Office; they now live in Iffley, where I had lunch. Knowing Kim so well I was not surprised to find that she had prepared a spread worthy of the Rat in Wind In the Willows. There was ham and salmon, cheeses and pickles and salads, a variety of breads and a chilled bottle of Chilean Semilion. After lunch, Kim and I walked along the Thames towpath, with Bruno, their French hunting poodle, prancing along beside us. Despite Kim's arthritis she persisted and we had an excellent walk on a lovely summer's day. I was back in the flat by 8:30 pm, when it was still light, ready for an early night.
<![if !supportEmptyParas]> <![endif]>
<![if !supportEmptyParas]> <![endif]>
August 22. I decided to walk to the Tate Britain in another attempt to see the great Constable paintings. Setting off early, I crossed Vauxhall Bridge and then – daydreaming again - I turned upstream instead of downstream. I wandered along happily, enjoying the Chelsea Physic Garden, admiring St Thomas More's statue, observing a sole Chelsea pensioner, finally, when I reached Hammersmith, realising that I had come the wrong way. Bernard, who had an unerring sense of direction wherever he was, would have been astounded at my incompetence. I retraced my steps, reaching the Tate at 11:30 a.m., by which time it was thronged and I had to peep over shoulders to see the paintings. It was still worthwhile.
<![if !supportEmptyParas]> <![endif]>
<![if !vml]>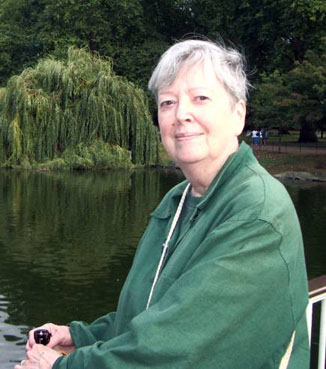 <![endif]> Gail
<![if !supportEmptyParas]> <![endif]>
When I was at the University of California, Berkeley in the early 1960s,  I met John Povey, an unforgettable Londoner, who had lived in South Africa, and was then teaching in the Department of English at UCLA and also editing the influential quarterly journal African Arts. Bernard and I saw a great deal of John and his wife Gail Povey, both in Santa Barbara and also at their splendid Malibu home with expansive views over the Pacific. John died in 1991, and I had arranged to meet Gail, who had come over from the U.S. to stay in her house in Catford, South London, near her in-laws. At my suggestion we had tea at St.Martin's in the Fields crypt, near Trafalgar Square, which I remembered as "a place of quiet repose", but on this day it was noisy, crowded and hot, so we escaped and walked in St. James Park. We sat on a park bench, watching the water birds and the cosmopolitan groups and catching up with each other's lives. Gail now lives in Milwaukee, Wisconsin, and is much involved in her church and in helping African and other refugees. After a good Italian dinner (accompanied by a hearty Barbera, one of Bernard's and my favourite Italian wines) at Bella Italia, we went next door to the Victoria Palace to see Billy Elliott the Musical; as it was very popular, I had booked online from South Africa. Gail and I had seen and enjoyed the movie, and the stage version proved to be an outstanding and successful adaptation; the young boy who played Billy Elliott was magical.
<![if !supportEmptyParas]> <![endif]>
<![if !vml]>
<![endif]> Doreen & Brian
<![if !supportEmptyParas]> <![endif]>
August 23. To Victoria Station to catch an early train to Brighton, a journey of less than an hour, to meet Brian Taylor, whom I had first encountered at Rhodes University in 1946. Brian had been a pilot in the Royal Air Force in World War 11; he married Doreen, from Wales, and they spent some time in Uganda in the 1950s, when Brian was engaged in Community Development. Brian, who had had university appointments in Australia, England and Northern Ireland, is now retired. We had a short walk on the Sussex Downs, parking at Bo-Peep corner, near Alciston, followed by my first English pub lunch on this trip - good local sausages and a pint of best bitter at the Smugglers' Inn at the village of Alfriston. Brian and Doreen flew a few weeks later to Cape Town, where they were house sitters for me for most of the time I was away. <![if !supportEmptyParas]> <![endif]>
<![if !supportEmptyParas]> <![endif]>
Generally, I try to conserve my energy by doing only one "big event" a day but I had to make an exception because I was determined to see at least one of the Proms. I was able to buy a good seat at the Royal Albert Hall where first I enjoyed that quintessential English summer drink, a Pimm's No. 1, watching the lively, mostly youngish crowd in one of the mini-bars It was a good programme, including a work by Mark Turnage, a contemporary composer who was accurately described in a programme note as "challenging but accessible". This was followed by two works, neither of which I had heard before: Prokofiev's Piano Concerto No. 2 and Rachmaninov's The Bells. The latter included a choir of about 300 voices with Vladimir Jurewski, a dynamic Russian conductor, leading the London Philharmonic Orchestra. My neighbours on each side were, for London, unusually chatty; on my right was a sprightly 90 year-old lady whose daughter-in-law came from South Africa and who regretted that she no longer felt strong enough to stand in the arena just below us, where 1400 seats were reserved for the promenaders. On my left was an American Methodist from a theological college in Ohio and his wife, both of whom very friendly. I was struck by the absolute silence during the performance with not a cough nor a stir. Two buses to get home and I was in bed by 11pm.
<![if !supportEmptyParas]> <![endif]>
August 24. In what was now becoming a familiar routine, I went to Paddington station for the train to Castle Cary, Somerset, where I took a taxi to meet our old friend Jim Parker, now living in a small retirement complex near Wincanton. When Bernard and I were at the University of Ghana, 1962/63, Julius Lister put us in touch with Jim Parker, who was also in the Foreign Office: Jim was then Labour Officer for West Africa, later becoming deputy High Commissioner in Eastern Nigeria during the Biafra crisis. We enjoyed Jim and Deirdre Parker's receptions, a change for us from the university scene and Deirdre told us that we were welcome as social leavening for the rather formal diplomatic crowd. We followed Jim and Deirdre's progress to South Africa, Fiji and to his last post as Governor of the Falkland Islands, where we spent a fabulous three weeks over Christmas 1978. This was before the war, when people asked where the Falkland Islands were located.
<![if !supportEmptyParas]> <![endif]> <![if !supportEmptyParas]> <![endif]>
The Parkers stayed with us in California and we saw them frequently when we lived in Sherborne; indeed it was through them that we found our pleasant bungalow. Our favourite of all country pubs was the Stag's Head at Yarlington, a few steps away from the Parkers' home. Many of our friends enjoyed Andy and Annie's exceptional Sunday lunches at this pub.
<![if !supportEmptyParas]> <![endif]>
<![if !vml]>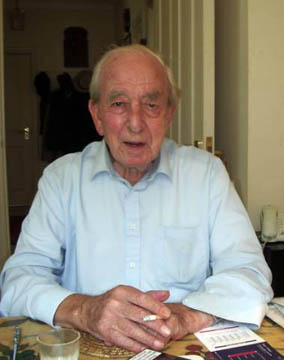 <![endif]> Jim Parker
<![if !supportEmptyParas]> <![endif]>
Deirdre became ill and died some five years ago and Jim is bravely soldiering on. After a gin-and-tonic in Jim's pleasant home, we went to the dining room where a special lunch – starting with oysters - had been prepared for us. I felt like the Prodigal Son. On returning to Kennington I was quite happy to read - there is no television in that flat and this I did not miss.
<![if !supportEmptyParas]> <![endif]>
<![if !supportEmptyParas]> <![endif]>
August 25.  From King's Cross station for the train journey (also one hour) to Cambridge, where I had an appointment at King's College at 11 a.m. Again I arrived early so as to be able to walk around the Backs and to spend a quiet time in the garden of Christ's College. I sat on a bench near the bust of Charles Darwin, who, together with John Milton, is the college's most illustrious member.
<![if !supportEmptyParas]> <![endif]>
My appointment was with Alan Macfarlane, Professor of Social Anthropology, and organiser of a series of interviews with leading anthropologists, whom Alan refers to as "the ancestors". This archive is available online and Alan had invited me to take part whenever I came to Britain. Alan and I had not met, although we had corresponded; when I was at the University of California, Santa Barbara, I tried, in vain, to persuade
<![if !supportEmptyParas]> <![endif]>
<![if !vml]>
<![endif]> Alan Macfarlane <![endif]>
<![if !supportEmptyParas]> <![endif]>
him to join our faculty. I was nervous about the interview and was glad of my quiet time of reflection in Christ's College garden. However, Alan soon put me at ease, proving to be a skilful interviewer - not surprising because I was the 61st anthropologist whom he had interviewed. I was pleased to be included, not only for my own sake but because this was a recognition of my field of Development Anthropology, which for many years was regarded as marginal by my more conservative colleagues.
<![if !supportEmptyParas]> <![endif]>
<![if !vml]><![endif]> Christ's College

After a sandwich lunch in the Fellows' room, sitting below portraits of John Maynard Keynes and Rupert Brooke, Alan walked me through the Fellows Garden, a botanical delight with many different tree species.

<![if !supportEmptyParas]> <![endif]>

<![if !supportEmptyParas]> <![endif]>

From there it was a short walk to have tea with my Cornish second cousin Barbara Cowley, originally also from Durban. Barbara and her friend had stopped to see us at Sherborne several times on their way to Cornwall, where Barbara has a cottage. Although I did not have much time, we packed in a lot of questioning and conversation before I caught the train back to London.
<![if !supportEmptyParas]> <![endif]>
<![if !vml]>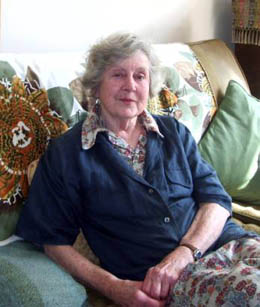 <![endif]> Barbara
<![if !supportEmptyParas]> <![endif]>
<![if !supportEmptyParas]> <![endif]>
Cees Post and his partner Josette came to spend the weekend at my Kennington flat. Cees had been at UC Santa Barbara in the 1970s, as an exchange student doing a M.A. in Anthropology. He now works for the European Investment Bank in Luxembourg, where Bernard and I had visited him and his then wife Inez and their two small daughters, Jessie and Erin, several times in the 1990s When I emailed Cees to tell him that I would be in London, but did not have time to visit him in Luxembourg, he said that they would come to see me in London: what a pleasure. Over dinner at Amici's we talked and talked.
<![if !supportEmptyParas]> <![endif]>
<![if !supportEmptyParas]> <![endif]>
<![if !supportEmptyParas]> <![endif]>
August 26.  Cees and Josette were happy to have a day on their own, wishing to see the Modigliani and other art exhibitions - Josette is an art historian and knowledgeable. At my suggestion they included a trip to Greenwich, travelling by bus and train and riverboat.
<![if !supportEmptyParas]> <![endif]>
<![if !supportEmptyParas]> <![endif]>
<![if !vml]>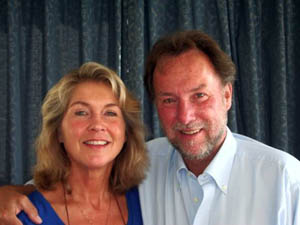 <![endif]> Josette & Cees <![if !supportEmptyParas]> <![endif]>
<![if !supportEmptyParas]> <![endif]>
<![if !supportEmptyParas]> <![endif]>
<![if !vml]>
<![endif]> Dan & Pippa
<![if !supportEmptyParas]> <![endif]>
Meanwhile I went by train to Beckenham in south London to see Dan Taylor, whom I had first met in 1999, when I was external examiner for his University of London PhD dissertation, on local knowledge and practice of poor farmers in Kwa/Zulu Natal. We had developed - as I find often happens – a close e-mail friendship, and Dan had invited me to meet him and his family when I was in England. I met his wife Pippa, a physician, and their two bright sons, 18 year-old Alex who had been admitted to medical school and 17 year-old Jake wanting to study law. Another guest, a family friend Nora, who was an adviser to law students at Brunel University, was able to give Jake good advice about how to write an application and how to conduct an interview. After lunch we had a lovely long walk along country lanes, ending up at Darwin's home, Downe House, then returning for tea in the garden, a very English scene with six varieties of apple trees in the background, and Alfie, the Scotch terrier, hovering near the chocolate cake.
Back at the flat Cees bought take-out pizza and a bottle of wine, for an impromptu supper.
<![if !supportEmptyParas]> <![endif]>
Sunday August 27. For a change, I went to 8 a.m. Mass at St.George's Cathedral, not far from the flat. I had difficulty in following the sermon, because the priest (Kenyan, I guessed, probably a Luo) spoke softly; had a pronounced accent; had to contend with poor acoustics; rambled on for 25 minutes. (I thought of our Fr.Bram, who carefully composes well-constructed sermons, never more then ten minutes long; in fact my visits to other Catholic churches all over the world made me even happier to be in our little Simonstown parish, with dear Bram). A large and fantastically dressed Nigerian lady, in front of me, was ostentatiously glancing at her watch and shaking her head.
<![if !supportEmptyParas]> <![endif]>
Then it was time to go, with Cees and Josette, to the Tate Modern, located on the South Bank in an old power station. The main exhibition, The Path to Abstraction, was of works by Wassily Kandinsky (1866-1944). I was familiar with Kandinsky's later abstracts, which I did not particularly like, but I was bowled over by his early more representational work, particularly of village scenes of Murnau in the Bavarian Alps - an area that Julius Lister and I had visited in 1949.
<![if !supportEmptyParas]> <![endif]>
The three of us took a taxi to Camberwell to have lunch with Jean La Fontaine. I knew this area, just off the Walworth Road, because Bernard and I had often visited the African historian, Michael Crowder, who had been Jean's next-door neighbour. John, a professional photographer who lives with his wife near Michael's old house, joined us for a glass of wine in the garden; I had met John and his wife Suzi earlier in the year: Suzi's parents, in a strange coincidence, live a few doors away from me in Fish Hoek. Jean had prepared "an ethnic lunch", consisting of roast lamb with mint sauce (mint from her garden), roast potatoes and vegetables. When Jean asked whether we should have cheese before the dessert, Cees asked "but is there another way?" So stewed apricots, all accompanied by plentiful Flagstone wine followed the cheese. (During her visit to the Cape I had taken Jean to Appelsdrift farm, where she had met Elspeth and David Jack and had been introduced to Flagstone wine). As the traffic was light on a Sunday, Jean drove us back to Kennington from where Cees and Josette went to Gatwick to board their EasyJet aircraft back to Amsterdam and on to The Hague, where Josette lives.
<![if !supportEmptyParas]> <![endif]>
<![if !vml]>
<![endif]> Tai, Tan & JJ <![if !supportEmptyParas]> <![endif]>
<![if !supportEmptyParas]> <![endif]>
<![if !supportEmptyParas]> <![endif]>
<![if !supportEmptyParas]> <![endif]>
<![if !supportEmptyParas]> <![endif]>
August 28.  By Underground to Wandsworth to meet my niece Judy, her daughter Tan Castle-Ward and my great- nephews Tai (five) and J.J. (three). Tan, who has lived in England since the early 1990s, frequently came to stay with us in Sherborne for a weekend. Tan is always relaxed, is a marvellous mother, and also looks great. Her partner, David, whom I saw a few days later, was away in Dublin. Judy came back to the flat with me, and we had an excellent meal, just around the corner, at Thai Spice.
<![if !supportEmptyParas]> <![endif]>
August 29. Judy and I went by bus to Liverpool Street station, where we boarded a train to Attleborough, changing at Norwich. We went to see Robin's youngest son, my great- nephew Chace Morris, and his Mexican-American wife Cia; they are both sergeants in the United States Air Force, stationed at Lakenheath in Norfolk. Both joined the Air Force five ago when they were 18 years old and they were married two years later. They were both due to go to "the desert" the following month. Chace is tall and lean, full of an irresistible enthusiasm  and boundless energy. After dinner at the local pub we relaxed in their pleasant and large rented home, where I was introduced  to "Jack's & coke" (Jack Daniel's bourbon and coca-cola) – not my usual tipple, but it did "hit the spot".
<![if !supportEmptyParas]> <![endif]>
<![if !vml]>
<![endif]> Cia, a friend, & Chace
<![if !supportEmptyParas]> <![endif]> <![endif]>
August 30. Back in London, Judy and I saw a movie, Look both Ways, which had been recommended to me; the director,  like Webster, "was much possessed by death,  and saw the skull beneath the skin". It was a well-made movie but not very cheerful; we compensated by going that evening to dinner at Richard Dyson and David Budworth's home (see Aug. 12) where we enjoyed Richard's authentic bobotie  ( a classic South African dish) and had a lively evening. David and Richard told us of their plans for a grand party in February, to be held at the Oval ( near their home) to celebrate their Civil Union. Judy and I later commented on the irony of gay couples enthusiastically taking the opportunity to make a formal commitment, while many straight couples – like Tan and her David - are not concerned,
<![if !supportEmptyParas]> <![endif]>
<![if !vml]>
<![endif]> Richard & David
<![if !supportEmptyParas]> <![endif]>
August 31. After taking Judy back to Tan's house in Wandsworth, I went by train to Petersfield to see Maire O'Farrell and Phillida Leavett-Shenley. Phillida is the daughter of Hugh Ashton , my director in African Administration in Bulawayo. Bernard and I had last seen Phillida shortly before we left England, at a memorial service for  her dad. Recently widowed, Phillida lives in Winchester and had driven to Petersfield so she could take me to have lunch with Maire, who had been a close family friend of the Ashton family for many years. We met Maire in the late 1950s when she was a lecturer at a teachers' training college in Bulawayo. When Maire visited a primary school she found the class busily drawing Adam and Eve but one little (white) girl had drawn a shadowy figure in the background; when Maire asked about the third person, she was told "Oh, that is the cook-boy" an unintentionally apposite comment on Rhodesia in 1958, where many whites probably thought that African servants were present before the Creation. Maire now lives in a retirement home, where the nurse whom we met was another Pole. We took Maire to a large, well-run country pub, The Seven Stars,  for lunch (for me, sausage and mash and a Stinger draught beer -  so-called because the ingredients included nettles).
<![if !supportEmptyParas]> <![endif]>
<![if !supportEmptyParas]> <![endif]>
<![if !vml]>
<![endif]> Phillida, Maire & DWB
<![if !supportEmptyParas]> <![endif]>
 Back in London, to Islington to have supper with Thelma, her daughter Sally (see 11th August) and our friend Lyndie Wright. Lyndie and her late husband John, both originally from South Africa, for many years ran the very successful Little Angel Puppet Theatre; Bernard and I had enjoyed many of their imaginative productions. Lyndie's sister, Libby, and her husband John, had been friends and neighbours in Fish Hoek, until they emigrated to New Zealand earlier this year. This was my last night at the Kennington flat.
<![if !supportEmptyParas]> <![endif]>
September. 1 – 5. Bramhall. Paul & Pat Baxter. By train from Euston station (enjoying the comfort, space and luxury of First Class)  to Stockport, near Manchester; the train was delayed for 45 minutes because of "sheep on the line". I was greeted at the station by Paul Baxter,  whom I first met in 1948, when we were both reading social anthropology at Cambridge. Since then Paul and his wife Pat have been very close friends: we always spend a few days with them when in England, and Paul and I maintain a regular correspondence – about a wide variety of topics.
<![if !supportEmptyParas]> <![endif]>
Paul, at age 20, was a Lieutenant in the Marine Commandos, later having a distinguished academic career, specialising in the study of East African pastoralists; he had retired from Manchester University about the same time as I retired.
<![if !supportEmptyParas]> <![endif]>
Ever since I have known Pat Baxter she has had an enviable ability to produce tasty and attractive meals, whatever the circumstances. Even when they lived in their tiny house in Ship Street, Oxford, 1949/50, and food rationing was still in force, I always ate well there. My first meal this time was no exception, Pat having persuaded her local fishmonger to let her have wild salmon.
<![if !supportEmptyParas]> <![endif]>
<![if !vml]>
<![endif]> Pat & Paul
<![if !supportEmptyParas]> <![endif]>
 For my early morning walks I found some country lanes and open fields, a welcome change after the streets of London. We followed our old custom of finding a good country pub for lunch: The Ship Inn, a relatively unspoilt pub right out in the country near the village of Wincle, not far from Macclesfield.  On the way I recognised King's School, to which Bernard had been evacuated for a year during World War 11.
<![if !supportEmptyParas]> <![endif]>
Paul and Pat's son, Tim, who had been afflicted both with M.S. and with profound deafness, had died just one year ago, after his long illness, devotedly looked after for years by his parents. Tim's two sons, Paul Edward and Mark, keep in close touch with their grandparents; that evening Paul Edward, an IT specialist with a bank, and his girlfriend Sarah, of Ukrainian origin, came for supper. They are a lively and bright couple, whose company I much enjoyed.
<![if !supportEmptyParas]> <![endif]>
Sunday to 8:30am Mass at St Anne's Church, about half a mile away. I was pleased to see a new priest, because Bernard and I found the previous one so uninspiring that we would drive several miles to another Catholic Church at Hazel Grove. Paul told us that his Dutch priest/anthropologist friend Lambert Bartels (a missionary in Ethiopia for many years) preferred to go to the Anglican Church rather than to St Anne's. This church is on the borders of Cheadle Hulme, a posh suburb, so I was not surprised that the congregation was all white, except for two South Asian women.
<![if !supportEmptyParas]> <![endif]>
Tim's older son, Mark and his wife Sarah, both secondary school teachers, came for lunch and later took me to see their home which they were busy renovating: more good talk.
A lazy day, admiring the well-kept gardens, heavily favoured by a variety of garden birds - plus the ubiquitous grey squirrels. I enjoyed Pat's abundant Victoria plums at almost every meal. The dahlias were in full flower and the runner beans flourishing. Gardens in the North of England seemed to have suffered less from that summer's drought than had those in the South.
<![if !supportEmptyParas]> <![endif]>
<![if !vml]>
<![endif]> Cathy, Jacob & Adam
<![if !supportEmptyParas]> <![endif]>
In the evening to supper with Pat and Paul's younger son Adam Baxter (my godson), his wife Cathy and their two year-old  son Jacob, busy with his Thomas the Tank Engine. Adam, who works for a large printing firm and Cathy, a para-legal, are active in their local Baptist church. On my last visit to the Baxters, Christmas 2005, Adam, after driving us home, shyly gave me an envelope which containing this beautiful message of condolence: I must have heard a story about an orphan and was troubled by what would happen to me without my parents, my mother explained that I had several god-parents. In that simple yet calculating way only a child can think, I remember saying it would be alright if I was with you and Bernard as you were both "fun and nice". Over thirty years later I now realise how good my judgment was.
<![if !supportEmptyParas]> <![endif]>
NEXT - SCOTLAND SEPT 5th -15th
<![if !supportEmptyParas]> <![endif]>
<![if !vml]>