California:- October 4th - 20th, 2006
<![endif]> Tom in his shop
<![if !supportEmptyParas]> <![endif]>
October 4, San Francisco . Tom Livingston & Karel Wessels. We met Tom in Ghana, 1961, when he was a Peace Corps volunteer teaching at a secondary school. A few years later Tom taught in the Department of Education at UC Berkeley, leaving that post to set up his own antique shop in San Francisco. Tom met Karel in Amsterdam in 1977, since when they have shared their lives. Tom met me at the airport, and drove me - in his open top BMW - to his shop in downtown San Francisco. After showing me their shop, Tom and I had lunch at a good quiet French restaurant L. Olivier, with a bottle of Cotes du Rhone. We later went to their elegant 1920s flat overlooking Lake Merritt in Oakland, furnished - as you would expect in the home of antique dealers - in an attractive and eclectic (American, European, African and Asian) mix of exquisite furniture, paintings and objets. It was like a small museum, but comfortable, not daunting. The other inhabitant of the flat was Baukje, a strawberry Siamese cat, very beautiful and extremely friendly. Not having had my daily exercise, I walked the three miles around the Lake, sociologically and visually interesting.
<![if !supportEmptyParas]> <![endif]>
The next day Tom and Karel were both busy, so I travelled with Tom on BART (the Bay Area Rapid Transit System, which had just opened when I was last in the Bay Area) alighting at Powell, in "The City", and finding a bus (as a senior I paid only 50¢) to the De Young Museum in Golden Gate Park. I was happier with the 19th century American painters like George Caleb Bingham than with the more contemporary exhibits, but the newly remodelled museum is a delight, and, - like the Victoria and Albert Museum in London - has an excellent cafe. Back in Oakland, my glasses needed adjusting, and I found a young Asian optometrist who quickly fixed them. (Wandering around San Francisco, I had noticed the significantly larger proportion of Asians in the City than there were 20 years ago.) When I asked about payment he said " no charge, you are a visitor. Where are you from?" I was proud again to say that I am from South Africa. After watching the excellent PBS news - much superior, with its extended commentaries, than anything produced in Britain or South Africa - we had dinner, with a Californian Pinot Noir which Tom told me cost only $5 at Trader Joe's - which is the wine merchant of choice for many. Trader Joe's Two Buck Chuck, Charles Shaw's everyday red or white, selling at $1.99, is claimed to be "the nation's best selling wine" – and is certainly eminently drinkable.
<![if !supportEmptyParas]> <![endif]>
<![if !supportEmptyParas]> <![endif]>
<![if !supportEmptyParas]> <![endif]>
October 6/8. Watsonville, California. Manuel and Ann Carlos. Tom drove me to San Francisco airport where I boarded the "Santa Cruz Airporter" (the driver, to my relief, playing classical music). Manuel, recently retired as Dean at Califronia State University Monterey, met me. We had been colleagues in the Department of anthropology at UCSB for more than 20 years; Bernard and I always enjoyed the jolly parties at the Carlos's home where we got to know their three bright and likeable children, Andrea, Lisa, and Roberto ("Berto"). Manuel and Ann live on a lovely estate which had belonged to Ann's grandfather. Daughter Lisa and her family live in the big house, built in 1909, M & A in a smaller cottage , with two other properties on the estate. Manuel took me on a tour to see the extensive work he had done on the garden. I was not surprised to see banks of fuchsia, which he had always grown very successfully, in Santa Barbara. There were also roses, tuberous begonias, New Guinea giant impatiens, one redwood tree and two Chinese redwoods. The whole estate is laid out in a series of attractive paths with vistas over the countryside below. I even saw the amazing hummingbirds, which I had last seen in Santa Barbara 17 years previously.
<![if !supportEmptyParas]> <![endif]>
<![if !supportEmptyParas]> <![endif]>
<![if !vml]>
<![endif]>
Ann & Manuel
<![if !supportEmptyParas]> <![endif]>
<![if !supportEmptyParas]> <![endif]>
M & A spend part of the year in Mexico where they have organised a turtle project, AmaMexico, the aim of which is to protect the baby turtles so that they survive and are not taken by local people to eat. (I was proud to be invited to be on the board of this worthwhile project).
<![if !supportEmptyParas]> <![endif]>
On Saturday we had breakfast (huevos rancheros for me) at Seascape resort, overlooking a wide sandy beach on the Pacific. Sitting on the terrace, it was chilly enough for us to be glad when the waiter brought an overhead heater (Perhaps we should have thought of the energy we were consuming?)
<![if !supportEmptyParas]> <![endif]>
Driving back past apple orchards, Manuel told me that the ranchers could not find workers to pick the fruit, because the legislation for migrant workers had stalled in Congress. I was reminded of the debates about the Bracero programme when I was doing fieldwork with Mexican farm-workers in 1964. I saw impressive stands of redwoods in the hills.
<![if !supportEmptyParas]> <![endif]>
That evening we were joined by Berto, whom I had not seen since he was a small boy, and his wife Nadia. I was much gratified that all three children remembered Bernard and me fondly, and greeted me warmly, making me feel quite at home; they are a handsome and a gracious family. At dinner that evening we were joined by Andrea and Bruce and their three children and we enjoyed excellent artichokes, not surprising as Watsonville claims to be "the artichoke capital of the world". During my stay, M & A and I had many quiet conversations: this was a constant and appealing feature of my travels - my friends and I always had much to talk about, and think about. On the Sunday Manuel drove me to Mass, where genial Father Murphy, on being told that I was from South Africa, asked me if I had met his friend the Irish ambassador to South Africa: I had not. The Mass was one of the best in my travels, with good participation from the friendly congregation. Manuel reminded me that we had last been at Mass together at Tenancingo, Mexico, 1975, when a very different sort of priest fiercely harangued us. After enjoying Manuel's tasty omelette on the terrace, I accompanied him to Watsonville to buy supplies for the afternoon party - we needed ice; wine; limes, Triple Sec and Patron tequila (the best) for Manuel's famous Margaritas. We were joined in the early afternoon by the guests and also by M & A's second daughter, Lisa, her husband Brett and their two children. There was room on the wide veranda for all of us to sit around the table, enjoying our snacks and drinks, overlooking the gardens and taking walks to see various features which Manuel described. All the guests were interesting and well-informed people. I got on particularly well with Rosario, a bilingual educator from Bolivia. Then it was time for a nightcap of green tea and an early night.
<![if !supportEmptyParas]> <![endif]>
<![if !vml]>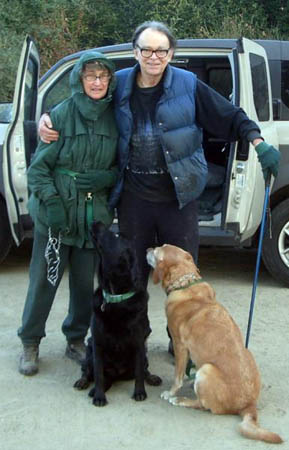 <![endif]> Molly, Ted & labradors
<![if !supportEmptyParas]> <![endif]>
9th October-12. Altadena California. Ted and Molly Scudder . I returned to San Francisco airport for the short flight to Los Angeles. Flying over Mount Tamalpais (the highest point in the county) I remembered the several occasions when we had been there, once after JFK's assassination in November 1963, when we sought a quiet place to reflect. The aircraft turned, affording me a great view of the ever-majestic Golden Gate Bridge, almost obscured by sea fog.
<![if !supportEmptyParas]> <![endif]>
Ted did his first major field work among the Gwembe Tonga in the 1950s, in what was then Northern Rhodesia (Zambia). This was a period when the Kariba dam was under construction on the Zambezi River, resulting in the relocation of thousands of the Gwembe Tonga. Ted and his colleague Elizabeth Colson have studied the effect of this resettlement right up to the present, and Ted is now the acknowledged world expert on involuntary relocation as a result of dam construction. (This is not on a small scale: China's Three Gorges Dam caused the resettlement of 1 & 1/2 million people.) I became interested in this problem in 1961 with the resettlement due to the construction of the Volta dam in Ghana. Our shared interests brought us together, with our first meeting in Berkeley in 1965. Our joint directorships of the Institute for Development Anthropology (see Horowitz , Sept 20/21) created another strong link. Ted, who recently retired from a professorship at the California Institute for Technology, stayed several times with us in Cape Town when he was a member of the World Commission on dams. Ted and I read each other's drafts and we discuss almost anything. Molly is much respected for her successful personal tutoring of children with problems. I had last seen her in 1998, when – at the annual meeting of the Society for Applied Anthropology in Tucson, Arizona – I, on behalf of the Royal Anthropological Institute, presented Ted with the first Lucy Mair Medal for applied anthropology.
<![if !supportEmptyParas]> <![endif]>
T and M have lived for nearly 40 years in Altadena, in a lovely rambling old home overlooking the canyon. With their interest in wildlife and in birds, Ted having seen 50 species in the garden, this is a miniature nature reserve.
<![if !supportEmptyParas]> <![endif]>
We had our gin-and-tonics on the terrace, at dusk, followed by a roast turkey dinner and later we watched the feeders just below us, where Ted had put out water and dog food . We observed four racoons for 45 minutes; the following evening we saw a fox as well as the racoons. T & M are early risers (5a.m.) so we all went to bed early, which suited me well.
<![if !supportEmptyParas]> <![endif]>
At dawn the next morning we set off for their regular hour's walk in the canyon, accompanied by Belinda and Mwindi, their well-trained and affectionate Labradors. At Ted's Caltech office he found and lent me a number of IDA documents which I need for my proposed history of IDA. Then we went to Huntington Gardens, a few miles away in San Marino, to see the extraordinary collection of South African cactus as well as the Japanese and Chinese gardens; Ted was excited to see a flock of new birds, which he later identified as red whiskered bulbuls, natives of south-east Asia which were obviously escapes. We went on to the Huntingdon Art Gallery whose collection includes Lawrence's Pinkie and Gainsborough's Blue Boy, some very good Constables and more than we could comfortably see in a short visit.
<![if !supportEmptyParas]> <![endif]>
Our next morning walk lasted four hours, covering Arroyo Seco and La Prieta canyons ; it was challenging for me and also rewarding in terms of the varied scenery. Along the way Ted interspersed his astute ecological and sociological observations on southern California with an account of his current work in Laos, where he is one of three "Panel of Experts" advising on resettlement . Ted regards this project as a model, in that his panel has the power, for the first time, to enforce its recommendations. Ted, always bubbling over with innovative ideas, suggested that I combine an account of my travels with a network analysis, which I would like to do. He is a good listener, as well as a clear and forceful expositor. Our last dinner was not on the terrace, but at the President Thai restaurant .
<![if !supportEmptyParas]> <![endif]>
<![if !supportEmptyParas]> <![endif]>
<![if !vml]> <![endif]>

Anne & Ron

October 12/13 Los Angeles. Ron and Anne Mellor.

When I was in London (see Aug.16) Anne-Marie urged me to contact R and A, as we had all worked together on the Education Abroad Program in UK in 1984/85. They both teach at UCLA, Ron in Roman history and Anne in English and Gender Studies. Ted arranged for a car to drive me to Mandeville Canyon Road, on the western outskirts of Los Angeles, to have lunch with R and A. Bernard and I had visited them when they were just moving in, since then some alterations have been made, resulting in large rooms flowing into each other in a comfortable modern style, with bookshelves everywhere. Although we had less than two hours together - Anne had to leave to give a lecture - it was good to catch up and to learn how their son Blake, whom I remembered as a schoolboy, is now married and a professor of mathematics.
<![if !supportEmptyParas]> <![endif]>
October 12/13. Ojai. Clive and Marion Leeman. Shortly after I joined the faculty at UCSB in 1966, I was approached by Clive Leeman who was writing a doctoral dissertation on Peter Abraham, the South African coloured writer. Clive complained that no-one in the English department knew anything about South Africa and asked me if I would be on his dissertation committee. Because the University of California is relatively flexible, I was formally appointed, finding it an interesting experience, and making new friendships with my English colleagues. When we met C and M , their two sons, Philip and Thomas, were little boys aged four and two: now they are both teaching, and married with small children of their own. Bernard and I visited the family in 1980 in Manzini when Clive was teaching at the University of Swaziland
. <![if !vml]>
<![endif]> Marion & Clive
<![if !supportEmptyParas]> <![endif]>
Clive kindly drove (two hours) to meet me and take me to their home in Taormina Road, Ojai (When they moved to this address, Clive surprised me by saying that I was the only one who commented on the connection between Taormina and DH Lawrence). On our journey Clive, who has always been on the radical margins, stopped at a CITGO petrol station, explaining that Venezuelan oil was sold there. But after President Chavez's remark at the UN, I smell sulphur (referring to President Bush) a few days earlier, CITGO had threatened to cancel the contract.
<![if !supportEmptyParas]> <![endif]>
I am familiar with the attractive small town of Ojai because we often drove there (less than an hour from Santa Barbara) to see Clive and Marion and to experience the warm hospitality of Marion's father, Dr. Jerome Rupp, a much loved local physician, and his wife , also named Marion. (It was Clive who put us in touch with his twin brother Kevin in London - see Sept 13/14. Clive and Kevin had also attended Durban High School, albeit some twenty years after me).
<![if !supportEmptyParas]> <![endif]>
On the following morning, Marion took me for a walk around neighbouring Krotono, where the Institute of the Theosophical Society is based, with overtones of Krishnamurti and Madam Blavatsky. I spent less than 24 hours with them, but again we used the time well, restoring and strengthening the links between us.
<![if !supportEmptyParas]> <![endif]>
<![if !supportEmptyParas]> <![endif]> <![if !supportEmptyParas]> <![endif]>
<![if !vml]>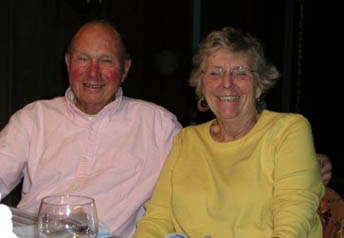 <![endif]> DWB & Barbara
<![if !supportEmptyParas]> <![endif]>
<![if !supportEmptyParas]> <![endif]>
<![if !supportEmptyParas]> <![endif]>
<![if !supportEmptyParas]> <![endif]>
October 13/16. Santa Barbara. Don and Carrie Brown and the Anthropologists. I taught in the Department of Anthropology at UCSB from 1966 until I retired in 1989. I was chairman in the troubled period (Vietnam War protests) of 1968/70, during which our beleaguered faculty was very united. Barbara Voorhies had come out of retirement to become Chair for the second time. When she learnt that I would be in California this year, Barbara arranged a lunch, so that I could meet my former colleagues, nearly all of whom are now retired. I stayed with Don and Carrie, who hosted a lunch at their lovely hillside home near the San Marcos Pass road, overlooking the Californian live oaks on the mountains behind. They also invited me to stay in their home. Their daughter, Rosminah, had stayed with us in Sherborne when she was doing a Horticultural Diploma at the Royal Botanic Gardens at Kew. She also spent some time with us in Cape Town, in connection with her studies of Mediterranean type flora.
<![if !supportEmptyParas]> <![endif]>
<![if !vml]>
<![endif]> Don & Carrie
<![if !supportEmptyParas]> <![endif]>
It was a jolly lunch and a very significant occasion for me because I was re-united with colleagues who had supported and collaborated with me; unlike many contemporary departments of Anthropology, we had harmonious relationships with each other. Don Brown reminded me that during my two years as chairman I had hired him and four other faculty members, which I had quite forgotten.
<![if !supportEmptyParas]> <![endif]>
<![if !supportEmptyParas]> <![endif]>
<![if !vml]>
<![endif]> Tom, DWB & Chuck
<![if !supportEmptyParas]> <![endif]>
Those present at the lunch included Charles Erasmus, who had been chairman in 1966, and had hired me; Tom, who succeeded me as chairman, and Pat Harding, who had driven up from Topanga Canyon; Mike and Marcia Joachim: Mike was chair when I retired; Mike Glasgow and Annabel Ford, both archaeologists; Philip and Cynthia Walker. Phil, a physical anthropologist, and I had co-taught a course on "People and Animals"; Claudia Madsen, whose husband Bill had died not long ago. (Claudia, always active in civic affairs, took the opportunity to collect our signatures on a petition objecting to a proposed development). I was pleased when the Browns insisted that Clive and Marion, who had driven me from Ojai, should stay for lunch, which they did, getting on well with everybody – they are articulate and passionate in conversation, but also good-natured. An excellent lunch in all respects. I was sorry to miss two other colleagues, Don Symons and Juan-Vicente Palerm, who were unable to come to the party.
<![if !supportEmptyParas]> <![endif]>
Chuck Erasmus collected me at 6.30 the next morning, taking me for breakfast (pancakes, bacon and eggs) at Moby Dick's on the harbour. We passed the famous Harbour Restaurant where Bernard and I liked to take our visitors - I remember my brother Paul and his wife Jil much enjoying the bouillabaisse and the crayfish. Then we had a seven-mile walk first to the East Beach (the scene of Kinsey Millhone's home in Sue Grafton's series of crime novels) and then all the way to the top of the hill at Shoreline Park and back. Saturday-morning, with many walkers, some with dogs, cyclists, roller skaters and all the beachside cafes were busy. Chuck, a year older than I, is lean and fit, obviously used to exercise. We had a good talk on our long walk, I enjoying, as ever, his absolute honesty and lack of any pretence. I learnt that the median house price in Santa Barbara is $1.2 million - no wonder it is difficult to hire new faculty as junior lecturers cannot afford to live anywhere near the university. I was glad when Chuck told me how remarkably knowledgeable and helpful Bernard had been, when working at UCSB library.
<![if !supportEmptyParas]> <![endif]>
Then Rosminah drove me in her new Toyota Prius, a hybrid automobile, of which there are many in California. We collected Pat Griffith she and I going to Zookers in Carpinteria for lunch, (shrimp and scallop burrito with black beans and avocado salad accompanied by a Sauvignon Blanc from Monterey Martin winery). Our pleasant waitress, learning that I was from South Africa, questioned me closely about river trips on the Zambezi River, which she and her husband hope to do.
<![if !supportEmptyParas]> <![endif]>
<![if !vml]>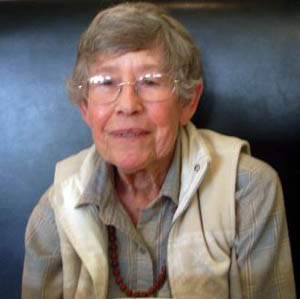 <![endif]> Pat
Pat was a secretary in the Department of Anthropology when we first met in 1966, and then she was administrator of a research institute which I directed from 1975/82. Pat was wonderful to work with, unfailingly cheerful, good with both students and faculty, seemingly having time for everyone, yet carrying out her work efficiently and without fuss. She was always interested in what Bernard and I were doing - and reading . We shared many cultural interests, and we have remained close friends. Pat is a regular correspondent, writing hand-written letters full of the most interesting material. Although she has had various illnesses, she remains resolutely cheerful and excellent company.
On the Sunday morning, Carrie drove me to Mass at the Old (1786) Santa Barbara Mission. When we lived in Santa Barbara I preferred the more modest Our Lady of Guadalupe church, which was nearer our home and where the congregation was more diverse. However, this was a pleasant service and Carrie told me that she was "glad of a quiet time".
<![if !supportEmptyParas]> <![endif]>
<![if !vml]>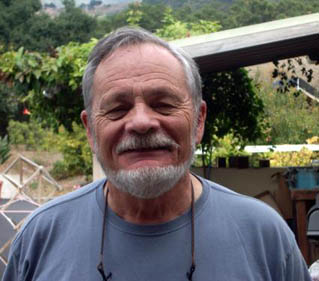 <![endif]> Brian
<![if !supportEmptyParas]> <![endif]>
My archaeology colleague Brian Fagan had been unable to attend the lunch so he collected me on Sunday morning to go downtown for coffee. Brian retired in 2003 after 36 years in the Department. He has always been hyper-active - as an innovative and popular lecturer (not only at university, but also on cruise ships), and as the author of a series of well received books, based at first on archaeology, but later covering climate, famine and on his other major interest – sailing and the oceans. It was a refreshing and stimulating short meeting. Many American departments of Anthropology are bitterly divided, so much so that several universities, including UC Berkeley, Harvard, Stanford and Duke, have established two separate departments. According to Don Brown, the division is between the post-modernists "who do not believe in objectivity" and the "scientists". Barbara said it was partly based on the old "nature vs nurture" debate. Whatever the cause, the arguments have been destructive and have resulted in bitter feuds at many universities, including UCSB. I remembered how Chuck Erasmus had firmly established a policy of tolerance - whatever our theoretical differences we did not allow these to affect our students or our relationships with each other. Barbara had left the Department 12 years ago and was brought back to sort it out: if anybody can do it, it is Barbara, who is a skilled administrator, liked and respected by all.
<![if !supportEmptyParas]> <![endif]>
That evening, Barbara took me to Pat Griffith's home, driving along the back roads, past our old home on Loma Media which had been "improved" – I would say "ruined" - by unsightly additions. I much preferred our modest house, ideal for entertaining, and with extensive views, where we lived for 23 years. Pat's son Jack and his companion Toby had driven up from L.A to prepare a dinner for us. Jack, a restauranteur, and Toby, a successful animator, have been together for 40 years, and Bernard and I had enjoyed their company on many happy occasions (including sometimes at Thanksgiving and Christmas) at Champs d'Elysees, as Pat's home is known.
<![if !supportEmptyParas]> <![endif]>
<![if !vml]>
<![endif]>
<![if !supportEmptyParas]> <![endif]>
October 16/18. Bakersfield. Lanys & Graham Kaye- Eddie. The efficient Carrie Brown found that there was a 6:10am Amtrak bus from Santa Barbara, all the way to Bakersfield for only $17, which gave me an enjoyable journey along familiar territory, first running alongside the Pacific Ocean at dawn, then passing the huge orange and avocado orchards and the strawberry fields; we stopped at Carpenteria, Ventura, Oxnard, Santa Paula, Filmore, then north on Route 5 and Highway 99 to Bakersfield, the latter part nearly all semi-arid.
<![if !supportEmptyParas]> <![endif]>
Graham and Lanys , originally from southern Africa, have lived in California for over 40 years. Graham, an architect, designed our dream house in Santa Barbara in 1980 - a remarkably imaginative house which unfortunately was never built because we moved to live in England. Lanys is a major breeder of Andalusian horses, keeping about 25, mostly mares, on their 10 acre lot on the outskirts of Bakersfield. Lanys phoned me shortly after Bernard's death and told me to come to Sao Paulo, Brazil, - "you need a break" - to attend a wonderful horse auction which she and her colleague, Paulo Gonzaga organised.
<![if !supportEmptyParas]> <![endif]>
I had visited L & G nearly 20 years ago when they were living in the country but now the city surrounds them. They were good and informative guides as we drove round the city. I went with Graham to the town of Wasco, which I knew from Walter Goldschmidt's As you Sow, a pioneering account, of farm-workers in the 1930s. <![if !supportEmptyParas]> <![endif]>
<![if !vml]>
<![endif]> Graham & Lanys
<![if !supportEmptyParas]> <![endif]>
After a visit to the huge futuristic COSTCO store, where everything, from peanut butter to automobiles, seems to be available, we drove east into the granite hills to call on their friend Marshall; he has a house on a lovely remote 40 acre plot, and proudly showed us holes in the rocks, made by Native Americans for grinding corn. During my visit we had two good dinners, one at Benji's Basque restaurant and one at Mauricio's Mexican,where I enjoyed good Chile Rellenos and a Dos Equis beer. I did not see L & G's daughter, Emily, who lives near San Diego, but I did become friendly with the three Kelpies, Matilda, Pancho and Chaka.
<![if !supportEmptyParas]> <![endif]>
<![if !supportEmptyParas]> <![endif]>
October 18/19. Los Angeles. Ralph Lister. Lanys drove me to Los Angeles, Ralph having e-mailed detailed "Map Quest" directions to his apartment in Silver Lake. Ralph, 44 years old, is the youngest son of Kim Lake and Julius Lister (see Aug. 21). He is an actor, enjoying his stage parts in small theatres and making most of his income from voice-overs, and television work. Knowing that Ralph was struggling, I almost expected to find him living in a garret, but I was given a comfortable bed in his study; he has a convenient modern flat, with a flat-mate to help pay the rent.
Ralph was interested in my memories of his father during our younger days; he produced a tiny tape-recorder and I talked for must have been hours, both before and after dinner.
<![if !supportEmptyParas]> <![endif]>
<![if !supportEmptyParas]> <![endif]>
<![if !vml]>
<![endif]> Ralph
<![if !supportEmptyParas]> <![endif]>
I told Ralph about our student days … Julius' relationship with his mother Nancy…. our travels to Germany, including our epic canoe trip on the Rhine…Julius' visit to me in Western Tanganyika, when we went on an elephant hunt, and I reminded Ralph of our visit to the family in Indonesia, when he was nine years old.
<![if !supportEmptyParas]> <![endif]>
I took Ralph to dinner at Yamashiro, the best Japanese restaurant (serving "California Asian cuisine") that I have known; situated way up in the Hollywood Hills , we had a window seat with an expansive view of the city; we were the last to leave at nearly midnight.
Early the next morning I had an urban walk, exploring Sunset Boulevard, only a few blocks away. Then Ralph drove me to LAX airport after my persuading him not to be like his father who was always "a last minuter ". Given the new security regulations I like to allow plenty of time at airports these days.
<![if !supportEmptyParas]> <![endif]>
October 19/20 (travelling westwards across the dateline I gained a day). On the recommendation of Elspeth Jack's airline executive nephew William, I had booked a seat in the top cabin of the Qantas aircraft, giving myself maximum comfort for the long 13-hour flight to Sydney.
<![if !supportEmptyParas]> <![endif]>
NEXT - Stage 6 Australia Oct 20 - Nov 2nd 2006