6
Air Battles Over Norway:
April 1940
During World War II, Germany invaded Norway on 9 April 1940, and occupied large parts of the south of the country. Britain came to its aid, and fierce air battles were fought from 9 April until mid-June. Guy, who was then a Sub-Lieutenant pilot in the Fleet Air Arm, took part in many of these air battles – at a time that saw the first extensive use of naval air power.
Guy usually flew a Skua – a two-seater, single-engine plane which combined the functions of dive bomber and fighter. It was designed in the mid-1930s, and was named after the seabird – the great skua has been described as 'an aggressive pirate of the seas', deliberately harassing other birds. (When Bernard Riley and I were in the Falkland Islands in 1978, I was attacked by an angry skua – perhaps attracted by my bald head!)
At this time Guy was stationed either on the Royal Navy   aircraft carrier HMS Glorious or on the Ark Royal. Torpedo bombers, dive bombers and fighter aircraft could all be based on these ships.   The Ark Royal was a Royal Navy flagship, and a number of aircraft carrier tactics were developed and refined aboard her.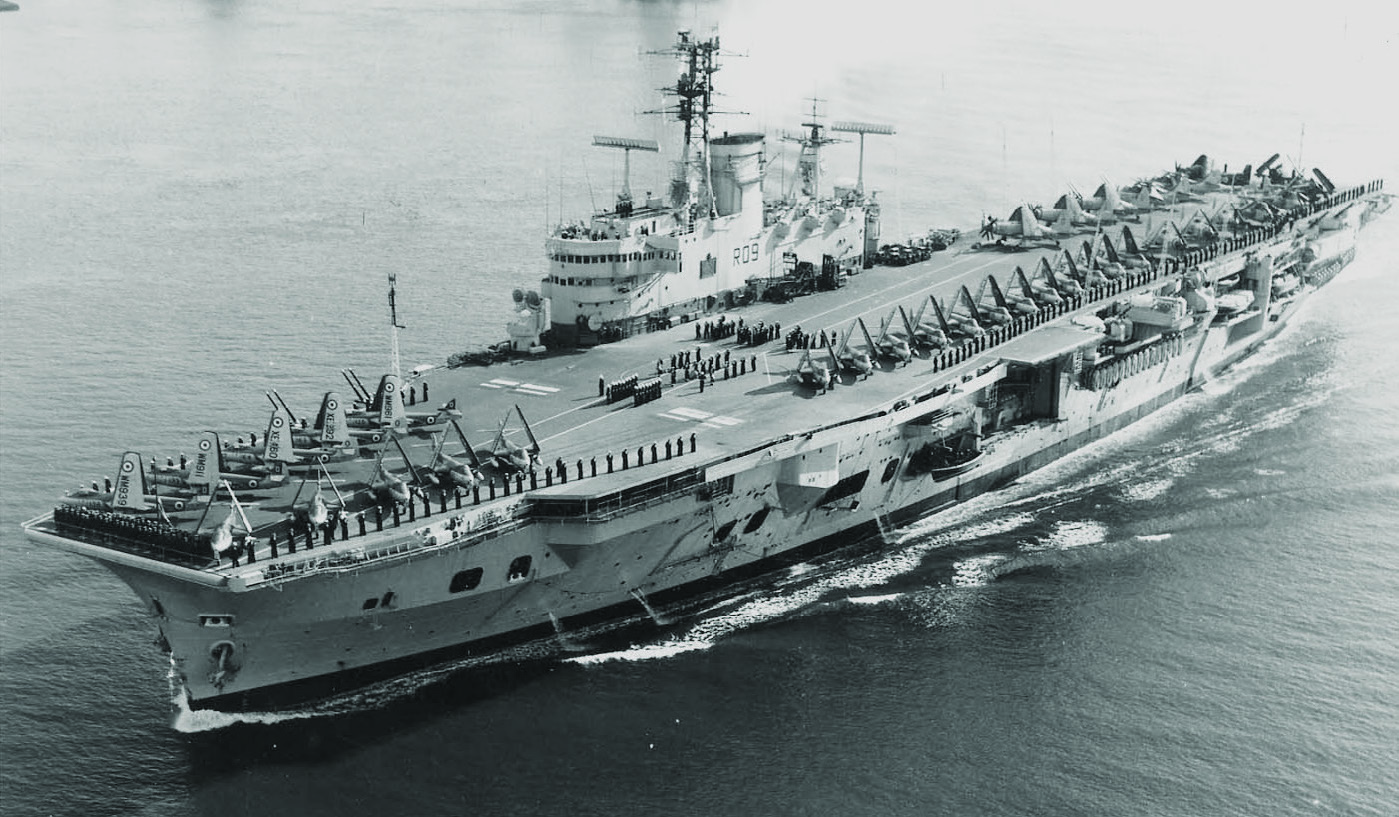 With two hangar deck levels she could carry a large number of aircraft and served in some of the busiest naval actions of the Second World War. Because the distance for take-off  and landing is so short, aircraft carriers have    a 'catapult' launching system. The original catapults of the 1920s were powered by gunpowder, but by World War II they were mostly hydraulic. There is a similar device for landing: a steel 'arresting wire' across the deck, which is caught by a hook on the tail of the plane.
Ark Royal survived several near misses and gained a reputation   as a 'lucky ship'; the Germans incorrectly reported her as sunk on a number of  occasions. A 1942 Admiralty account describes her final demise:
On 13th of  November 1941, when she was    steering towards Gibraltar, in the company of seven destroyers and three other ships, she was struck by a torpedo from a German submarine, and sank early the next morning. Amazingly, 1540 officers and men were transferred to the destroyer Legion with the loss of only one life.
Guy was clearly happy and proud to be part of the highly skilled, courageous and motivated group of Fleet Air Arm pilots. When they were based in Wick, Scotland, Guy met and fell in love with Margaret Robertson, an attractive young student who was on leave from her training college in England.
This chapter and the following ones describe some parts of the battles he was engaged in in the Norway campaign mentioned above.
On 17 April 1940, the heavy cruiser, HMS Suffolk and four destroyers were sent to attack German installations on the Norwegian coast. The Suffolk suffered severe damage but was able to reach   the Orkney Islands. The Skuas of  Guy's Squadron, 803, were placed on alert to fly defensive fighter patrols over the Suffolk for the rest of the day. Below is part of a letter from him, written that day from Hatston Royal Navy Air Station in the Orkneys:
Of course there is a lot of Charlie being poked at me saying the only reason they really wanted me was for my publicity value – 'a young South African pilot' being a sure draw as you have probably noticed in the RAF – coming from Tooting Beck is no handle at all.
I had to break off there and rush off for a quick whip round to test some cab1 which just had a new wing fitted; she seemed O.K. and is now having her 'eggs' installed preparatory to my pressing the 'layer'. I hope they are fertile!
While on leave I met a lot of the boys who replaced us at Mackay's Hotel (Wick). They are doing marvellous stuff and have developed into desperate aces. During a recent blitzkrieg on this dump I was lucky enough in to be in the Ops. room of the above and some of the sayings over the air were damn good. One laddie got fearfully excited on giving his 'Raiders sighted' cry and yell down the R/T for    all the world to hear,  'Now you bastards!' He was right  too, and he and his section sent two of them into  the drink. When circling the victims he shouted to his section 'Stand aside you chaps I'm going to shoot him with my cine-gun.' How I wish we had their fast crates; no matter, we  sink  cruisers  and things.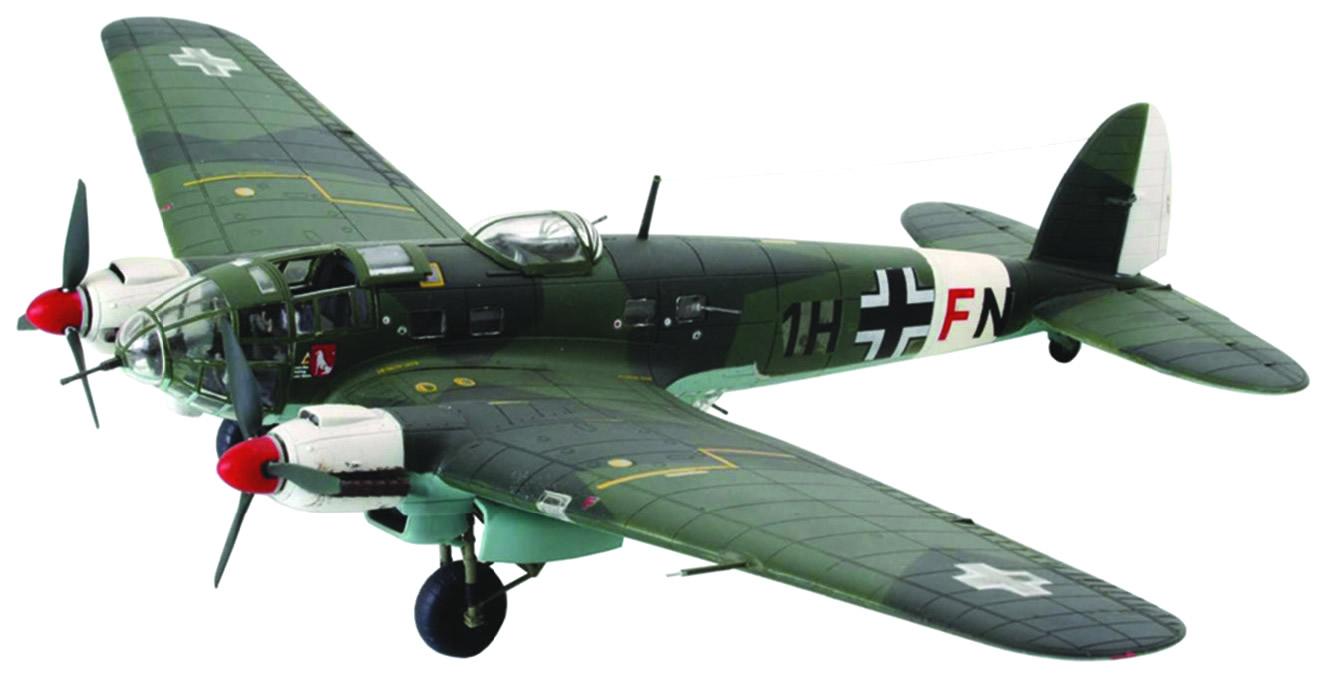 A Fleet Air Arm squadron consisted of three Sections; each Section had three aircraft. The three Sections of 803 Squadron were named Blue, Yellow and Green. On this particular day, the pilots of Yellow Section were Guy, Lieutenant Skeet Harris and Sub-Lieutenant Freddy Charlton. Soon after they were placed on alert, the six Skuas of 803's Blue and Yellow Sections arrived to relieve Green Section. A force of twenty-two German Heinkel bombers had found the British ships in the area but was retiring after making only ineffectual attacks. At 14:40 both Blue and Yellow Sections shot up a German bomber, a Heinkel 111, obviously a straggler from that group.
Skeet Harris noted the incident:
With Sub-Lt Brokensha, drove off several German aircraft – one HE 111 retired with white smoke pouring from both engines. Possible score No 1.
Guy wrote home describing this action, mainly for the benefit of his younger brothers:
Skeet and I had one grand battle with one of those 111 jobs invented out of spite in an ugly rattle of musketry by pumping lead into his guts. No flames, no rubber dinghy    in the sea, no visible blood, Hell! But I bet he had a sticky trip back home – if  he made   it.
The third member of the section, Freddy Charlton, described how he managed to get in on the action:
Lengthy chase by six Skuas on a HE 111 when only the fastest and most persistent got in the stern attacks. After losing it in cloud, it was reported by another aircraft to have crashed in the sea.
From the illustrations you can see that these aeroplanes were 'prop' planes – powered by propellers. Mass production of jet fighters started only in 1944 (the first operational jet fighter was the German Messerschmitt ME 262), and commercial jet aircraft did not come into use until the 1950s.
The next action Guy reported on was on 24 April. An RAF advance party arrived at Åndalsnes in Norway, to unload servicing equipment for the RAF Gladiator fighter planes which were to operate from the frozen lake at Lesjaskog. Towards the end of the afternoon, the Gladiators began taking off from HMS Glorious. In two flights of nine they were led to the lake by Skuas flown by Guy and Lieutenant Harry Torrin, landing at 18:00. Guy later wrote home:
I led the Gladiators to the frozen lake on account of their having no navigation. The weather was foul, snow, high wind and the most evil, unfriendly sea I have ever seen – and cold, cold. After a bit of dithering, we reckoned we would get through, so off we went.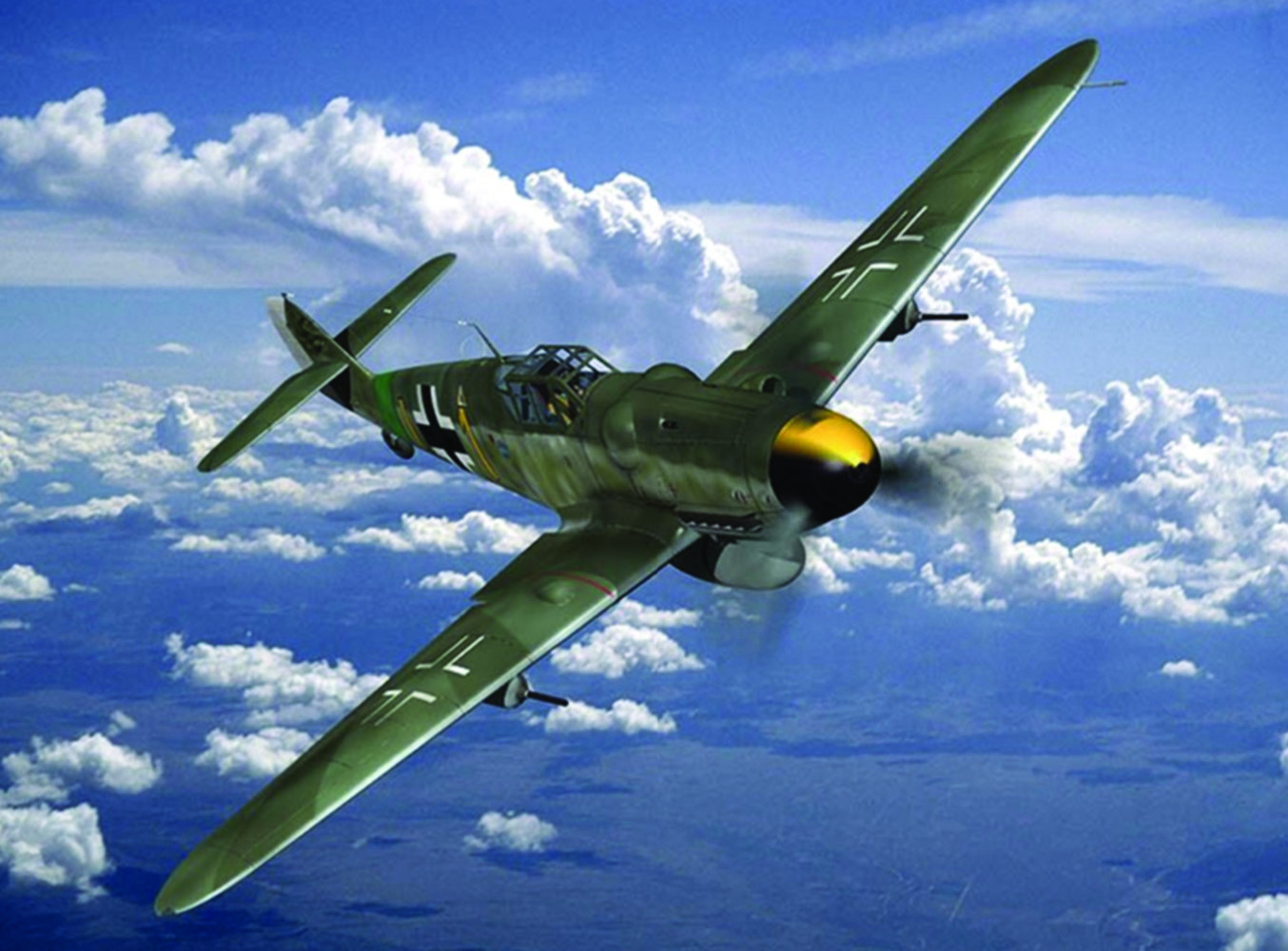 Gosh, it was a  grand sight – me leading and the Glads in perfect formation all round me. We went through the first few storms but it started getting worse, so because old arse-end Charlie was having a tricky time – visibility being practically nil in snowstorms – I went round the rest and that called for some pretty handy navigation from my observer (a grand old Petty Officer who has been flying for 15 years, and with me since I got my section). My course steering must have been better than usual for we hit the coast bang where we aimed for – not bad after 150 miles of twisting and turning and changing. I climbed to 10,000 feet and then had to start map reading to find the link. Our first sight of Norway, when we crossed the coast, was lovely.
Everything looked peaceful, fjords were as still as glass and reflections of the snow-capped mountains, fir trees and small villages and fishing boats have to be seen to be believed. The country looks like a lovely chocolate cake with lots of icing on, but I couldn't help thinking it would be a tricky place to be shot down, force-landing grounds being just 'non-est'. However, after a little anxious milling around, I found the lake and guided the Glads into tight formation and we went screaming down all our 10,000 [feet] in a glorious hell-drive. There was no sign of life when we first stuffed our noses down, I expect the poor troops thought it was the Prussians and made a dive for the bushes, but about halfway down, the skating rink – that's what it looked like – suddenly became alive with figures.
Down we roared and broke up at practically nought feet, the Glads zooming straight up again in a frenzy of upward rolls, loops and roll-offs. I can't compete in that line in our present cabs so we flogged round and watched the first few land, accompanied by cheering troops in the area, frantically waving. I felt good. Andy, my observer,  and I then slipped down the valley back to our old floating 'drome'2. On the way out of the valley we spent all our time waving and trying to show our roundels to terrified Norwegians, children included, who were running as though possessed or throwing themselves  flat  as  we approached, obviously expecting to be gunned.
On 25 April, 803 Squadron Yellow Section – Guy, Freddy Charlton and Pilot Petty Officer AG Johnson – dive-bombed two oil tankers located in the harbour and set them on fire at 04:55 and again at 05:55. The Ark Royal launched Sections to provide fighter patrols to cover the Allies' landing site at Namsos, Norway. All aircraft returned by 10:15, having made no contact. By that point the weather had closed in and further flying was suspended.
Altogether thirty-four Skuas and Swordfish3 took part in that morning's programme, Norwegian sources later reported that six German seaplanes had been destroyed or damaged beyond repair, and five aircraft destroyed at Værnes.
Early next morning (26 April), Skuas of 801 Squadron were launched from Ark Royal to patrol over the little Norwegian port at Åndalsnes. Meanwhile, four more Skuas from Guy's 803 Squadron were also up, having taken off from Glorious. But this aircraft carrier was now ordered to withdraw to refuel, so the pilots from 803   were told to land on Ark Royal on termination of  their patrol. It  was a successful patrol for Skeet Harris and Guy. They intercepted a Heinkel, which was attacking the sloop HMS Flamingo, and forced it down on a hillside between Bjorli and Romsdalsfjord, before landing on Ark Royal at 14:35. Skeet recorded:
With Sub-Lt Brokensha, carried out a patrol over Aandalnes. Encountered one HE 111 and attacked after Brokensha. Both engines stopped. Crashed on the mountainside. Certainly No. 1 landed on the Ark.4
Guy mentioned how he and Skeet 'worked in a grand combination'. His letter home written about this time is quoted in Chapter 8.
Two of the German crew from the downed Heinkel were wounded and were taken to the local hospital at Åndalsnes, from where they were later liberated. The Heinkel's commander and observer attempted to reach German-held territory, but were captured by British troops and taken to England. Remarkable about the relationships between British and German aircrews was that, although they did their best to destroy each other in the air, if one of them were shot down, the attackers would be concerned about their enemy's fate. If those shot down were captured, they were treated with courtesy.
In his book Operation Skua, RT Partridge describes how, when he was flying a Skua in the Fleet Air Arm, he shot down a Luftwaffe Heinkel 111 near Grotli in Norway, on 27 April 1940. His own plane was damaged and crash-landed nearby. The two British airmen had noticed a small hut not far from where they landed and, struggling through deep snow, they eventually managed to reach it. Soon after, they saw three armed Germans approaching – the crew of the plane they had just shot down. Partridge commanded them to enter the hut and, to his surprise, they obeyed him. The five men ended up in an uneasy armed stand-off. The next morning they were discovered by a Norwegian patrol, who took charge of the Germans, and suggested the British men walk to join their forces twenty-five miles away.
Many years later, Partridge was contacted by Horst Schopis, one of the German pilots with whom he had shared the cabin. In a letter dated 25 October 1975, Schopis wrote to him:
I think it would be very interesting for us to have another meeting under better conditions. From my point of view we never have been enemies, we were counterparts!
I would like to meet you again … if it is impossible for you to come to Germany, we can manage to come for a visit to Britain.
Partridge replied that he was delighted and arranged to meet   Horst in London:
It was a good meeting with some emotion and a lot of feeling on both sides … an unqualified success. Here were we two chatting away happily together and both liking each other, whereas the first time we met we were doing our utmost to kill each other.
In 2012 a film called Into the White, based on this incident, came onto the circuit. (It is also known as Comrade, Lost in the Snow and as Cross of Honour. ) Three of the actors played themselves – the same person as in real life. I have seen the film, which is quite exciting.
At 11:05 on 28 April, three 803 Squadron Skuas took off, flown by Lieutenant Bill Lucy, Johnson and Guy. They were followed by three more aircraft from 800 Squadron, to provide escort for a convoy. The Germans had clearly decided to have another go at Flamingo, and at
12:18 the first trio saw that a Junkers JU 88 was bombing her. Lucy at once attacked with a short burst, followed by Guy, whose fire missed the bomber. Half an hour later they saw eight Heinkels approaching and attacked three of them. Lucy and Guy shot down two, including the Staffelkapitan's aircraft. ( Johnson's rather unorthodox tactics are described in Guy's letter below.) The bomber was forced to put down in the sea. The Skuas chased the remaining seven Heinkels out to sea, breaking up their formation. Several Heinkels jettisoned their bombs and two  were seen with their engines on fire, one being credited   to Guy as a probable. At about 13.50 a third wave – thirteen more Heinkels – arrived on the scene. The 803 Squadron Skuas still had ammunition and fuel left, so Lucy and Guy at once attacked three of them and shot down one of them; the pilot managed to forceland, with two of  the crew dead.
Writing, probably to Margaret, with the address c/o Mrs P Foster, Sutton Vale, Sutton, near Dover, on 9 May 1940, Guy described the action:
After recovering from the first shock of seeing a black cloud of Heinkels I whistled in and shot up old arse end Charlie. My observer, Stan Andrews, got fearfully excited when he broke away and then burst into flame, crashing into the sea, kept on saying 'That's one for you sir. Well done, sir'. I felt good. One values praise from Andrews –   in the air and when we are chatting on the ground I called him Andy and he uses my familiar  Brock.
The CO (Lucy) produced his usual one out of the bag … give him an aeroplane and he's an ace, he's more – there is no other word – he's  a genius. Many times he has shown it; bombing Bergen; Sheer cool nerves when   we bombed the seaplanes and ships at Trondheim and then he led us back through all the 'Flak' (A.A.'s 5) to deliver a front gun attack – and then again this time. He deserves a V.C. and probably would have it if he was in the RAF. Ooh, shame, catty! Well we are silent aren't we?
While I was fixing the last one, he climbed up over them and just after I had seen mine go down I followed him and then he just dived vertically on the remaining six. I was about 100 yards behind him coming down and those bastards just dropped every bomb they had and scattered all ways. He's terrific. I attacked one who was a bit slow in nipping into a cloud and managed to put his gunner and starboard motor u/s before my ammunition ran out. Lucy did the same to another. Johnson had a probable, too. Six between us! We heard that Johnson had used up his own ammunition but was chasing the sods away from their targets with his rear-seat single Lewis gun! Not bad!
Mummy Foster sends her love and says she is so pleased to have me –  decent.
Hallvor Brunstad contributed more details of the action on 28 April:
The dogfight is said to have taken place over Engeset- dalsvatnet (Engeset Valley Lake) roughly 20 to 30 km east  from  Aalesund  …  There  had  been  several air combats earlier that day, and they (six aircraft in  total) had shot down several Heinkels, including the aircraft of the group commander. (Their mission was to protect the evacuation convoy from Åndalsnes, and in    doing this, they spotted several German bombers.)
After being hit, the German aircraft flew south south- east across the Storfjord. Guy Brokensha and William Lucy had at this point fired all their remaining ammo, damaging both engines and killing the mechanic and the radio operator. The German aircraft followed the valley to the southeast over a little lake called Nysætervatnet. From there, they flew southwest  down  the  valley  and made an emergency landing at Bruvoll/Hjartdal. Brokensha and Lucy spent a few minutes circling   the area and observing the aircraft until it burnt.
The surviving German lives in Germany. He spent 7½ years as a POW in Canada, before getting repatriated to Germany after the war. I have only been in touch with his son, who wrote that his father was not ready or willing to talk about the war. He said his father climbed through a rear hatch after the crash, only to see the two others dead; he tried to pull one of them out but was unsuccessful because of  the narrow hatch; the aircraft was on fire … and munitions started to explode.
Later in the afternoon Ark Royal retired out to sea for two days to rest her tired aircrews and allow maintenance to be carried out to the depleted stock of aircraft.
Meaning a plane.
Airports used to be called aerodromes
The Fairey Swordfish was a biplane torpedo bomber, with folding wings for fitting on an aircraft carrier.
It's not clear what 'No. 1' means. Perhaps Skeet was referring to himself.
A.A.'s: anti-aircraft fire