7
More Air Battles: May 1940
Guy was involved in many North Sea actions. But on 1 May 1940, while serving with 803 Squadron aboard Ark Royal, he was shot down by 'friendly fire' from anti-aircraft ships guarding a convoy. His letter, which appears later in this chapter, gives a laconic description of  what was probably a terrifying experience.
In a routine foray, Skuas of 803 Squadron took off from Ark Royal to patrol over HMS Devonshire, which had signalled that enemy aircraft were in the area. Two of these fighters – one being Guy's – encountered fog, and on emerging found they were directly over the convoy escorted by Devonshire. From the aircraft carrier there would not have been time or visibility to check that these were not attacking German planes. Despite Stan Andrews, Guy's observer, signalling frantically with his Aldis lamp, the aircraft came under intense short range anti-aircraft fire, forcing Guy to ditch in the sea. Fortunately they were spotted and promptly rescued from the sea by attendant destroyer HMS Nubian. The other Skua, flown by PO Johnson, returned safely to the carrier, as did the other two planes.
Both carriers – the Ark Royal and the Devonshire – were ordered to return to Scapa Flow. Guy, meantime, on 4 May, was dropped off in Scotland by the Nubian and given two weeks' 'Survivor's Leave'. A cable to our parents, sent from Kirkwall, Orkney on 6 May at 12.10 p.m. was received in Durban about nine o'clock the  following morning. (Deal, in Kent, was where our Aunt Coral lived.)
Hurrah for terra firma again. Am going to Fosters for few days leave. No clothes, am broke. Please remedy to Deal. All love.
This letter was written in early May, probably during this leave period:
Mummy and Dad, please don't think I'm shooting a terrific line and don't get any stupid ideas about me being a hero – I have never been so terrified in my life as in some of our bombing attacks, seeing the tracers whistling round you and feeling the bumps of the 'heavies'. Just after I had seen mine go down, I followed him and then,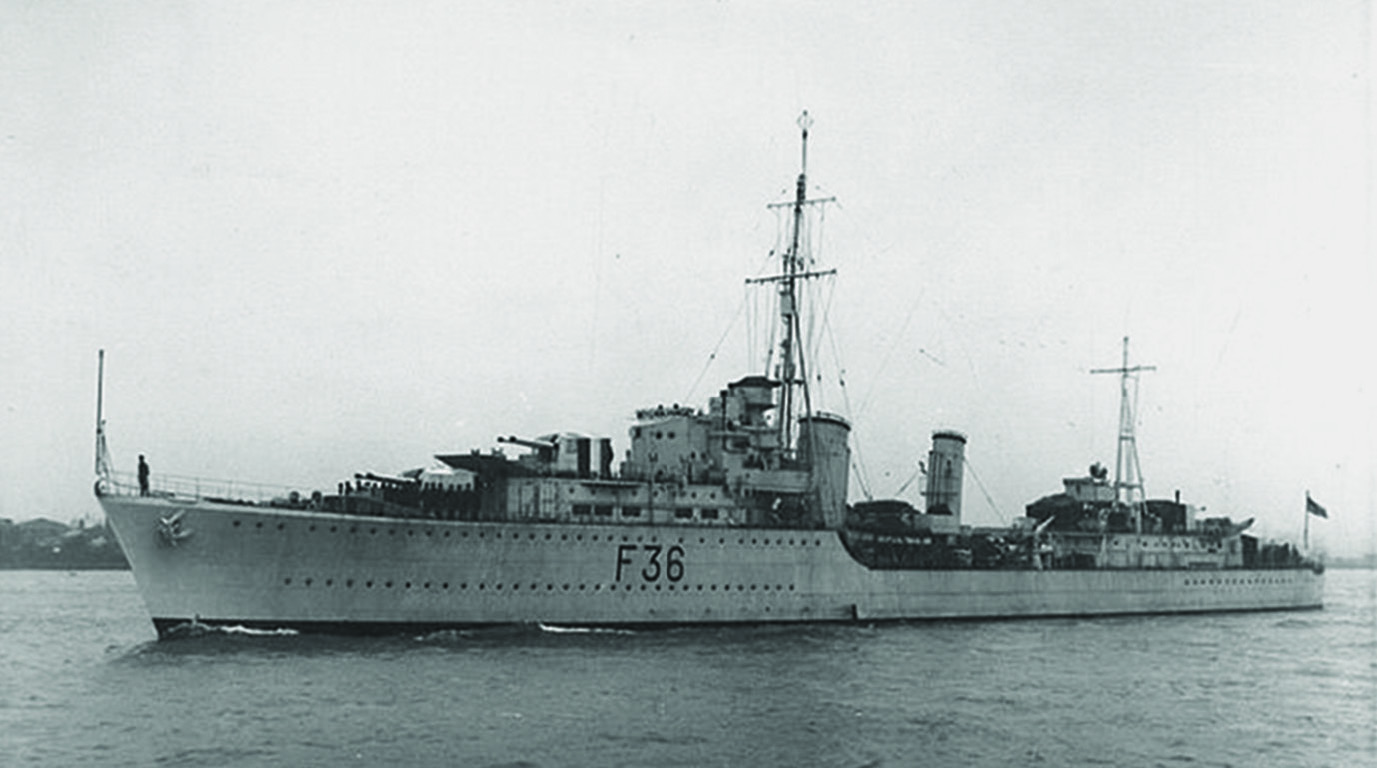 mirabile, Skeet just dived vertically on the remaining   6.
I was about 100 yards behind him coming down, and have never seen anything so funny as the way those yellow bastards (sorry mum) just dropped every bomb they had and scattered all ways; he's terrific. I attacked one who was a bit slow in nipping into a cloud and managed to put [out] his gunner and starboard motor … before my ammunition ran out … 6 definite and 3 probables in one patrol! Not bad!
The Admiral sent for us and gave us gin, dirty and   filthy as we were, having no kit.
The next day we went off again and we were to have rejoined our own ship but coming back in the fog I was  shot down and picked up by a destroyer. Andy and I are both OK except for a few bumps and bruises – it's quite hard to do a gentle arrival in the drink. But ours wasn't    too bad.
Then 'we' (meaning 'Nubian') went back and  evacuated Namsos. What a shame, and how I wished I had  my  faithful old 'kite' [his Skua]. The scene at Namsos was incredible, we all stayed up all night. It never really got  dark and the scene on the jetty was lit up by the remains  of burning coal. Lorries and troops poured in and at last  we got away soon after 4 a.m. when the sun was just coming up. We had a nasty moment at the entrance of the fjord, when one of the transports flashed a panic  signal to us, 'stay with me engines broken down'. An anxious  half-hour  followed with  everybody  scanning the skies for the first of the bombers. At last she fixed it and we got away.
I finally reported back to Hatston and found to my great joy that all the laddies we'd almost given up on had come straggling back in much the same way as I had. Many, in fact, with a much more interesting story than mine. They had all come down over land – in fjoI   finally reported back to Hatston and found to my great joy that all the laddies we'd almost given up on had come straggling back in much the same way as I had. Many, in fact, with a much more interesting story than mine. They had all come down over land – in fjords, in the snow or on lakes. The Norwegians had rds, in the snow or on lakes. The Norwegians had been most helpful to all of them and had helped them back to some British ship or post. We have been given a fortnight's  survivors leave, and  then Heigh  Ho. Actually, I didn't want any but wanted to get back to Skeet and the CO. Still reinforcements had just been sent the day before I reported. Poor old Skeet, still battling on. God, I hope he's all right.
Guy did not yet know that Bill Lucy had been killed and Skeet Harris wounded:
One thing this business has made me realise, (and Skeet, too) is to grab every moment of the present with both hands and try to live, instead of just sitting back and taking it as it comes. We have been kept well away from any form of morbidness – no letters marked 'post only if …' and all that. You do see, don't you, so don't worry please. Skeet says he is actually sure we will get both get through OK. It's sort of tragic funny if we don't go up together – a shy smile, a mutter 'give my love to the folks' and then by the door or from the flight deck 'don't drink all the gin before I'm back'. It's the way it should be – he's a great guy, our Skeet.
So, my dears, I'd better bring this tome to a graceful if overdue termination. Hope I haven't bored you. Aw shucks! I hope to see Margaret for a day or two before going back but expect I shall be recalled at any minute.
Bill Lucy was shot down and killed on 14 May. He was replaced by Lieutenant Commander John Casson. Skeet Harris was shot down on 16 May. He was rescued, wounded, and was out of action until January 1941.
John Casson mentions Guy in his memoir Sailor and Airman:
In the last week of May, I was ordered to take the whole of 803 Squadron R.N.A.S. to Hatston and to stand by to land on Ark Royal out to sea to the north … Ark Royal was on a course for Narvik to take part in the evacuation of  our troops and aircraft. She had been  in that area since April and had a brief spell in the Clyde for minor repairs. Now with the fall of France imminent, all Britain's efforts had to be concentrated on the Channel, which meant abandoning Norway. Our job in the Ark was to give air cover for the evacuation … On 2nd  June the evacuation of  Narvik began … There were also a couple of Sub-Lt pilots including a young South African called Brokensha … After a roughly two-day passage we arrived in an area about 50 miles to the north-west of the Lofoten Islands, about 150 miles from Narvik … in which the Ark was going to operate so as not to risk getting too close to the enemy, but close enough for our aircraft to keep up their patrols over the advancing German. This we did continuously for a week. The idea was that we would have a flight (three aircraft) in the air to the south of Narvik for the full 24 hours every day …
Looking back on it, I see it as a time of doing a patrol, coming back, having a meal, snatching some sleep and taking off again … The evacuation of our troops took about a week to complete … By Saturday morning 8th June Ark Royal had joined the convoy and was on a north-westerly course in order to get out of the danger area as quickly as possible. The convoy consisted of nine merchant ships carrying 15 or 16,000 troops evacuated from Narvik, now guarded by Ark Royal, the cruisers Southampton and Coventry and eight destroyers. The Skuas from both squadrons in flights of three kept up a constant patrol some 20 miles to the south convoy … Next morning, Sunday 9th June, I received a message that Glorious had sighted two major German warships at 15:45. They were the German battle- cruisers Scharnhorst and Gneisenau, which at 16:30 had opened fire on her at a range of 18,000 yards. Soon after 17:00 hours she was sunk with a loss of      about 1500 lives …
It would have been madness to have gone to the help of Glorious and the two destroyers. We could only hope that the Germans did not know what was only about another 50 or so miles further on. Nor did we know that they had retreated to Trondheim until two or three days later … On the Monday morning I was mightily pleased to observe that Ark Royal had a large warship in station on either side of her … on the starboard beam was the battle-cruiser Renown and on the port beam was Rodney. It was good to know that now we had a bit    of backing … In the meantime we were keeping up a constant patrol of flights of three Skuas about 20 to 30 miles to the southward. I think it was on the Monday afternoon that I spotted a German two-engined reconnaissance plane … I opened fire astern of him at fairly close range and saw a stream of smoke appear out of him, and as I pulled away young Brokensha followed close behind and got in a burst … I just hope that one of us had caused enough damage to prevent his getting home. He would certainly have spotted Ark Royal away in the distance to the North.
It was in this period – 26 May to 3 June – that the Battle of Dunkirk occurred, allowing a third of a million Allied troops, mostly British, to be evacuated from France. There were many other World War II actions during June 1940: on 10 June Italy declared war on France and Britain; on 14 June Paris was occupied by German troops; on  18 June General De Gaulle formed a French Government in exile, and on 27 June the Soviet Army invaded Romania. Early June also marked the beginning of  the East African campaign, with  conflicts between Italian and Rhodesian forces in Kenya.