When he was about ten years old, Guy kept bantam chickens, including his favourite bantam rooster. We often had roast chicken for Sunday lunch, and one Sunday, the chicken was smaller than usual. Our Zulu cook told us that he had killed and cooked the bantam, not knowing that it was Guy's pet. When Guy realised what had happened, he burst into tears and fled from the dining room. I was surprised that Guy, such a big boy, could cry: I had not seen him cry before.
We spent several Christmas holidays at Umkomaas, a small seaside resort, where Dad played golf and where we were joined by his mother, 'Granny'. I couldn't read very well, but Guy would show off my secret talent to his friends, saying,' Dave, put on The Kinkajou,' or 'Yes,WeHave No Bananas' or 'I Love You So Much' (I love you so much, I can't conceal it; I love you so much, it's a wonder you don't  feel  it), or … Then I would unerringly pick out the correct gramophone record and play it. Guy explained to his friends that his clever little brother recognised each record by the shape, location and colour of the labels. He watched carefully to see that his friends did not mock or embarrass me but rather praised me.
Guy and his friends kept an eye on me when I was in their company; here is an example. At the end of West Street there was an unused pier, which ran for about a hundred yards into the sea. Ignoring the 'No Entry' sign, we used to run along the pier, waiting for a promising wave that was about to break. (We had no surf-boards, we dived off the pier and body-surfed, finishing near the shore, then repeating the run along the pier.) One day about a dozen of us, including Guy and Paul, dived from the pier; all except me caught the wave, leaving me alone. I was frightened, particularly after seeing a black fin which I mistook for a shark – in fact it was a dolphin, which we mistakenly called a porpoise. Hendy (Gordon Henderson, one of Guy's closest friends, who also did not survive World War II) suddenly appeared, swimming strongly towards me and accompanying me safely to the shore. Nothing was said about my obvious fear, as it would have been humiliating to me.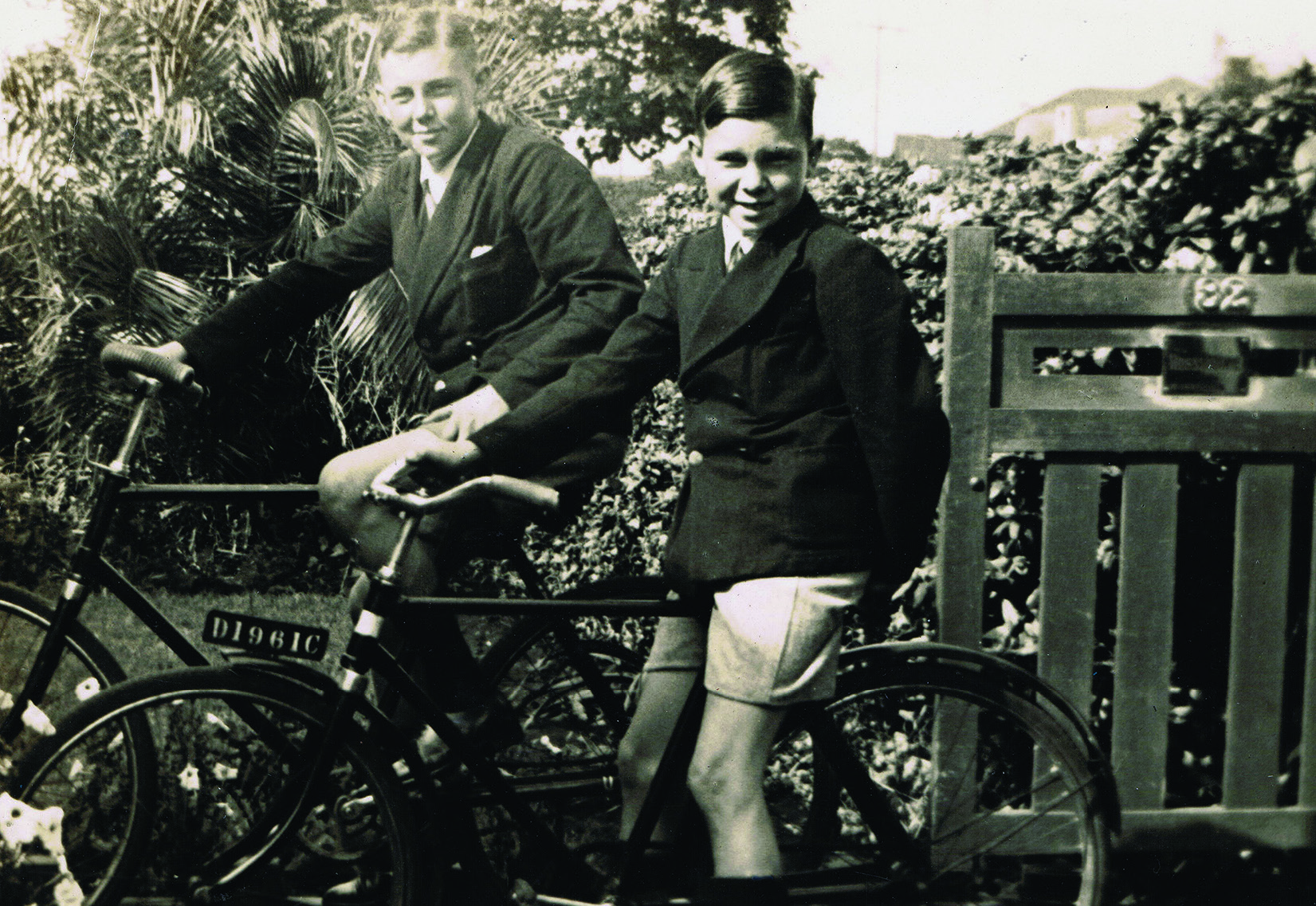 One day in the early 1930s I borrowed Guy's bicycle – was it a Hercules (standard) or a Raleigh (posh)? – without his permission, convinced that I could ride it. But the bike was too big for me, and I lacked the necessary skills. Being overconfident, I soon found myself careering at speed, down Currie Road, trying to turn into Clarence Road, and crashing with a great thump into a tree. I was only slightly bruised, but the handlebars (covered, as I remember, in a sort of corrugated rubber) were bent, and I was fearful of Guy's reaction. When he came home, he was only concerned about my injuries, and he laughed my anxieties away.
Many of my boyhood memories – I'm sure this would have been true for Guy as well – centre on our 'magical island'. Durban Bay is a splendid natural harbour, about five miles long and two miles across at the widest point. On the far side, near the Bluff, is Salisbury Island, most of  which at that time was owned by the British Admiralty.
The Island, which was at most a mile long and a narrow irregular shape, had about a dozen houses, nearly all holiday homes, the land being leased by the Government on an annual basis. Dad found   that 'Trinity House' was available and rented it; it became our Island home. The house had previously been rented – at least that was the satisfyingly spooky tale that we were told – by three men, one of whom drowned in a storm in the Bay. One of  the others was said  to have taken his own life, and the third sold the lease to Dad. We spent many of our weekends and our school holidays on the island. We even tried to live there during school term, but the ferry was not reliable in heavy weather, and both Dad with his law practice, and Guy preparing for matriculation, had serious commitments on the mainland, so that did not last. We kept this house until just before World War II.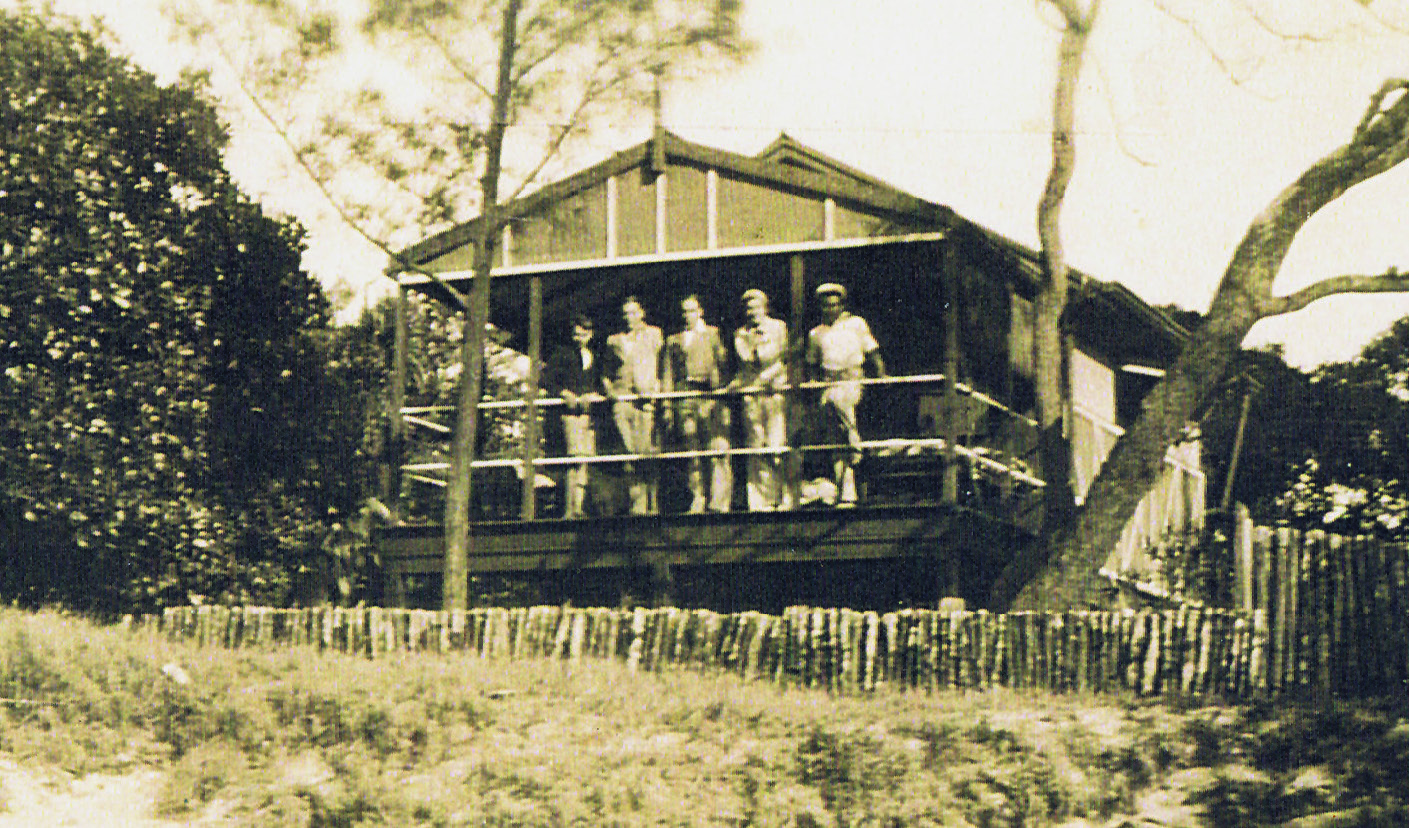 I have fond memories of those days, of how our parents allowed us take risks and  to explore  our  world.  Guy started a new    game, which involved climbing on one of  the unattended floating pile-drivers, grabbing one of the ropes which were always attached to the top, swinging out over the sea and releasing oneself at the maximum of the arc, so that one flew deliriously through the air before hitting the water. Paul and I had to follow Guy, and I remember the mixture of terror and delight: I was probably about ten years old at the time. I am glad that Ouma permitted our risky games; she probably asked Guy to keep an eye on me.
One New Year's Eve, a group of boys, including the three of us, decided to sail over from the Island to the mainland, to see the New Year in. We borrowed a couple of yachts, which must have belonged to various friends' parents and sailed across in a brisk wind, with no problem. We walked to the City Hall, a group of barefoot boys, in our not very smart shorts and shirts, mingling with the elegant evening-dressed crowd near the Royal Hotel. We had problems on our return journey, however, because after midnight the wind died, and we did not reach the Island until 4 a.m. As we neared the jetty, we saw two figures, with storm lanterns – our parents – and only then did we realise how thoughtless we had been, taking off without telling them. However, they were relieved to see us safely back and there were no great recriminations. Their attitudes made us all the more independent and self-reliant, although today I can understand the anxiety they must have felt.
Another thrill for us was the weekly arrival of the Imperial Airways flying boat, which usually landed near our house, between Salisbury Island and the sandbank in the middle of the bay. Carrying a maximum of fifteen passengers, in luxury and comfort unbelievable to today's airline passengers, this seven-day flight from England was quite remarkable. Once the flying boat had landed, we would paddle out in our canoes to greet the passengers, with Punch always standing in front of me, barking in his excitement A diary, by Edith Sherry, lists in detail the trip she made from Southampton to Durban in 1937. Perhaps she even waved to Guy (who, although older, was as excited as his two younger brothers).
Southampton, Marseille, Rome**, Brindisi, Athens, Alexandria**, Cairo, Luxor, Wadi Halfa, Khartoum**, Malakal, Port Bell (Kampala)**, Kisumu, Mombasa, Dar es Salaam**, Lindi, Mozambique (presumably the island Mozambique), Quelimane, Beira**, Lorenzo Marques, Durban. (** = overnight stay)
Today Salisbury Island has disappeared: it is all a great concrete shipping base with access forbidden; all the magic has gone.
After a series of serious illnesses, Dad was advised by his doctor to do less desk work and to engage in physical tasks. After trying gardening – a successful but dull venture – Dad discovered the joys of building canoes, using a design from the magazine Popular Mechanics.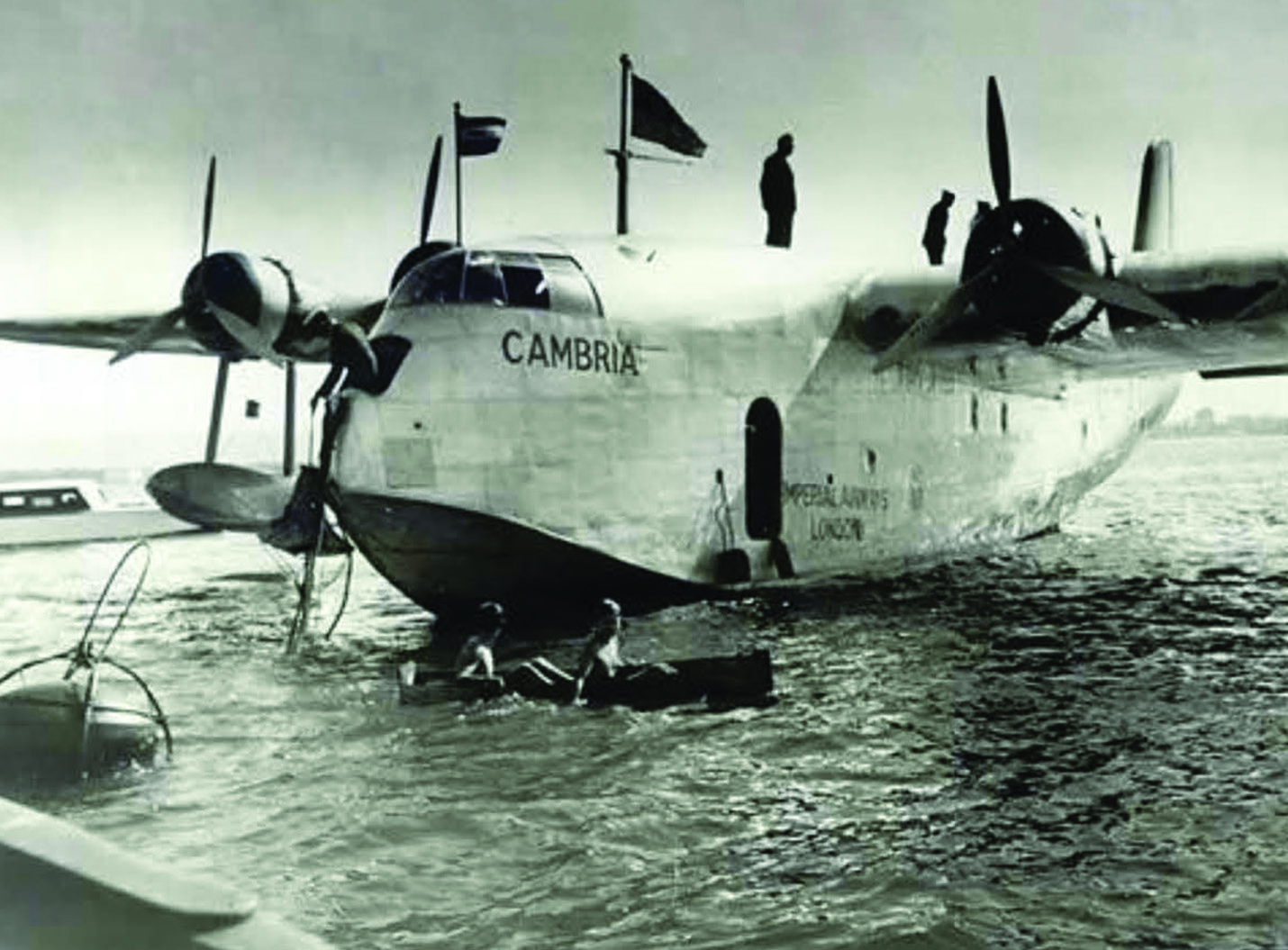 With the help of  his three sons, especially Guy,  Dad became    very skilled. I helped him steam the wooden stringers which ran along the canoes. Guy wrote a short article about the family canoe building which originally appeared in the Durban High School Magazine, in either 1933 or 1934 – Guy's final years at DHS. It was reprinted in a Durban morning newspaper, probably the Natal Mercury. I have a faded, undated copy; I quote it here in full:
CANOEING by G. W. Brokenshaw [sic]
With the beautiful bay so conveniently  situated, it is somewhat surprising that the Durban youths do not patronise yachting more than they do. One reason for this, no doubt, is the expense of purchasing a yacht or ordinary rowing boat.
There  is,  however, an easy way of overcoming this difficulty – one which gives boundless entertainment and enjoyment. It is canoeing.
I have recently helped my father to construct a 12 ft. 6 in. canoe. The design we obtained from an old Boy's Own Paper, and was followed carefully, except that the top was covered with plywood instead of canvas, which was used for the rest. Evenly spaced lines in black India ink were ruled down the plywood, which was then well varnished. This gives an appearance of caulked decking.
The keelson was of 2 in. by 1 in. pitch pine and 10 ft. 6 in. in length. This was riveted into the oak stem and stern shaped posts. On each side five stringers were fixed to the stem and stern posts, with deal shapes holding them, and also fixing the position of the well.
Another  of our own ideas,  as was the plywood,  was   to make a lugsail. A wooden keel, 3/4 in. deep, was screwed onto the keelson outside the canvas, and to this a small iron keel was bolted. The sail proved to be too small, and the iron keel not big enough, as the boat used to drift with the current when sailing. Being afraid to enlarge the iron keel for fear it would twist the wooden keel out of alignment, we intend to make outside leeboards, which will serve the purpose of an additional keel. We are altering the sail into an ordinary mainsail and jib. A paddle is necessary, and this was made out of a clear pine pole, rounded, with oblong oak blades slotted into each end. There is no need for a rudder, as the paddle can be used when sailing.
Whilst making the canoe, we were interested in an article in the National Geographical Magazine, written by an American woman who had spent a fascinating holiday canoeing with her daughter on the German rivers.
The German canoe is differently constructed from the English one. They have devised an ingenious collapsible canoe. The secret of this is the skin of vulcanised canvas and rubber. The whole thing weighs about 40 lb., and can be carried in two canvas bags.
The wonderful popularity which the canoe has   reached is shown by the fact that they are over 100,000 of these boats in use in Germany.
My father has adopted the German principle in making a small non-collapsible canoe for my youngest brother. This is 7 ft. 6 in. long and weighs only 15 lb., the total cost being about £1. I started to make a plywood surf boat, but having been overcome by the charms of sailing I have converted it into a small 8 ft. scow. It is flat bottomed from the stern to the middle, from where it curves up  to the bows. The stern beam is 2 ft. 6 in. and the bows 15 in., the depth being 9 in. I am rigging a sail, and with leeboards as described [above] I hope to spend some wonderful days on the Bay.
Every ship must have a name! My father has choose  the Zulu word for Seagull, 'Isikulu', while I call mine 'Cygnus', the Latin name for 'swan'.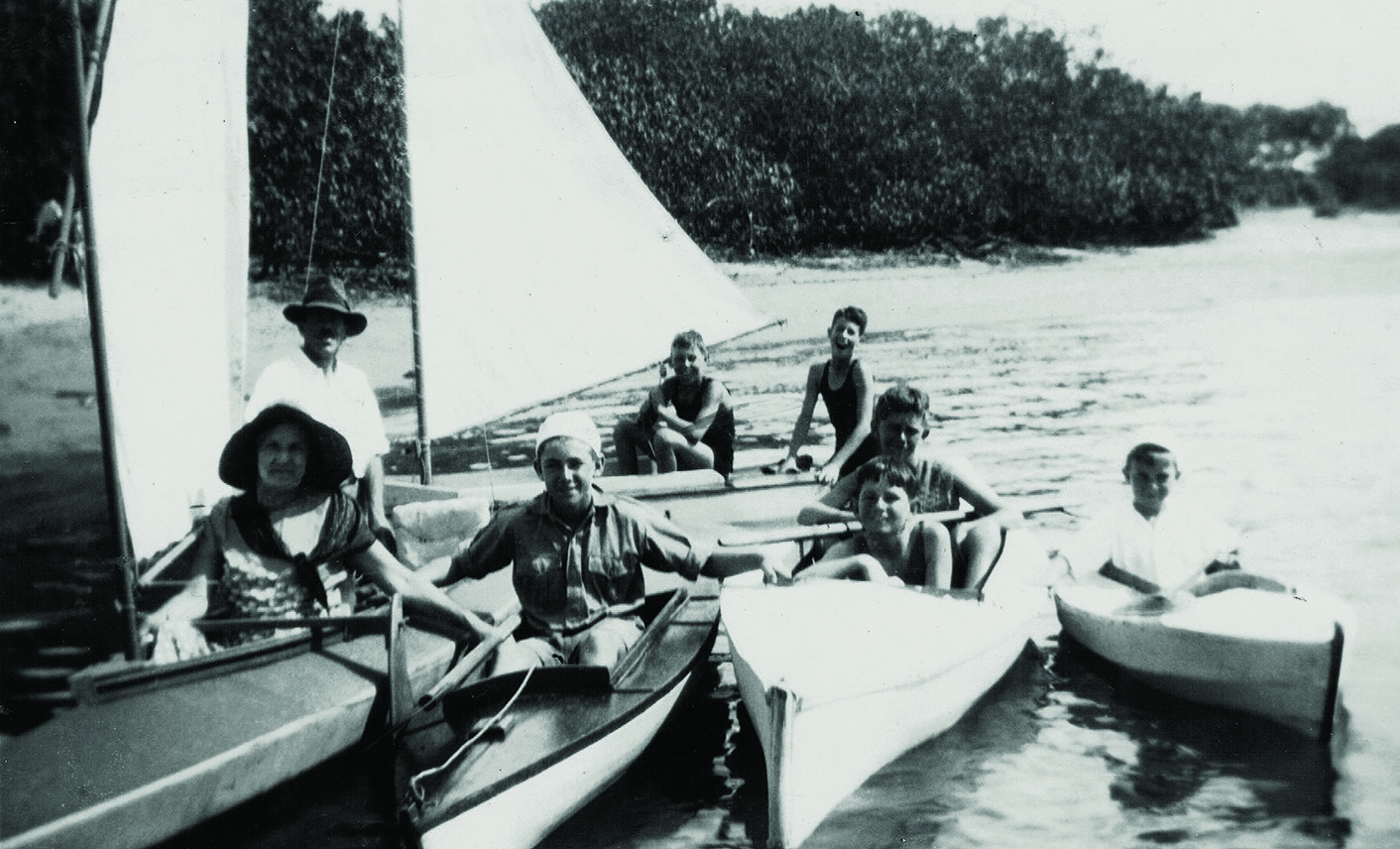 Dad kept on experimenting with sailing his boats. He was ambitious and would put on too much sail: the result was that he frequently capsized, and there would be cries of 'Brokie,' (used generically for Guy, Paul or me) 'the old man's plopped again!' Whichever one of us was within hearing would swim out to help Dad right his canoe.  He later graduated to Re-Echo, a small sailing boat. Dad and Ouma in Re-Echo - below